Businesses of all sizes are now using video marketing as a primary means of promoting their products and services.
Videos have become increasingly significant to customers, as evidenced by the popularity of services like Tik Tok.
The number of people who would rather watch a video than read an article on a product has increased fourfold in recent years.
However, making a video may be costly and time-consuming. It is vital to let your consumers do the heavy lifting for authentic relationships and social proof.
The recent buying experience is being fueled by social evidence via customer video testimonials.
Google, Facebook, and Yelp reviews from satisfied customers. Reviews on Amazon and other e-commerce sites. On YouTube, you'll find in-depth product reviews from YouTube's most knowledgeable users.
Why?
First and foremost, buyers place their trust in their peers.
Buyers need dependable and straightforward tools to make significant judgments in today's information-overwhelmed environment. That quick route is social proof.
Using video as social proof will be increasingly crucial for businesses in the years to come. It's time for a new phase. It's impossible to overstate the importance of hearing directly from a satisfied consumer about their positive experience with your company.
That marketing ambition, however, comes with several strategic hurdles.
The most common objections we hear from business owners that don't have a customer video testimonial strategy include:
It can wait.
When collecting customer video testimonials, I have no idea how to accomplish it effectively.
Too high-priced
Because of the low resolution, the video will be unwatchable.
There is nothing I can do about the videos.
In what ways does using customer video testimonials to increase sales benefit my company?
These typical objections have been addressed in this guide to help you and your business.
Customer Video Testimonials
Customer video testimonials are simply video recordings of their positive or even transformative experiences with your product or service.
OR
A typical format for customer video testimonials is to share a video of their experience working with your company in their own words.
OR
A client video testimonial is an endorsement of a business by a satisfied or happy consumer or client. Most of the time, they talk about how the company's product or service has assisted them in solving a particular issue they were experiencing.
If you ask them about their experiences with the product or service, they may detail their personal preferences for the company.
Testimonials vs. Reviews
A testimonial and a review are two entirely distinct things in the context.
A testimony is like a well-behaved dog that you can easily tame. Simply put, it performs exactly what you need it to do.
You select a few of your most loyal consumers and ask them to support your product publicly.
By this, we mean that testimonials highlight the positive aspects of your product or service rather than criticize it.
In contrast, a review is like a stray dog. Even if you're careful, it's not always reliable.
Customers post reviews on your products or services to reflect what they think about them. They might be both positive and detrimental at the same time.
In this respect, a testimonial differs significantly from a review.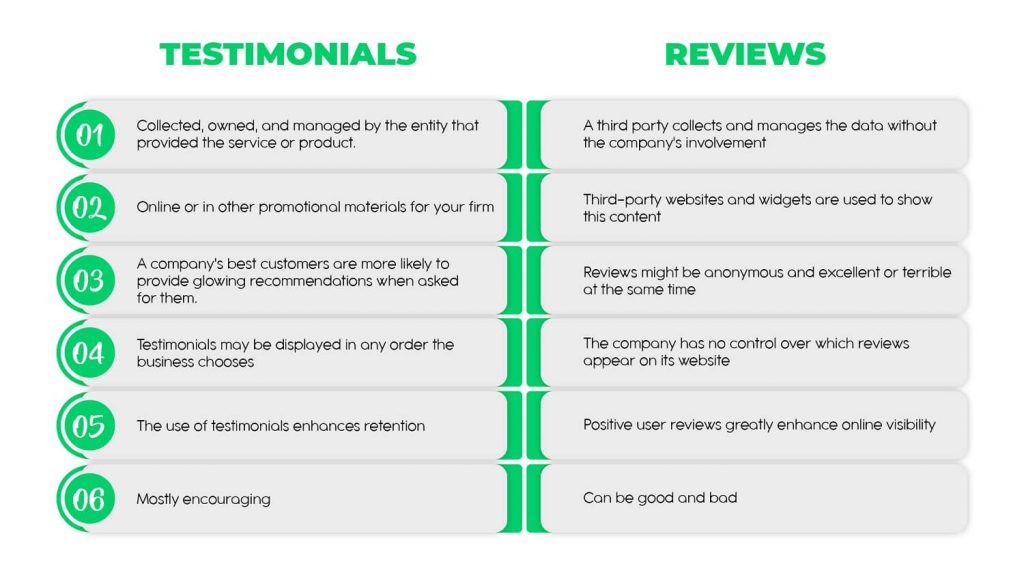 What do customer video testimonials do? And why do they matter?
The most important thing a customer video testimonial strives to convey is this:
"Wow! Look at this!" "It was a great purchase for this person!".
As a result, customer video testimonials give you more credibility in the eyes of prospective clients.
When purchasing a brand new and unknown product from a new firm, no one loves to be the first in line. They want to see if someone else enjoys it first, and if they do, they might buy it as well.
Your new customers will feel more confident about purchasing your product since they know it has been tried and proven to function, making it less dangerous for them to do so.
Is a Testimonial the Same Kind of Reflection?
To attract the kind of 'high value' clients you're looking for, you'll need to provide high-quality, detailed customer video testimonials on your website. Like a well-written advertisement, a well-received endorsement will draw in a more targeted audience.
Read: How To Hire Best Talent With Employee Testimonials
Why are Customer Video Testimonials Effective?
Rachel Botsman – Trust Gap
Prospects can use all of the content in reviews to gather the knowledge to make an informed purchasing decision. When confronted with the unknown, we face a "trust gap," according to Rachel Botsman.
One of the most common roadblocks to the entrance is a lack of trust.
We need something more to leap into the unknown as consumers. To be confident that the result will be good, we need something solid. That "something" is peer feedback indicating why your business is a wise investment in today's world.
Reviews and testimonials are often the last resort for resolving customer complaints.
Rather than flowing vertically from institutions, trust is now distributed horizontally among peers (or, in this case, your brand.)
"Distributed trust" is the term for this phenomenon, which we'll go into further depth about in the following section.
Key Findings
As a business, you can state, "We provide the best coffee in town!" as an example. Prospective clients will treat this information with caution, regardless of whether it is true. Marketing 101 dictates that brands make strong statements. A different story emerges when you hear from ten of your regular customers that you serve the best coffee in town. Such a list of suggestions will have a great deal of influence.
As of 2020, 83% of the United States population will reside in urban areas. There are fewer and fewer people with local expertise as the population migrates. Our mobile society benefits from the context that technology and online reviews provide for areas they've never gone to before.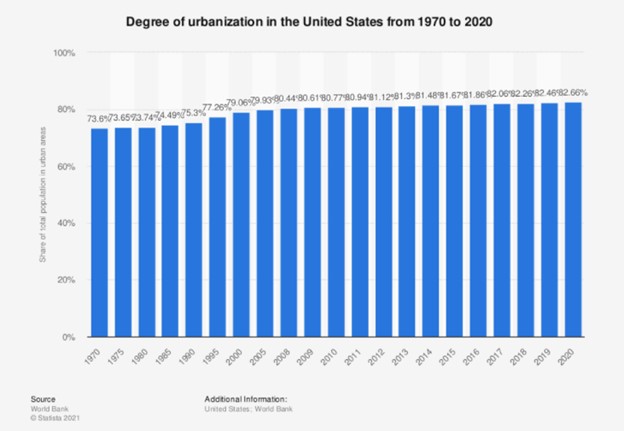 As a result of the intangible, humanistic qualities inherent in the video, it performs a fantastic job of generating trust. Viewers don't just absorb the words, but they also form an emotional connection to the characters they see on TV.
They're text reviews with a little more oomph to them than usual.
Three Steps to a Great Video Testimonial
When it comes to online video testimonials, most of them are bogus. Praise, praise, and a few more compliments are all that's included.
Is this what you came up with?
They do what they're supposed to… nevertheless, not very effectively, as many individuals immediately suspect the testimony to be fabricated.
Testimonials should never be altered in any way. They need to be convincing in their arguments.
There are three key factors that you need to be aware of to build authentic testimonials.
These three elements are taken from Sean D'Souza's well-known psycho tactics blog:
Adding these three components to your testimonials will make them more personable and effective at persuading your audience to try out your products and services.
Better Video Testimonials: 4 Pointers to Keep in Mind
Many businesses have no idea where to begin when it comes to using customer video testimonials. Sounds familiar? Make no fear; we've compiled some helpful advice and best practices to help you get started.
1. Talk to Your Most Happy Customers
Choosing the right customers to appear in your customer testimonial films is essential. Volunteers shouldn't come from just anyone. Make a list of your happiest customers and contact them to see if they'd be willing to be interviewed for a feature.
RoboVent, a leading firm in clean air delivery systems, Chris and John Geneva were hand-picked for their video testimonial. They exude charisma, vigor, and genuine happiness. It would be best if you were on the lookout for these three characteristics in potential testimonials.
2. Without Scripting a Guide
Putting a script in front of a consumer is vastly different from allowing them to say whatever they want. Both are bad options. Allowing the consumer to speak from the heart while guiding the course of their tale is the ideal scenario.
If you'd want to see an example of this in action, take a look at Eric Metaxas' I Am Second video testimonial. It's evident that he's not reading from a script, but it's also clear that someone controls the conversation behind the camera.
3. Keep things to a minimum
The exception to the rule is Eric Metaxas' I Am Second video, which clocks in at nearly 12 minutes. For the most part, testimonies should be no more than two or three minutes long (as in the RoboVent video).
If the video is any longer, viewers will lose interest and eventually leave. Attempting to convey a point in a shorter form can leave you with little time to do it.
4. Select Proper Lighting and Backgrounds for Your Photos
A solid background and lighting are the final two things to consider. If you're looking to capture customer testimonials, there are two ways to go about it.
One technique is to intercut scenes of a consumer speaking with shots showing the product in action. In their video, RoboVent adopts a similar strategy.
Then there's the I Am the Second example, where the entire video incorporates the customer's voice.
Regardless of your method, you must ensure that your images are appropriately lit and illuminated.
It's hard to argue with either of these examples regarding video quality. To avoid filming with a substandard background or poor lighting, it is best to avoid it altogether.
Boost Your eCommerce Sales with Customer Video Testimonials (4 Ways)
We'll show you how customer video testimonials increase sales in your online store using real-world examples.
Let's get started now.
1. They establish credibility and trust via their actions.
Like any other marketing tool, customer video testimonials are a kind of endorsement for your products or services. Yet unlike traditional advertising, testimonials are more trustworthy: 88 percent of consumers trust them as much as they do their friends and relatives.
As a result, you need to establish your authority and trustworthiness if you want to boost your conversions.
Customers who have left you a review on your website or social media should be contacted for this purpose.
Use open-ended questions in a brief email survey to elaborate on their experiences.
You should ask permission from them before using their name or photograph. It's difficult for new buyers to put themselves in your current customers' shoes if all of your testimonials are anonymous.
Customers are much more likely to stick with a brand when they see it in action.
2. Positive Feedback from Actual Customers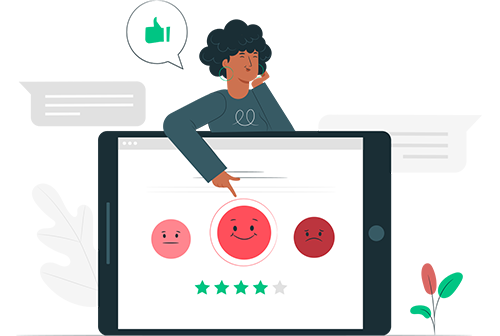 According to Nielsen Norman's recent research, twenty percent of eCommerce retailers lose clients due to product descriptions that are too vague.
As a result, customer video testimonials are a great strategy to keep your consumers coming back.
In addition, they are a great way to highlight the advantages and characteristics of your product. Because, after all, one of the most potent selling methods is demonstrating how your product may benefit your clients' life.
An appealing and relaxing way of advertising the advantages of your items is to use video testimonials. An alternative to sales pitches is to rely on customer video testimonials to get the word out about your products and services.
The best way to do this is to tailor the client video testimonials you display. Rather than saying a list of generic testimonials, make sure that each one is unique in terms of content.
If you have a product testimony, a customer video testimonial, and a testimonial about your dependability or responsiveness, you could have a variety of testimonials. Potential customers are more inclined to buy a product or service if they see how it will benefit them.
Take into account how testimonials are presented as well.
As an example, if you've received positive feedback from Instagram or TikTok users, consider asking them for a video review. You could even be able to offer a gift in return.
WyzOwl reports that 79% of customers utilize video testimonials to learn more about a product; therefore, video as a marketing tool pays off handsomely.
Read: How Vidmonials Helps In ecommerce Products Review?
3. Facilitate the Customer Experience
Sales pages using customer video testimonials have been shown to increase conversions by 34%.
A simple explanation for this rise in sales is that clients can get the support they need just before buying something online.
Correct positioning can help you increase conversions by easing the path of your clients. Placement is crucial in digital marketing.
An eCommerce clothes store would be a good example. You might use a customer testimonial to show how quickly you replace too large or too tiny things on your returns policy website.
As part of your marketing strategy, you should consider how you can best showcase your customers' enthusiasm for the product through email and social media.
An omnichannel strategy could be used in conjunction with testimonials.
For example, shoppers can browse your client video testimonies and then ask any more questions before purchasing by using live chat on your website.
As a result, cart abandonment rates can be reduced, and efficiency increased.
According to online retailer Bravissimo's experience with webchat and video chat, only 6% of customers abandoned their chat sessions.
4. Assemble a Network of Prospective Associates
Creating long-term relationships with your consumers begins with asking for customer video testimonials from your current customers.
In the end, prospective customers looking for validation from your present customers only want the same level of satisfaction that your existing customers enjoy.
Email surveys and social media can help you keep in touch with your consumers and improve client retention.
Reach out to your clients regularly, even if it's just once a year, to get the most out of their recommendations.
It's important to thank these clients for their input and ask how they're doing so that you can build a positive relationship with your target market.
These clients are considerably more likely to give you further feedback and social media shares in the future. If your customer becomes a product influencer in their circle, that's a bonus.
Additionally, you may utilize this advice to ensure that your website is seen as trustworthy in the future.
Any potential clients who find a link to a now-defunct business on your B2B site may be put off by the fact that one of your customer testimonials refers to them.
This may put off visitors to your site, and you may even lose potential customers as a result.
Keep in touch with your video testimonial providers instead of ignoring them completely. Additionally, you'll be able to get input on how to improve your customer service as a result of this.
Automating the Collection of Customer Video Testimonials
Once a transaction is complete, clients might be prompted to provide a review using an automatic review generation tool.
The most efficient way to accomplish this is through CRM integration software such as Vidmonials for video reviews (or similar databases).
It is necessary to send a request for review once the transaction has been marked as complete.
Customers should be thanked for their business, asked if they would be prepared to leave a review, and then given a link to the review submission form.
Sending these requests to customers can be accomplished in a variety of ways.
Using email as a communication tool is expected; it's efficient, but it has a more significant chance of being diluted (spam, competitive inbox, etc.)
Alternatively, SMS messages can be used. Customers are far more likely to receive your message if it has a 98 percent open rate. Because the consumer may record their evaluation straight on their mobile device, text works well for video.
How to Make it Simple for Your Clients to Collect
You can only accumulate as many video testimonials as the number of purchases you make in a given month. Achieving your goals will be easier if you send out a request to every customer.
Your customers should receive your message on their phones because it is the most convenient way to post a review.
It's also essential to make the process as simple as possible for the customer to maximize your chances of success.
Sending a request by SMS/EMAIL is the best approach. If a consumer receives a text message to their cell phone, they can easily record and submit a video review on the same device.
Additionally, you'll want to make the video testimonial process as easy as possible for your customers by providing them with clear instructions. You can give them pointers on what to say and how to say it (getting their face in the frame, angle, lighting, etc.).
Instructions for a sample:
Say hello!
Share what you've learned.
Let us know your preferences.
Simplicity isn't necessarily a bad thing in this situation. To improve the number of submissions, you need to remove as much friction as possible from the process.
Wrap Up
Here, we see that client video testimonials are an essential component of your marketing plan, but they are also crucial to your customers' online journey.
Businesses that post customer video testimonials demonstrate trust and authenticity while also giving their customers a meaningful understanding of their product through customer feedback.
It's also a good idea to use video testimonials to inspire you and your employees, as well as potential consumers, to succeed.
Keep your customer video testimonials current if you want to see an increase in eCommerce conversions.
Please share your thoughts on social media so that others might benefit from them.
To ensure long-term success, keep in touch with your customers and refine the placement and design of your testimonials.
Customers' video testimonials, which can be recorded remotely, can help you advertise your e-commerce business with Vidmonials.
There is also a 7-day trial for new Vidmonials users. Book a demo with one of our product specialists right away to take advantage of this exclusive offer.
FAQs
How do you make a customer video testimonial?
Vidmonials is a tool for creating video testimonials from your customers. There are numerous applications for this video testimonials collection platform, and it has a large number of satisfied customers all over the world. The UI is simple to use, and the response time is swift. Customers may also use the service to record video testimonials remotely, which is especially useful in these times of epidemic.
What do you say in a customer video testimonial?
Your customers' journeys with your brand are documented in a customer video testimonial. An effective sales pitch begins with an in-depth description of what the consumer is going through and how your product or service may alleviate that suffering.
A customer video testimonial in which many consumers share their stories. They might either focus on a single characteristic of the brand or discuss a variety of facets.
Adding a camera to the front of your store and asking customers to describe their outings is a great way to get feedback from your consumers. These videos have the most appeal because of their authenticity.
To persuade prospective customers of the value your product or service can provide, create a customer video testimonial that talks about hard facts and quantitative data.
Create a compelling narrative with memorable characters that your audience can identify with.