Customer video testimonials have an excellent use in making a business more trustworthy. In addition to this, they provide great value when it comes to building a successful brand.
The reason why businesses have shifted their marketing approach (of customer testimonials) from text-based to video-based is that the latter is highly engaging as well as persuasive. So, testimonial videos of your existing customers are highly effective in making new customers. But what makes them powerful enough to persuade potential clients and create a robust brand successfully:
Why do customer video testimonials make a great marketing tool?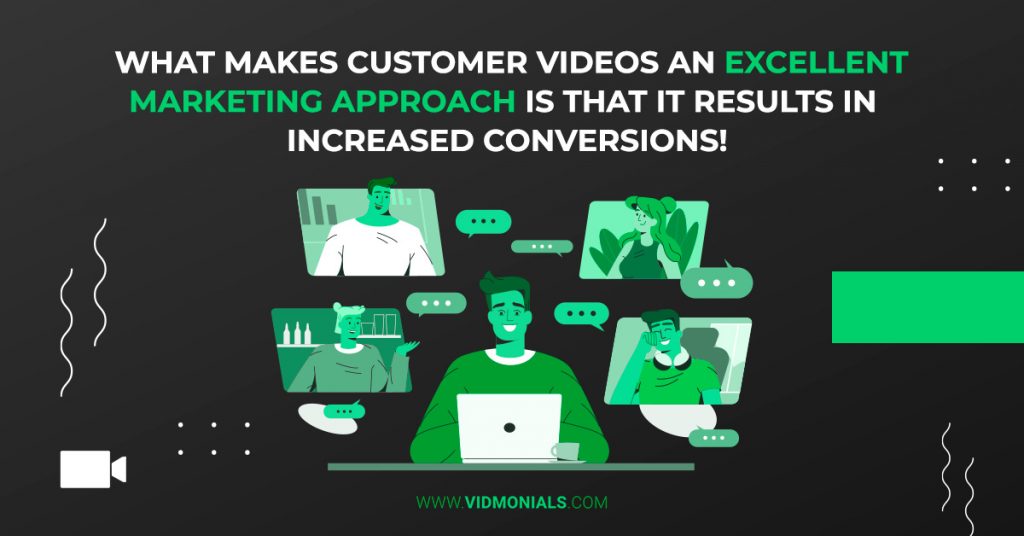 Customer video testimonials are more than just a part of the marketing strategy. In fact, when used correctly, they can alone perform robust marketing for a business. A video testimonial that has the right essence shares the usefulness of a product/ service to its users. Thus, when rightly made, it can be powerful enough to persuade the potential customers of a business.
Testimonials alone can sufficiently help you in attracting your target audience. If it is the case, why have video-based testimonials become so successful and thus essential in performing marketing of a business/ brand/ company? We look at these reasons in detail below and how they enable a business to build a successful brand for itself:
Customer video testimonials establish trust
The customer testimonial videos are a great help in building trust. However, one could argue that text-based testimonials also help a business build trust in regard to its name and the service that it provides.
It is true that a non-video-based testimonial also helps build trust. However, its video-based counterparts allow its viewer to witness the testimony of the existing customer of a brand just as they were physical with them in person, which adds to the genuineness factor. While some doubts may still exist, the credibility, however, is increased.
The evolution of communications from voice calls to video calls explains and advocates the use of video-based testimonies over non-video based for a business.
Videos are absorbed more and better
The takeaways of a video are absorbed more than those of a text paragraph. It means that the contents of a video testimonial are more likely to be absorbed by the viewers than those of a written testimonial. Relevant research shows that more than 90 percent of a video's content is retained. So, it should be no surprise that customer video testimonials are great at creating a successful brand.
Video content is preferred
Unarguably, video is one of the most preferred content today, if not the most. It is the reason why Youtube is the second most popular search engine in the world, with more than two billion active users.
One of the main reasons for videos being the most liked form of content is the fact that it keeps the viewers engaged more than any other form of content. Another reason behind it being the users' preference is that it's a powerful storytelling tool.
The ability of the videos to perform a powerful narration plays a key role in effectively explaining the help that a service provides to its users. Consequently, the worth and convenience of a product are successfully shared with the intended viewers.
Videos are shareable
Making testimonial videos may be more time-consuming than text-based ones. They may also require more effort. However, the results that they bring are ideal.
A business that has video testimonials of its clients not only can promote it much better but can also expand its awareness among people.
One of the useful aspects of the testimonial videos for a business is that they can be shared. So, when a testimonial video of a business from its customers is shared, it brings manifold benefits to it, including building a stronger brand.
Customer video testimonials help in conversions
The fact that customer video testimonials help greatly in converting the leads to sales alone makes it a powerful marketing tool. The single reason behind performing marketing is to have more conversion, and when video testimonials help in this regard, then using it becomes essential for any business.
To conclude, the customer video testimonials are indeed a persuasive marketing tool owing to which they greatly help establish the business brand.
Read: How to Use Client Testimonials at Every Stage to Increase Sales Success
Tips on making compelling customer video testimonials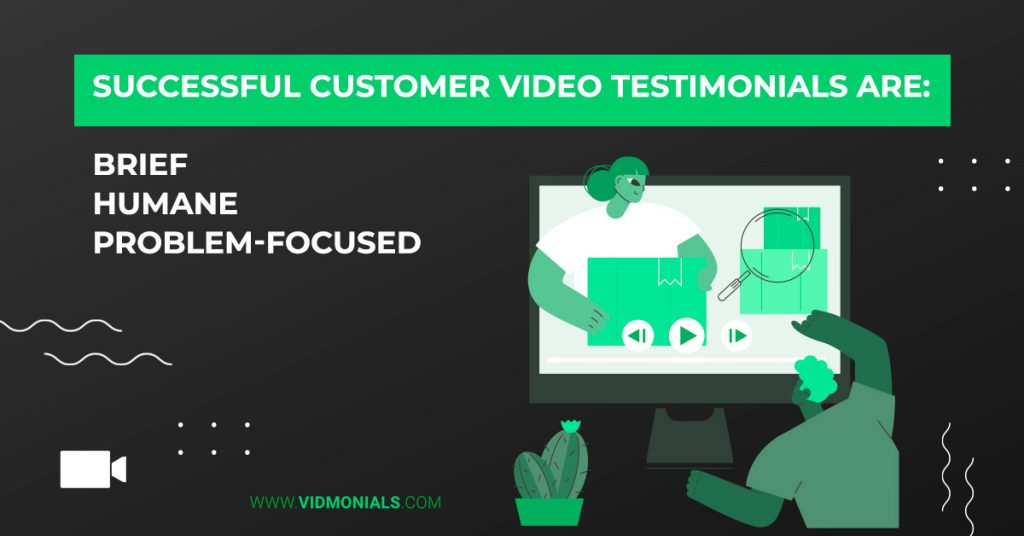 The testimonial videos are not commercials for a brand. Although both serve the same purpose, that is to promote. The two differ in the sense that video testimonials do not include the professional actors but the users of a product/service. So, there are some considerations that should be kept in mind for making your video-based testimonials fruitful:
Keeping it brief: Generally, it is a good idea to keep your testimonial videos brief. Make the most of your time and explain the worth-explaining aspects. Also, avoid making exaggerated claims.
Making it humane: One of the best things that you can do to make your customer video testimonials more persuasive is by keeping the human factor alive in them. Basically, your customer video becomes less effective when it appears more scripted and robotic, and less humanlike. So, it is necessary to give your customer videos a human touch.
Focusing the help: A video in which a customer only sings the praise of a brand may not help attract the audience. The reason is simple: the prospective clients are not interested in your over-the-moon praise for a company. Instead, what they are interested in is the help and benefit that they can get.
As long as the customer in a testimonial video is talking less about the company and more about its real-world help, the prospect of attracting the video's viewers remains high.
Leveraging the happy times: As a business, you know when you provide your best service, and making use of such times is a smart move. But, when it comes to making clients' videos, they are absolutely essential.
With the best of your service, your customers are happier and satisfied, and there comes no better time than this to request a video that validates your quality of service. It, as a result, leads you to an impressive customer video testimonial.
Drawing comparisons: It is always a good idea to make your customer draw comparisons between your services and that of your competitors". It is likely that your potential customers are already comparing the relevant options. So, seeing your existing clients rating your services better than your competitors can make them opt for you over others.
Key areas for an effective customer video testimonial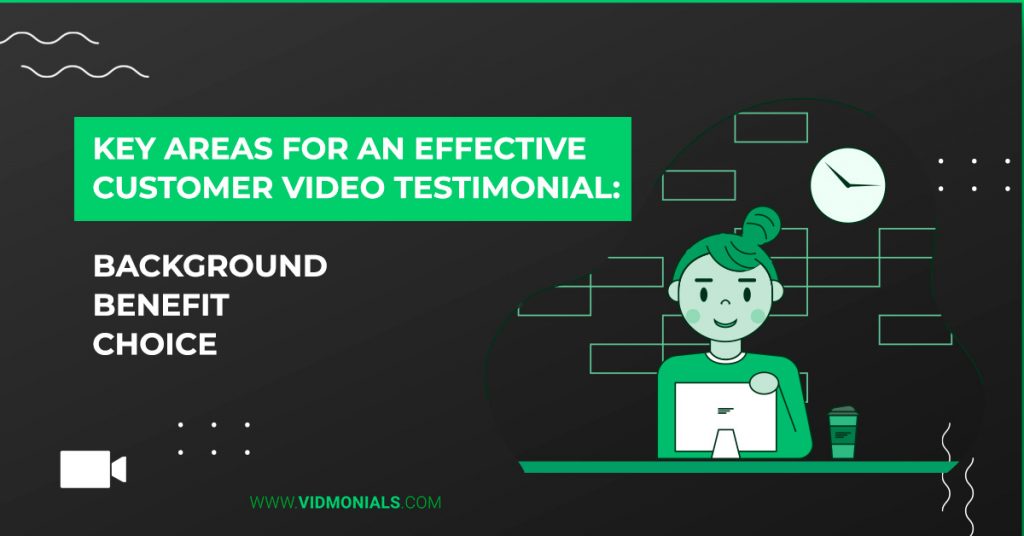 You should be focusing on the following areas for making your customer video successful:
The background
Giving a background to the testimonial video enables the prospective customer to relate. But what does it mean? When a customer in the video provides a context on the issue that made them look for its relevant solution, there is someone out there facing the same issue.
So, watching that someone had faced the same issue in the past establishes a relationship between your existing and potential customer, which leads the latter to make up their mind to seek your help in resolving their similar problem.
The benefit
As much as it is important to share the struggle of an existing customer before using your product, it is equally important to share how addressing it led them to benefit. This way, the extent your business can be of value can be shared with others.
The eventual choice
We mentioned before, too, that drawing comparisons between you and your competitors can be very helpful in convincing others that you're a better choice over other available options. What, in addition, you should be doing is share the experience of a customer (if any) of using the service of your competitor company, which didn't provide any considerable help.
Of course, you don't want them to take names for obvious reasons. But mentioning this in the videos drives the message that using some other product/ service may not be worth it and that they'll be switching to your service eventually, as the experience of the customer in the video proves.
Read: Importance Of Customer Video Testimonials In eCommerce
Conclusion
Customer video testimonials have changed the way customer testimonials are perceived. Before their introduction, client testimonials were not a significant part of a company's marketing campaign, which was somewhat justified since text-based testimonials are not much effective when it comes to retaining the essence of the content.
With the use of video testimonials, their effective use in various regards and the subsequent benefits came into light, which led them to become one of the tenets of an organization's marketing strategy. With it, the dynamics of how a company markets also changed.
Customer video testimonials develop trust for a brand in the minds of the audience. They are absorbed better, making the intended audience leave with the takeaways of the message. What's more, is that the video content can be shared by and among the general audience. Consequently, conversions are made. And it is how the videos from your customers lead you to create a successful brand for your business.
Lastly and importantly, you can make customer videos using a standard video production setup or an online tool. The former, such as the Vidmonials, however, is more convenient, which has led to its increased use. You can book a demo here to make successful customer video testimonials.