A well-made customer testimonials video can do it for you if you are looking to develop brand recognition and increase conversion rates on your product or service.
It is one way to advertise the company's offerings in a genuine and heartfelt manner. One thing it does is to help you differentiate your product or service from similar rivals, bridging the gap between consideration and desired action.
But what exactly is a customer testimonials video, and how do you make one that will help you progress?
How Do Customer Testimonials Video Improves Conversion?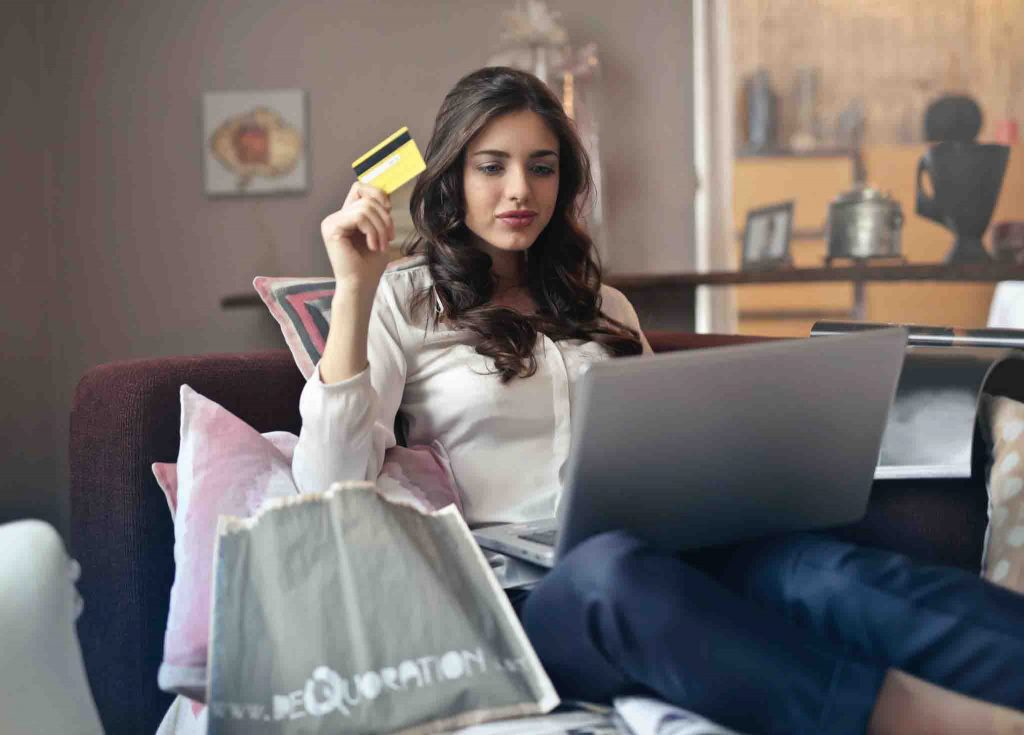 You're aware that you need a method for focusing on prospective clients; maybe they've already checked you out but aren't sure they need your product or service specifically.
How are you going to persuade them otherwise?
Video content is a powerful tool that helps attract, engage, and nurture users toward a sale, but a customer testimonials video is vital in helping prospects convert.
Here are some credible and supportive statistics in favour of testimonial videos.
Customer testimonial videos are the most valuable material, with an effectiveness rating of 89 percent.
Brands that elicit a higher emotional response earn three times the amount of word-of-mouth as brands that inspire a lower emotional response.
56% of consumers believe that consumer testimonials help in the decision-making process.
According to the survey, 72% of consumers claim positive feedback and testimonials increase their confidence in a company.
Eighty-four percent of people claim they trust customer reviews as much as they would a friend's recommendation.
Now you know the video testimonials will help you convert more customers. What's the right way to go about making one?
Let's dive deep into it!
Read More: Generate More Revenue by Using Customer Testimonials Videos
What is a Customer Testimonials Video?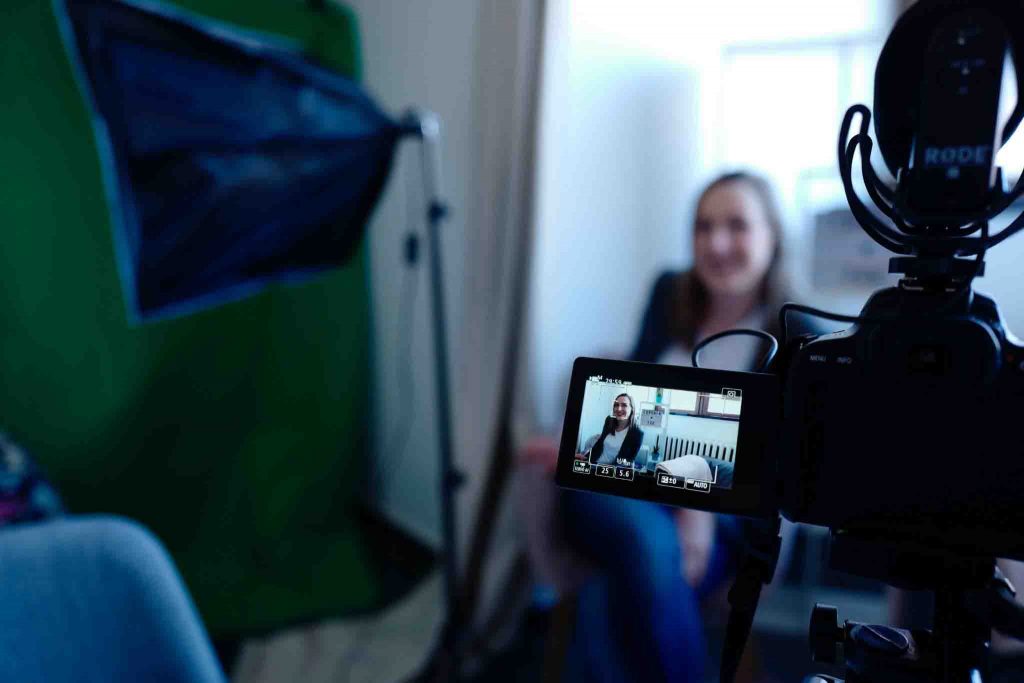 A customer testimonials video is simply a favorable review by a satisfied customer that discusses how your business assisted them and their experience working with you in detail.
It is very personal and very truthful, and it will help you increase your conversion rates significantly. People trust the opinions of others, even strangers, so these videos are particularly powerful.
Getting an insight into the lives of real consumers who like what you have to offer presents genuine social evidence, which is a vital factor in moving users from the nurturing to the conversion stages in their buyer's journey.
Why Are Testimonial Videos Important?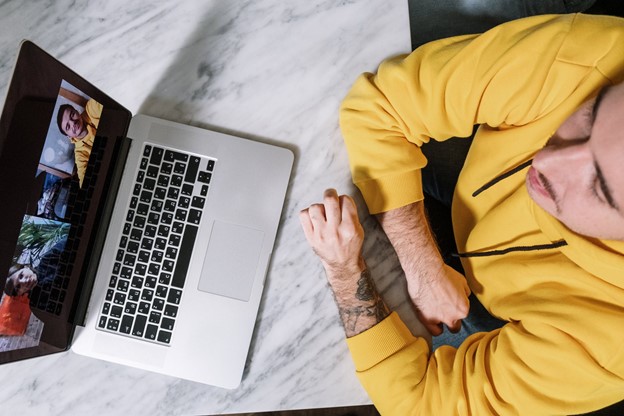 Reviews have become a key component for companies in today's digital environment when everyone has a voice and can share their experiences online.
People make the majority of their selections after conducting research on a company and reading customer evaluations.
It's vital to remember that over 85% of customers utilize the internet to discover local companies, and their major goal when doing so is to see what others have to say about the company. 90 percent of people agree that internet reviews affect their purchasing decisions.
These are crucial statistics that demonstrate how significant internet reviews are to businesses in today's market, influencing sales, reputation, and popularity.
This is why it is critical for businesses to take online reviews seriously and to leverage positive testimonials to enhance their brand image and increase client loyalty. One of the most effective methods to achieve this is to use testimonial videos.
Businesses that have testimonial videos have a better probability of attracting customers than those that don't.
How To Make A Good Customer Testimonials Video?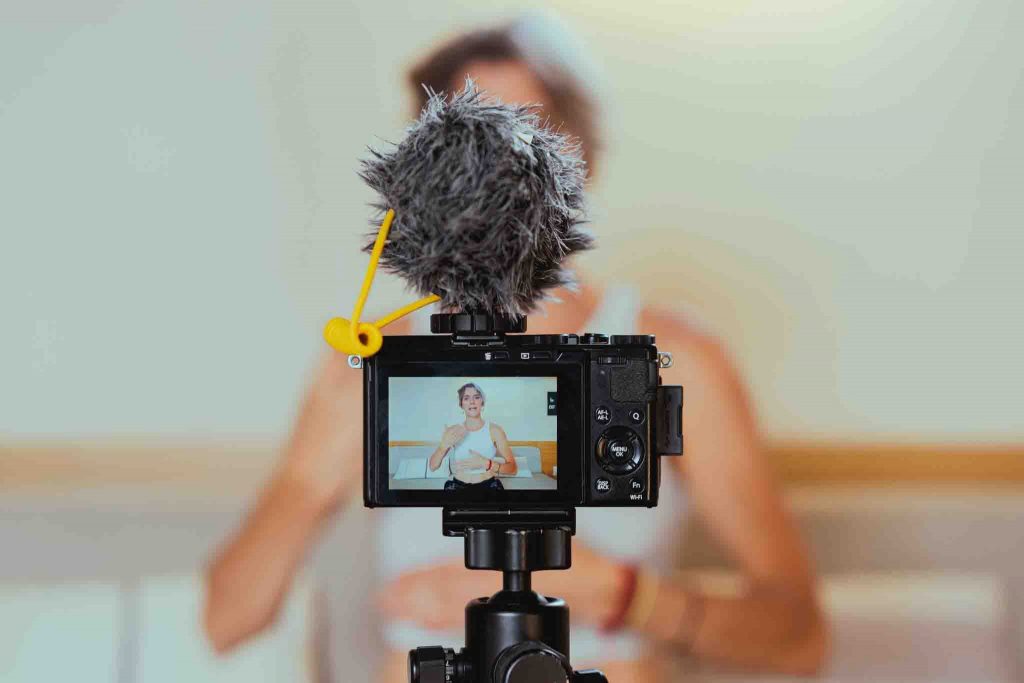 The secret to making an emotional and memorable video testimonial in the eyes of a customer who has never experienced your product or service is keeping the message focused on the positive qualities of your brand. It gives it credibility.
Pose the following questions to the individual being interviewed:
Why did they choose your brand or product?
What are the advantages of buying your product or using your service?
What makes you think people should try your product or service?
The simple "yes" and "no" questions won't get you any solid responses, and they won't elicit the emotional response required to help the audience interact. So better avoid them and use open-ended questions.
Along with eliciting an emotional response, there are two distinct types of testimonial videos that are most effective at capturing the essence of your company.
1. Testimonial Compilation
A testimonial compilation is a collection of brief, optimistic sound bites from a variety of customers. It creates many focal points and draws attention to a range of different identities and demographics.
Additionally, it is advantageous for the business because the diversity of viewpoints lends legitimacy to the brand.
It can be condensed into short clips for social media and is excellent for paid advertisement remarketing to help nurture leads that have not yet converted.
2. Testimonial Highlights
Testimonial highlights are videos that involve a lengthy interview with one of the customers.
These interviews are more in-depth than compilations and aid in communicating why the brand, product, or service is so exceptional.
Typically, these testimonials have a greater influence and often refer to unique advantages or features that you deliver.
3 Effective Places Where You Can Use Your Customer Testimonials Videos
Now that you have your customer testimonials video, what are you going to do with it?
Well, customer testimonials videos can be used anywhere you have a presence online. They are not bound to be used for only marketing purposes. Customer testimonials can even act as user guides where old customers may share about their journey with your business.
Moreover, here are three main places where your video testimonials can fit in the best way possible: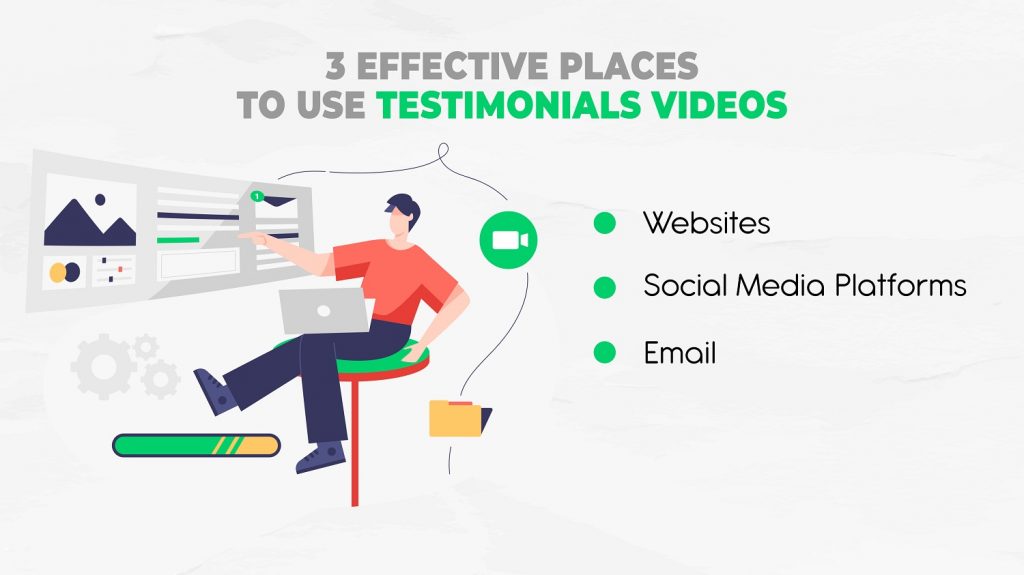 1. Website
Your website is one of the best places to put your latest video testimonials. There are several locations on your website where you can naturally insert your video testimonial, depending on its structure.
The home page is an excellent place to begin. You don't want a testimonial to be the first thing a visitor sees because they'll need more information before being drawn in, but placing it further down the page will provide the social evidence a user is searching for while also increasing their total browsing time.
You may also have your testimonial on other sites, such as your How It Works page, your About page, different locations on your blog, and if you have them, your e-commerce pages.
A video testimonial for an e-commerce product would almost certainly boost sales. It is also crucial to have them on ad landing pages, such as those for search or social advertising because someone who has clicked on your ad has shown interest in your company.
Using a testimonial video to hook them will not only increase your overall reputation but will also help them convert.
2. Social Media Platforms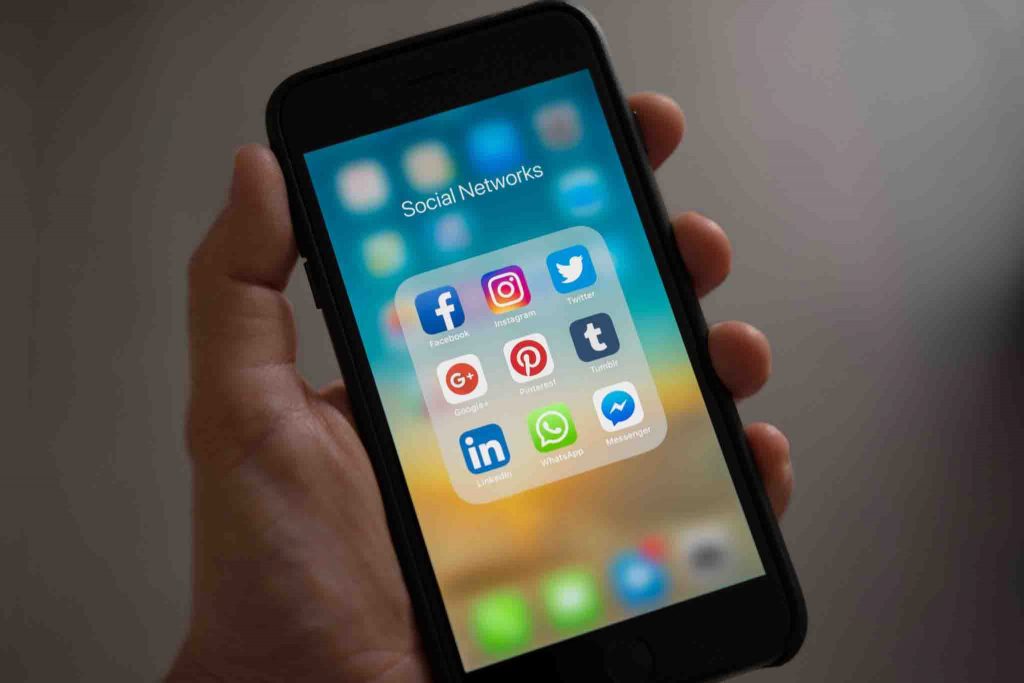 A customer testimonial that tells an engaging and entertaining story can also be a great performer on social media, even though social media videos are usually short and visually bold.
There are standard channels, such as Facebook, LinkedIn, Pinterest, and Twitter, where you can reach out to fans who already follow your page organically.
You may also use these platforms for advertisements to reach a new audience. These channels are excellent for retargeting users who have previously visited your website, giving them a second opportunity to build confidence and transparency for your brand.
Videos are excellent for attracting niche audiences. You can later run a more focused and engaging ad to convert the new viewer if they watched more than 25% of the video.
Finally, you can share your video through a presentation on other platforms such as YouTube, Quora, or even Reddit or Slideshare. These are lesser-known outlets with incredible scope in specific niches and sectors and the ability to generate a surprising amount of brand awareness.
3. Emails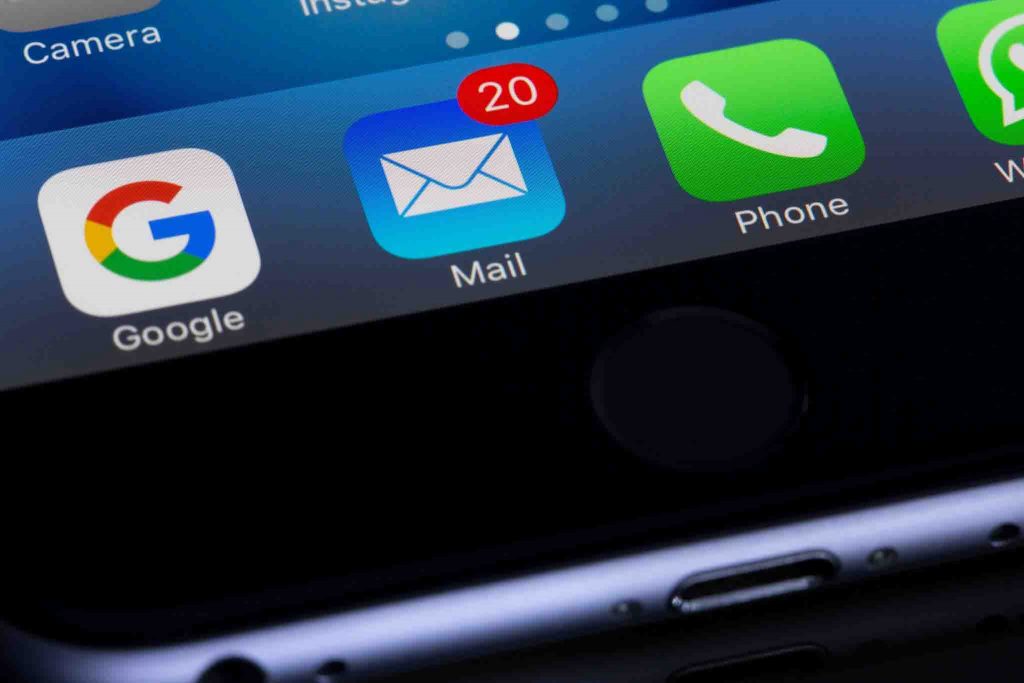 Customer testimonial videos are an excellent piece of material to send to your email subscribers.
Emailing a video testimonial is a perfect way to spice up your email content while still offering social evidence that might re-engage them. It can be used in a weekly or monthly newsletter, a promotional email, or even a sales or customer service email.
A customer testimonial is a perfect way to nurture those warm leads and get them to convert if you have some automatic email drip campaigns.
Closing Remarks
Utilizing video testimonials is a highly effective way to improve conversion rates through a variety of techniques. Remember that a successful customer testimonial needs an engaged customer with a compelling story to tell!
You can reach out to us via Vidmonials if you're interested in making your customer testimonials.