An online video platform in its most basic form provides help in performing tasks that relate to the video recordings, such as uploading, sharing, and recording.
Nevertheless, for a related platform to be called one of the best, if not the best, it should help in video streaming live videos, besides being capable of performing screen and online cam recordings.
There are many online platforms concerning functions pertaining to online video recordings. However, all these platforms lack universality in regards to their online recording features. Thus, a platform offering one feature may not be able to provide the other and vice versa.
With the definition of what makes an online video platform the best, Vidmonials can be fairly termed as the new king of the online video platform. It is for this reason that in addition to its robust online video recording capability, you can also use it in online video screen capturing and webcam recording.
Additionally, it serves and meets the needs of businesses belonging to different industries. And with its comprehensive features, any business can maximize its functionality in meeting its needs of performing online video recordings.
While the help of Vidmonials as an online video platform brings equal use for all industries, the ones that benefit the most include real estate, eCommerce, and recruitment.
This article discusses in detail the features and functionality of Vidmonials and the uses that it brings for its users of multi-natured industries. It will help to determine why Vidmonials has emerged as the new king amongst the existing online video platforms.
What is the top online video platform?
Vidmonials: An online video platform for eCommerce
For an eCommerce store, converting leads to sales holds immense importance. And with Vidmonials, you can create highly persuasive and engaging videos that can help you convert prospective leads to sales. Thus, Vidmonials provides a great deal of help in this regard.
Videos tend to urge a visitor on an eCommerce website to make a purchase. And what better call to action could be other than the videos of your client testimonials? So, using Vidmonials, you can create authentic client testimonials, which in return completes the sales funnel successfully.
In addition to this, the bounce rate of your eCommerce website also decreases with the use of video testimonials. Subsequently, the conversion of the website increases.
Uses of Vidmonials for eCommerce store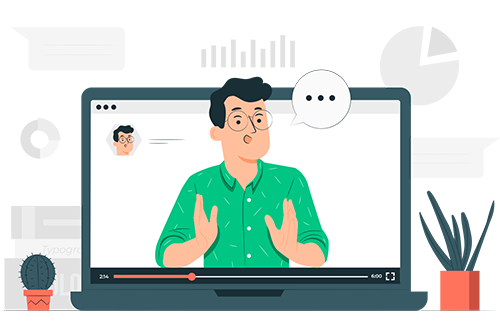 Vidmonials benefits an eCommerce store in the following ways:
Decreased bounce rate
An eCommerce store can decrease the bounce rate of its website through Vidmonials by using videos of successful sales. It helps complete the sales funnel process by urging the visitor to take action and not abandon the process in-between.
Using videos of your successful sales also provides great help in making the visitors understand your business with greater insights. It increases the likelihood of the website visitor to make a purchase, completing the sales funnel and decreasing the bounce rate.
Decreased abandonment rate
Since with Vidmonials, you achieve a decreased bounce rate for your website, it also leads to a lesser abandonment rate of your eCommerce store. Again, it is the testimonial videos that not only decrease the bounce rate but the abandonment rate as well, completing the sales funnel in both cases.
Increased conversion rate
With a decreased bounce and abandonment rate, it becomes a matter of time for your eCommerce website to witness an increase in the conversion rate.
Utilizing Vidmonials, creating attractive customer videos becomes easier. With this, you are not only able to promote your eCommerce business better but share its common utility as well.
All this leads to convincing the website visitors. As a result, fewer users give up the purchase process, and more numbers of users complete the sales process.
Features of Vidmonials as an online video platform for eCommerce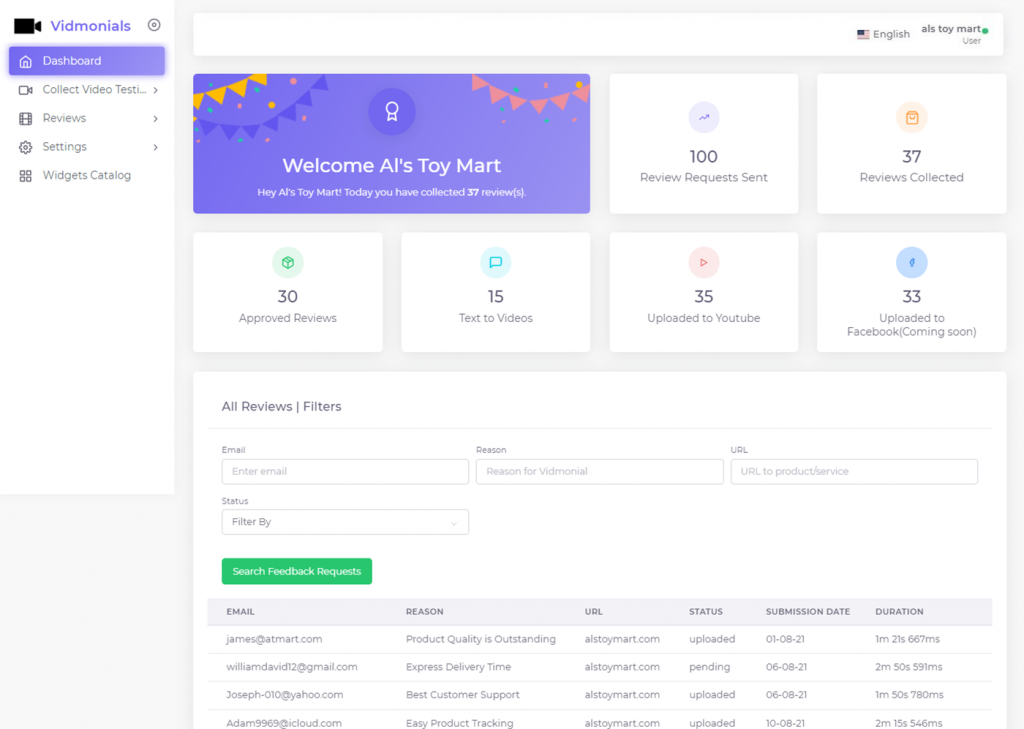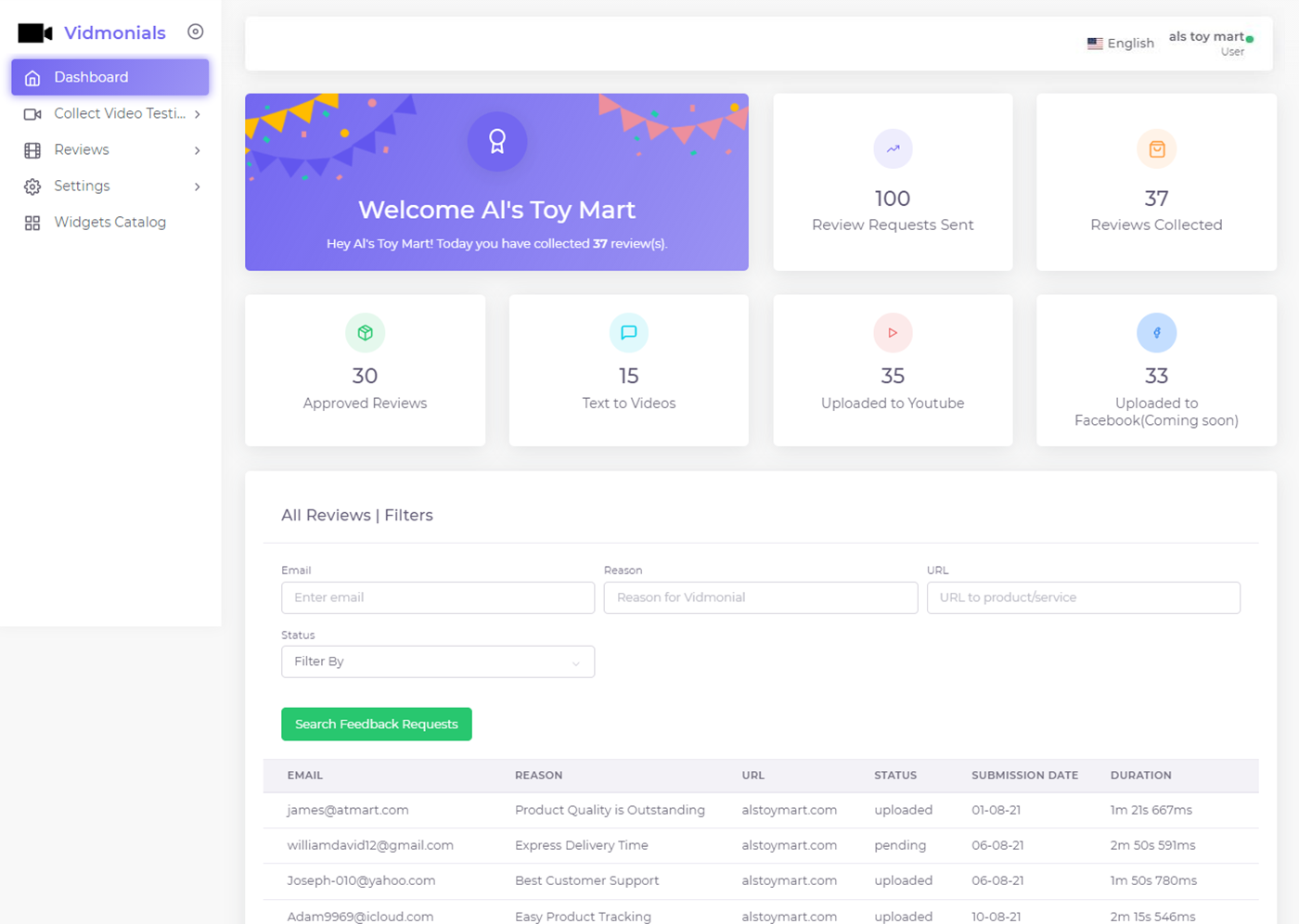 The design of Vidmonials caters to the needs and requirements of an eCommerce store. Therefore, using it, your website gets a better call to action and a successful sales process.
In regards to eCommerce, it has the following features:
Collection of sales videos
Vidmonials allows you to collect your successful sales videos at a single point. It allows you to swiftly and quickly search the required videos, which also helps in using the very video quickly.
Ease in requesting a testimonial
Vidmonials enables its users, with an eCommerce business, to request all their customers for testimonial videos in a single go. Furthermore, providing and requesting a testimonial has such a convenience that it is second to none.
Vidmonials entirely eliminates the need of signing up for the clients to provide their video testimonials to an eCommerce business. It consequently makes it easier to provide video testimonials. And subsequently, more clients are encouraged to provide testimonial videos.
Authentic eCommerce website
Vidmonials help make the eCommerce business of its users more credible and authentic by providing embeddable video widgets.
An eCommerce website can use such widgets on its website or in its testimonial videos to make them more genuine to the users. In this regard, users of Vidmonials can either use a floating trust seal or video playlist widgets.
Analytics
This feature of Vidmonials helps you track testimonial requests. Along with that, this feature provides you with a summary of all your received client testimonials.
Vidmonials: An online video platform for real estate
Vidmonials is one of the best online video platforms for property businesses because its utility in this industry is unrivaled.
The platform of Vidmonials can be used in performing video content marketing of properties. It can also be made to use as a video funnel. Along with that, you can use it for filtering out genuine buyers and also the sales leads.
The principal use of Vidmonials in the real estate industry remains 'virtual property tours.'
A virtual property tour involves providing the buyers with videos of a sellable property. Thus, it becomes easier for the buyers to learn about a property without having to leave their homes. And this increases the likelihood of a property being sold.
The importance of virtual property tours in terms of time and money is essential as it helps to save the related expenses of anyone involved in the sell/buy process. Therefore, the property business is made easier through Vidmonials for both sellers and buyers.
Last but not least, giving potential or serious buyers virtual tours of the properties increases your number of sales. It is because sellers can better promote a property, and the buyers can learn about a property with more insights.
The feature of Vidmonials that elevates the number of property sales includes buyer filtering, video funneling, leads filtering.
Uses of Vidmonials for real estate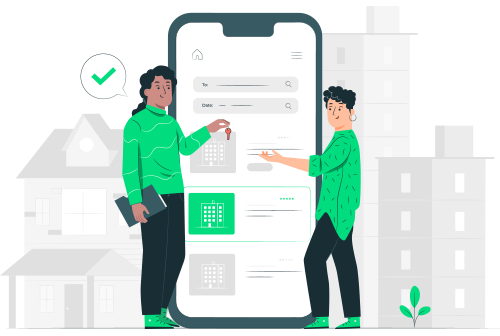 Vidmonials comes with the following uses for its users in the real estate business:
Efficient sales agents
It is inevitable for a property business to have efficient agents. The property agents, if competent enough, can not only promote a property better but can also make it sell faster. Therefore, a real estate business relies hugely on its sales agents to thrive.
Understanding the necessity of good sales agents, Vidmonails helps property businesses hire competent agents through its feature of asynchronous video collection.
Virtual house tours
While there are many uses of Vidmonials as an online video platform, this use remains its foremost use for the real estate industry.
By leveraging the online video platform of Vidmonials, a property business can provide virtual tours of the property that interest a client.
This utility from Vidmonails empowers a business to market a property to as many customers as possible. With it, a business is able to earn maximum margin profits against a property due to its marketing amongst a larger audience.
And all this is made possible by making virtual property tours made using Vidmonials.
Read More: How To Effectively Do Property Sale And Purchase By Using Vidmonials?
Get constructive feedback
This is yet another benefit of using Vidmonials for a property business. A real estate business can improve in the area of its service by receiving meaningful feedback from its clients.
Features of Vidmonials as an online video platform for real estate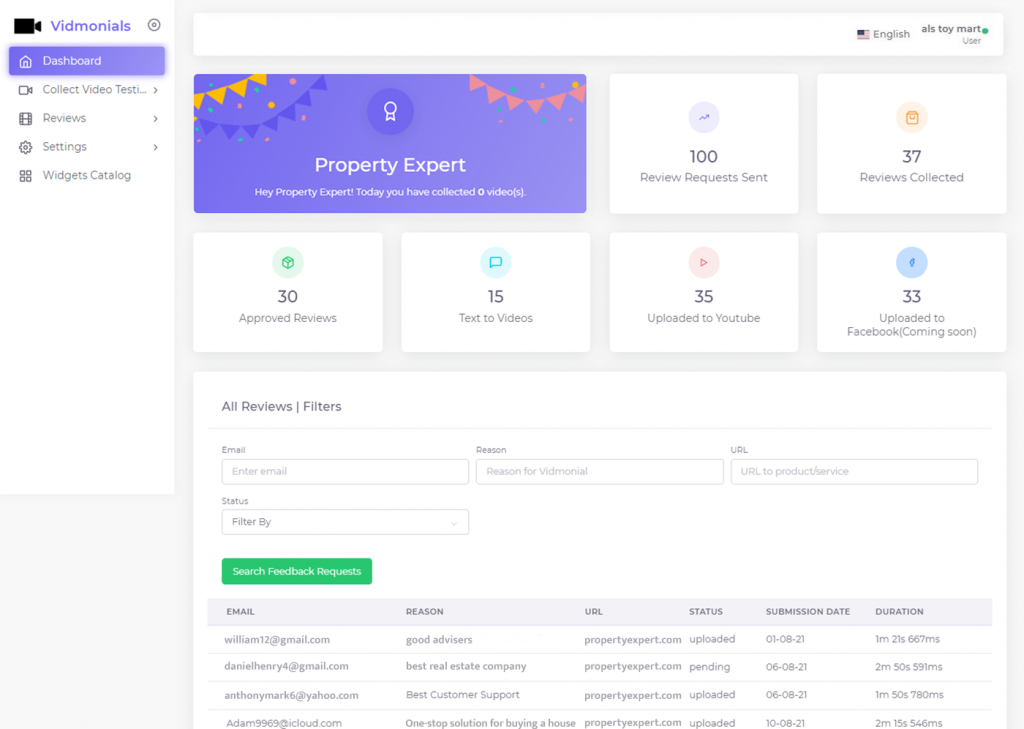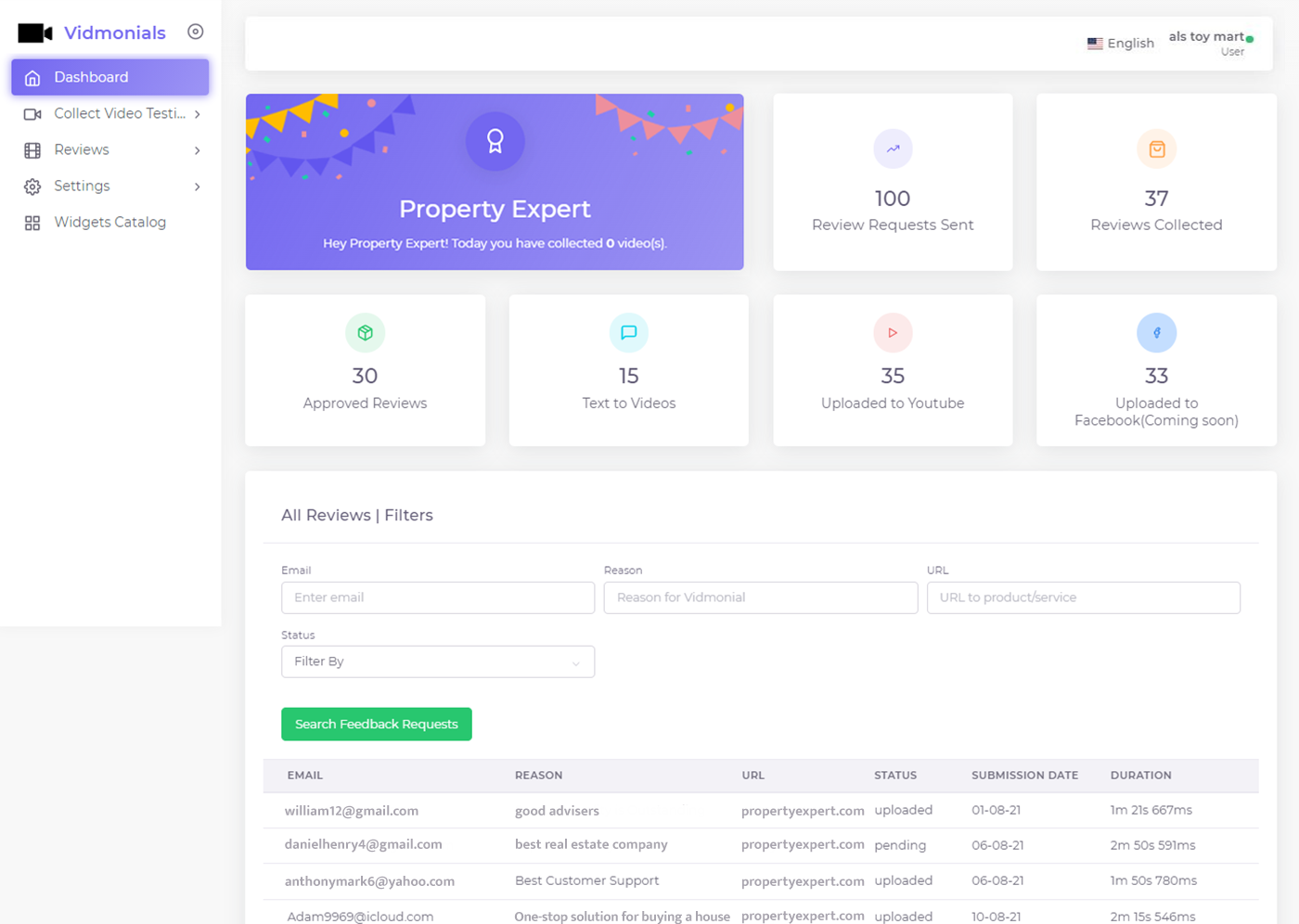 Vidmonials was designed to cater to the needs of various industries simultaneously. And the real estate industry is one of such industries that benefit the most from the online video platform of Vidmonials.
The feature of Vidmonials that meets help a real estate business to thrive are as below:
Social media marketing
Marketing a business today on social media has become inevitable for almost every business. And many businesses are thriving by performing marketing on various social media platforms.
One of the main reasons for the success of social media marketing is the inclination of social media users towards videos. Thus, by creating compelling videos of its efficiency, for a business to promote itself in a positive light becomes easier than before.
Prospecting email
Email prospecting is yet another effective marketing strategy and many businesses, including real estate, leverage it.
Using Vidmonials, you can make video testimonials of your customers and embed them in the prospect emails. Additionally, including your customer testimonial videos makes your email more personalized, which helps to give a better impression.
In a nutshell, Vidmonials provides a great help in making your prospecting emails more compelling and, subsequently, effective.
Vidmonials: An online video platform for recruitment
With Vidmonials, for a company to acquire top-tier candidates becomes easy. Using it, a company can find for itself a candidate with the required skills by reducing the candidate ghosting from the recruitment process.
It makes the hiring process easier and swift, which helps curb applicant ghosting, making it one of the best online video platforms in recruitment.
Vidmonials help make the hiring process individualized, which results in fewer candidate ghosting. Moreover, it makes the process effortless and simple for both recruiters and candidates.
With the recruitment procedure becoming straightforward, it makes it easier to find the candidates with the desired skill set. Also, with the simple procedure, hirings can be done immediately.
Levering Vidmonials as an online video platform helps in having the candidates with the most sought-after skills. And this helps to compete in the cut-throat competition of the respective industry.
To conclude, this online video platform is ideal for both recruiters and candidates.
Simply put, with Vidmonials, employers can find the desired employees, and candidates can work for their ideal companies.
Read More: Recruit a fresh top-tier talent through Vidmonials Easily!
Uses of Vidmonials for the recruitment industry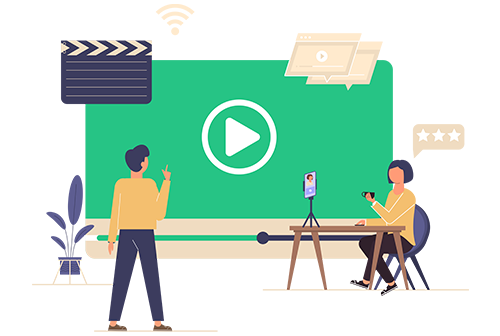 Vidmonials comes with the following benefits when used in recruitments:
Curbs the applicant ghosting
The recruitment process, regardless of the position, is inexpressive. However, the recruitment that takes place offline is particularly emotionless. And all this leads to candidate ghosting.
The dispassionate aspect of the hiring process is what makes the companies unable to hire the desired candidates. Considering this, Vidmonials enables recruiters to make hirings through video conversations.
Vidmonials make the recruitment procedure video-based. And so, it enables receiving video resumes from candidates. It also enables interviewing the candidates through video conversations.
When the candidates are interviewed through videos and video resumes, the hiring process no longer remains inexpressive. It is how Vidmonial helps to control and limit the ghosting of the candidates.
Individualizes the recruitment
Generally, companies make use of a common hiring method for hiring different candidates with different skill sets. However, a universal hiring procedure may not be helpful for a company in making highly skilled candidates work for it.
Vidmonials lets a company interview each candidate at an individual level. By doing so, a company is helped in making the ideal candidates interested to work for it.
Candidate feedback
Vidmonials not only empower companies in hiring the top candidates but also enables them to improve the hiring process.
It lets a company receive feedback from the interviewees/candidates regarding its hiring process and methodologies, which aids in improving the recruitment process.
This one of many uses of Vidmonials helps a company improve its recruitment approaches by making the hiring process rather optimized and, thus, easier for both the candidates and applicants.
As part of improving the interviewing process, Vidmonials enables a company to leverage the feedback from the job candidates. By receiving the feedback of the interviewees, it becomes easier to find any existing loopholes in the hiring process of a company.
After identifying the shortcomings of the hiring approach, courtesy of the feedback received from the interviewees, and removing them, for a company to find for itself highly skilled candidates becomes easier. Also, the whole procedure tends to become better and more efficient.
All this leads a company to improve its employer brand, and it also makes it to be perceived as an organization looking to continuously improve.
Features of Vidmonials as an online video platform for recruitment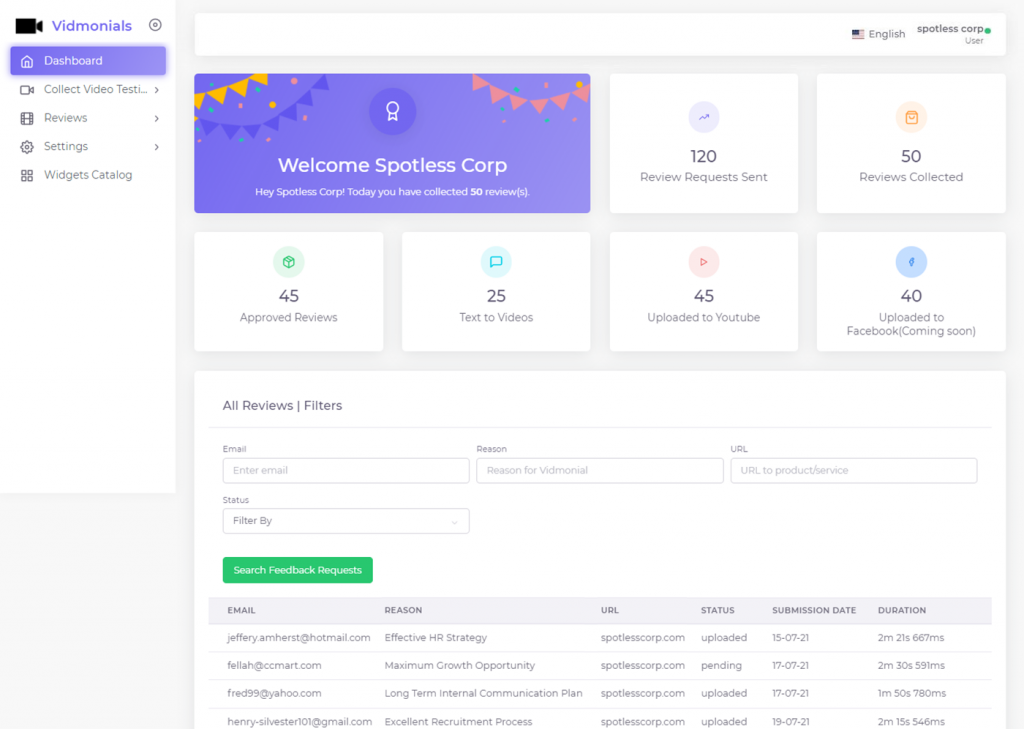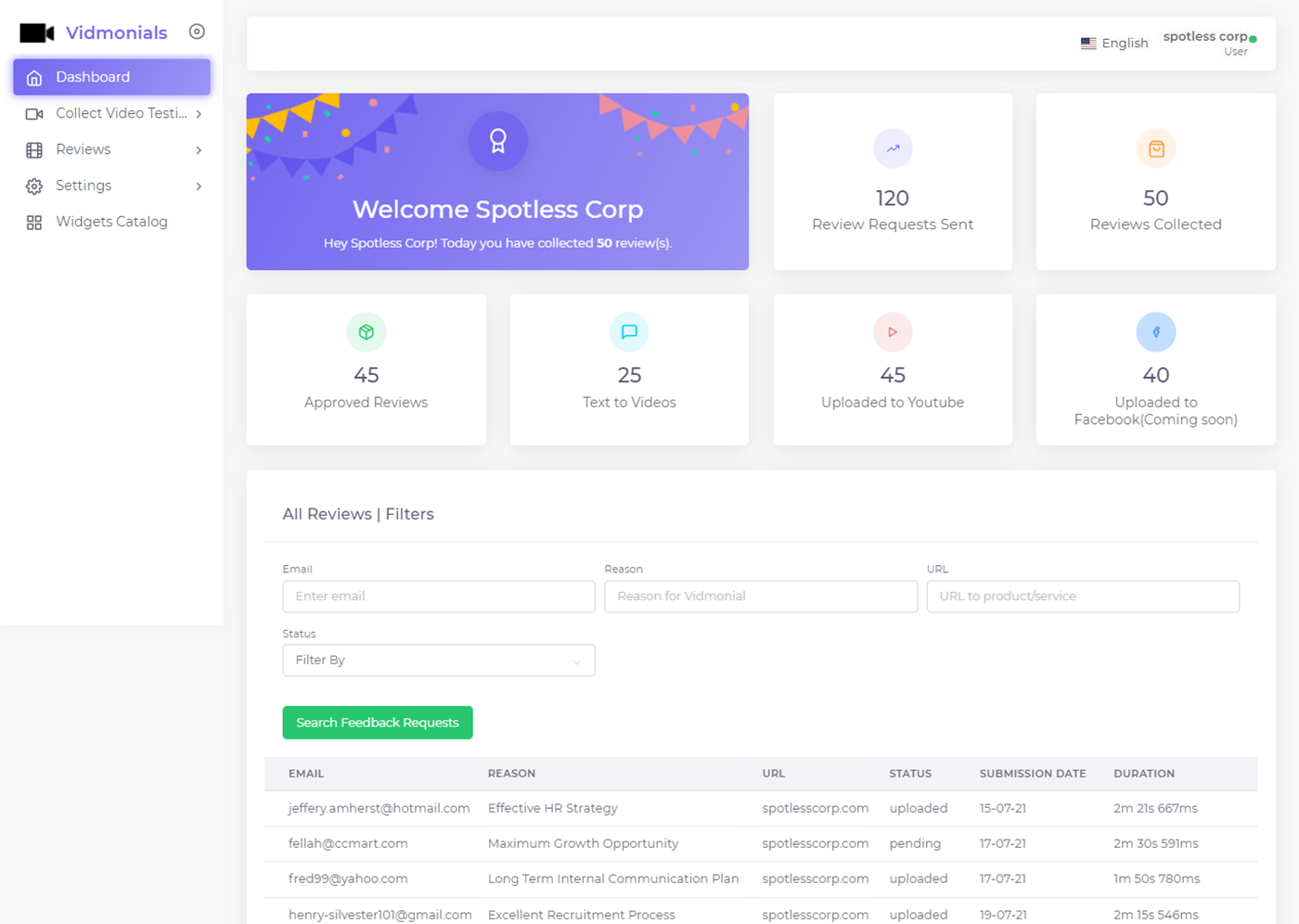 The functionality of Vidmonials is highly suitable for meeting the needs and requirements of the recruitment industry. Its features are highly appropriate for a recruitment agency or a company looking to acquire top-tier candidates.
The prominent part of Vidmonials' functionality in terms of recruitment is as under:
Video resume collection
A collection of resumes helps in making a candidate pool for future vacant positions. However, a video resume in this regard could provide better help. Nonetheless, you can understand it, essentially, as a video, where a job candidate explains everything that is normally detailed in a CV.
A Video resume contains the educational background, any job experiences, various proficiencies, personal information, and anything that a standard resume includes (or as required by an employer company). However, all these details are in the form of video as shared by the candidates.
With a video resume collection, not only a pipeline of candidates is created for future positions, but it also becomes easier in finding the most relevant candidate.
Just as important, with a video resume, one can also evaluate a candidate's personality, whether or not it pertains to your organization or the job position. Moreover, it is also a great way to find candidates for positions that require interpersonal skills.
Simultaneous multiple requests
One of the features that make Vidmonials the best choice in the recruitment industry is its ease of use for both the interviewers and interviewees.
Vidmonials make the hiring procedure convenient for the hirers by allowing them to leverage its feature of sending multiple requests at the same time.
With this feature, recruiters are able to request multiple candidates for an interview or a video resume simultaneously. Furthermore, it only requires pressing a single button to send a request to all the selected candidates.
As for making the process easier for the candidates, Vidmonials does so by eliminating the need for sign-ups at any stage of the recruitment process. It means that the candidates for providing their video resumes or for an interview are not required to go through any extra steps (besides the video resumes and interviewing process itself).
To conclude, this feature of Vidmonials is one of the reasons for making it emerge as one of the best choices in recruiting procedure.
Employee testimonials
In addition to the help that Vidmonials provides in making the hiring process simpler and efficient, it enables a company to make video testimonials of its employees.
In the videos of the employee testimonials, a company can have its employees provide their views (positive) for the company. Also, they can share the aspect of a company's culture and work environment that they find the best, and that makes work enjoyable and beneficial for their careers.
A company, with the help of video testimonials of its employees, can get ease in finding the candidates that possess the in-demand skills. Thus by driving a message home about the benefits of working with it, a company can acquire the top talent easily.
When a company is able to build for itself a suitable employer brand, not only does it hire better candidates, but it also develops its outlook as positive amongst the general audience. So, we can conclude that for a company or recruitment agency, this feature brings manifold benefits.
Summary
An online video platform in its core function is used in online video recordings. However, a platform is considered the best if it is able to provide additional beneficial features as well. And while there is an abundance of such online platforms, they are limited in the features to perform robust online video recordings.
Vidmonials, however, is such an online video platform that comes with an array of helpful features, besides the core functionality that every other related platform comes with.
Any business can get equal benefit from the online video recording platform of Vidmonoals, regardless of their industry. But the prominent user industries of Vidmonials remain recruitment, eCommerce, real estate.
A demo can be booked here to find out the practicality of the avails that Vidmonials provide.