You can effectively do property sale(s) and purchase(s) by using Vidmonials because of its convenience in the real estate industry.
It is an online video platform that can help real estate businesses make and share such videos that they can leverage for various purposes. It also comes with other useful features, video capturing and cam recordings, bringing manifold benefits to its users.
It comes with an extensive list of features that helps individuals in their property business. Besides, your property business can get help from Vidmonials just as any other business.
This article brings into light how one can effectively perform property sale(s) and purchase(s) by using Vidmonials. Read it as under:
Property sale(s) and purchase(s) by using Vidmonials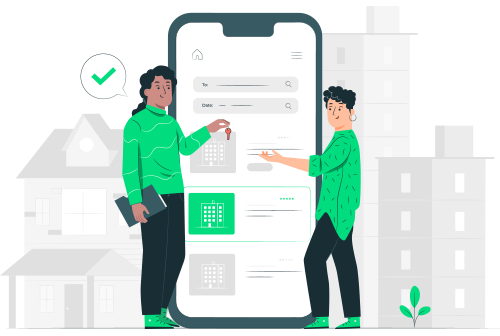 The helpfulness of Vidmonials in real estate makes it a suitable tool for effectively performing property sales and purchases.
The platform of Vidmonials can be leveraged in promoting and marketing the sellable property. It can be used as a video funnel in the video marketing of a property. You can also use Vidmonials for filtering out serious buyers and genuine sales perspectives.
The high-quality video recording functionality of Vidmonials can be used for making video recordings of different properties. Simply put, you can use Vidmonials in providing virtual home tours to interested customers.
Virtual home tours can help you convince a potential buyer regarding a particular property. With it, customers can view a property without leaving their homes. Also, it can help save the expense of time and money of anyone involved in the sell/buy procedure.
As for the ones with property sale and purchase business, they can skyrocket their sales by maximizing the pertaining functionalities of Vidmonials. And such functionalities include, but do not limit to, buyer filtering, leads filtering, and video/sales funneling.
One effectively does property sale(s) and purchase(s) by using Vidmonials, as it is equally helpful for all the stakeholders, sellers, buyers, property agents, etc.
Read More: How Vidmonials Helps In ecommerce Products Review?
Advantages of property sale(s) and purchase(s) by using Vidmonials
Vidmonials come with the following advantages for anyone with the property business:
Better property agents
Successfully selling or buying properties requires a property business to have efficient sales agents.
The real estate agents who are good at their jobs reduce the volume of back and forth calls and help complete the sale/buying process. So, having good real estate agents in this business matters a lot.
Vidmonials help you perform effective sales and purchase of properties and hire skilled sales agents. And you can do so by using its feature of asynchronous video collection.
Virtual property tours
The main benefit of using Vidmonials in real estate is virtual property tours.
Vidmonials is a video recording software. Therefore, it can help you provide virtual property tours to interested customers, potential customers, or people across the internet.
This utility from Vidmonials empowers you to present your property to a large number of people, allowing you to make the most profit out of its sale.
In addition to this, a business can create virtual tours of various properties. And this can give people a choice to choose a property from many options. Resultantly, your business can become the preferable option in selling/buying properties.
Receive purposeful feedback
Through Vidmonials, a real estate business can learn its current position in the real estate market by receiving feedback about itself.
A business can also collect constructive feedback regarding its properties that are being marketed for sale. Thus, it enables modifying the selling prices according to the learned feedback.
Features that help you in property sale(s) and purchase(s) by using Vidmonials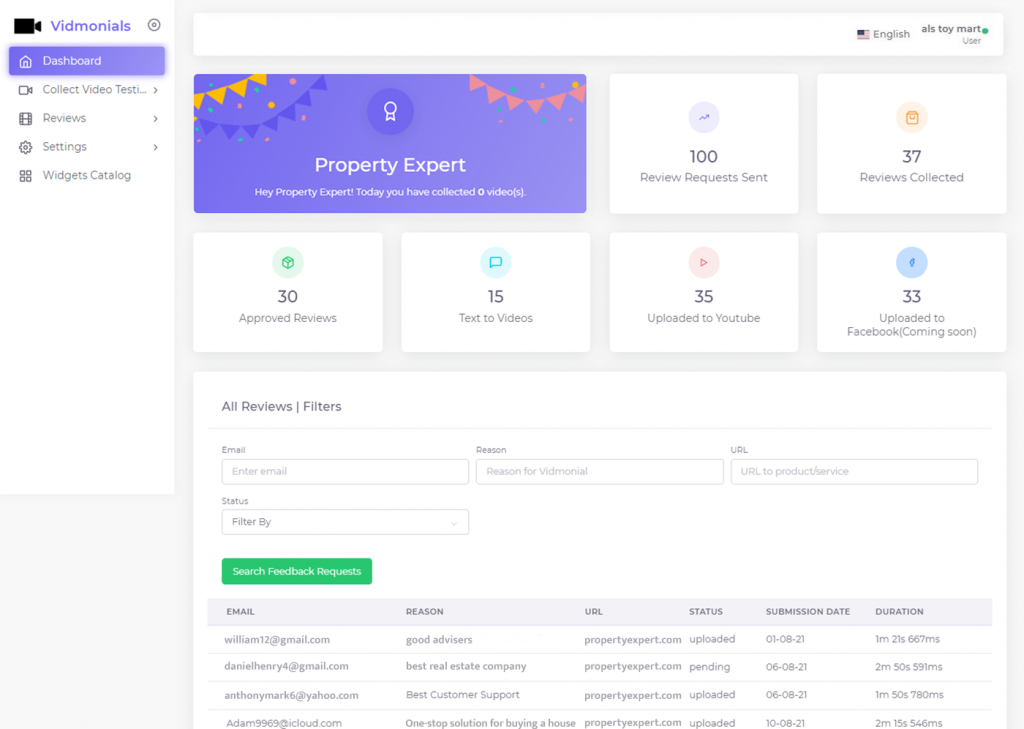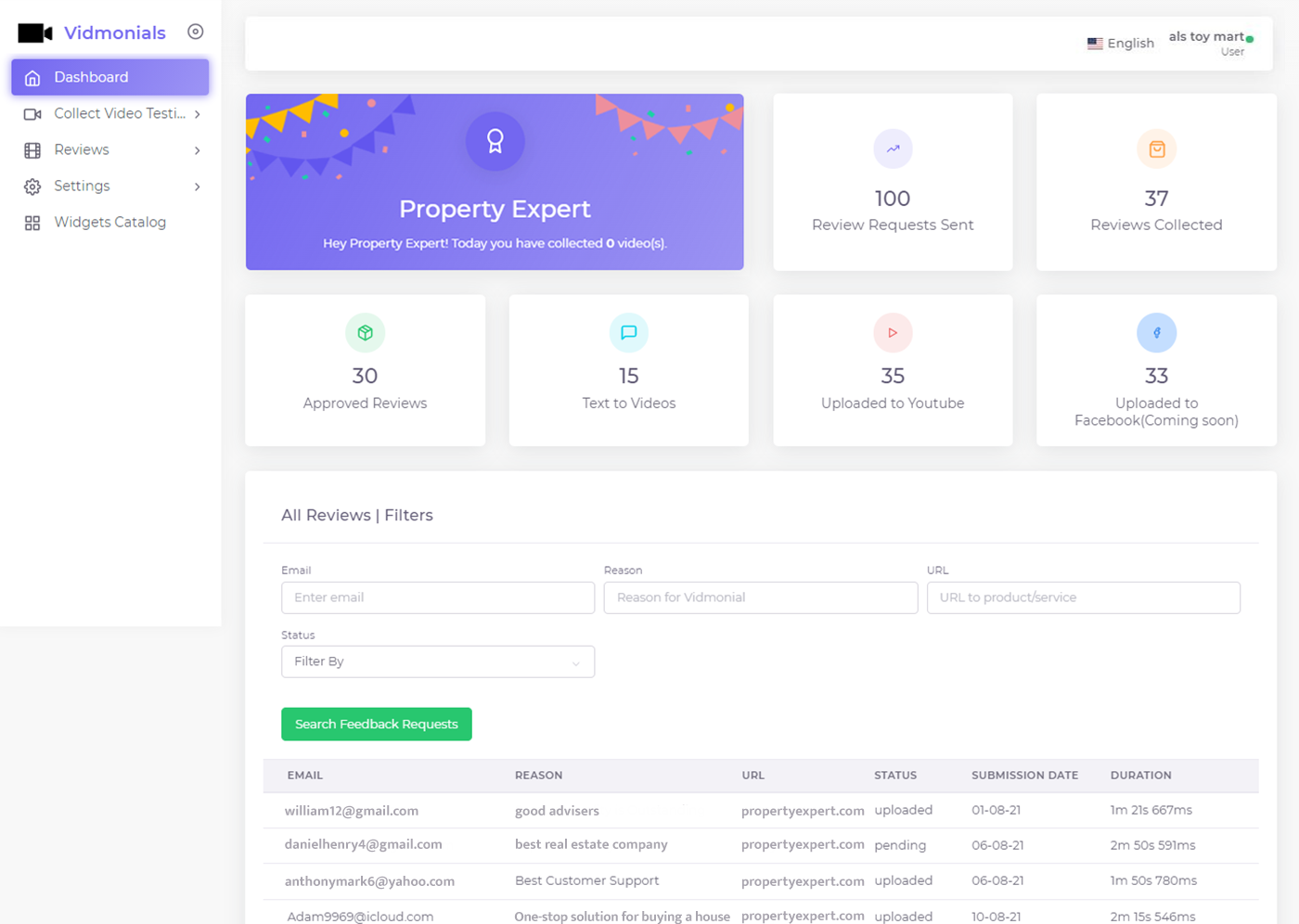 The features of Vidmonials caters to the needs of different businesses dedicatedly. And the property business is one of such businesses that get exclusive help from its features.
The features of Vidmonials that help you effectively do sales and purchase of properties are below:
Social media marketing
One cannot emphasize enough the importance that social media marketing today has in determining the success of businesses. Marketing a business over social media has become inevitable due to the inclination of these platforms' users towards videos.
Vidmonial can help you create compelling videos that include the practical utility of your property business, enabling you to promote your business better.
Through Vidmonials, you can create videos of your most satisfied customers testifying about your quality services. And later, you can share such videos over social media platforms that will help you attract customers in no time.
Embedding testimonial videos
Today, email prospecting holds significant importance for a business; the real estate business is no exception.
Using Vidmonials, you can create videos based on the words of your customers that have the most satisfaction level from your service. Hence, you can use these videos in your email prospecting, embed them precisely.
It will help build a positive prospect of your business in the recipient's mind. Besides, it will make the email more personalized, thus helping to attract the potential client better.
Frequently asked questions
1) What is real estate?
Real estate is the property that comprises land and a structure (building, house, etc.) built on that land. It can also include resources such as crops, minerals, etc. It is essentially immovable.
2) What's it called when you buy an apartment?
Condo is the term that is used when one buys an apartment.
3) What is SSTC property?
A property sold over verbal agreement rather than a legal one is said to be an SSTC property.
4) What's another word for real estate?
There's no alternative to the term 'real estate'. However, the words often used while referring to it are property, land, farm, plot, houses, real property, etc.
5) What is a conveying transaction?
It is the transfer of the legal title of a property from one person (living or dead) to the other (living).
Last few words
Anyone in the real estate business can effectively carry out property sale and purchase by using Vidmonials. 
A property business can make the most of its video capabilities by making virtual property tours of a property for its interested buyers. Thus, it enhances the prospect of leads to sales.
In case that Vidmonials interests you for use in your real estate business, you can get a clear demonstration of its capabilities here.