Client testimonial videos are brief video clips in which a customer discusses his or her experience with a company.
This experience would typically provide information about the client's dilemma, how the company solved the problem, and the positive outcomes that came from the solution.
These videos are often promoted on a company's website, social media sites, email updates, and other digital marketing channels.
Why Do We Need Client Testimonial Videos?
People trust their peers' views. Consumers trust online feedback as much as personal recommendations, according to a BrightLocal survey.
Sharing video testimonials on social media will assist you in steering your audience in the right direction.
What distinguishes video testimonials from other forms of video content is that your customer is the one who speaks on behalf of your company. The customer's testimony demonstrates that the product or service assisted them in resolving a particular issue.
How Do You Create A Customer Testimonial Video?
The Process of Creating Client Testimonial Videos
Now, let us take a look at how to create powerful client testimonial videos for your business that can convert.
1- Create a Questionnaire For Video Testimonials
The first step is to brainstorm questions to ask your clients or interviewees. Consider asking the following questions in your testimonial questionnaire to get informative responses:
What made you want to look into this product?
Was there something that stopped you from purchasing this product? Were you hesitant at first? (Asking this question will lead to the discovery of a problem you hadn't considered.)
What impact has the product had on your business?
What are your favorite features?
Can you think of three more advantages?
Will you suggest the product to a friend? If so, what is the reasoning behind it?
Would you like to say something else about us?
Before your interview, be sure to discuss these questions with your client so they're aware of the main points you'll be focusing on.
Make arrangements with your client to interview on a specific date and time. Set aside unique interview times if you are interviewing more than one person. Share the specifics of the shoot to ensure that everything goes smoothly.
2- Find the Right Customer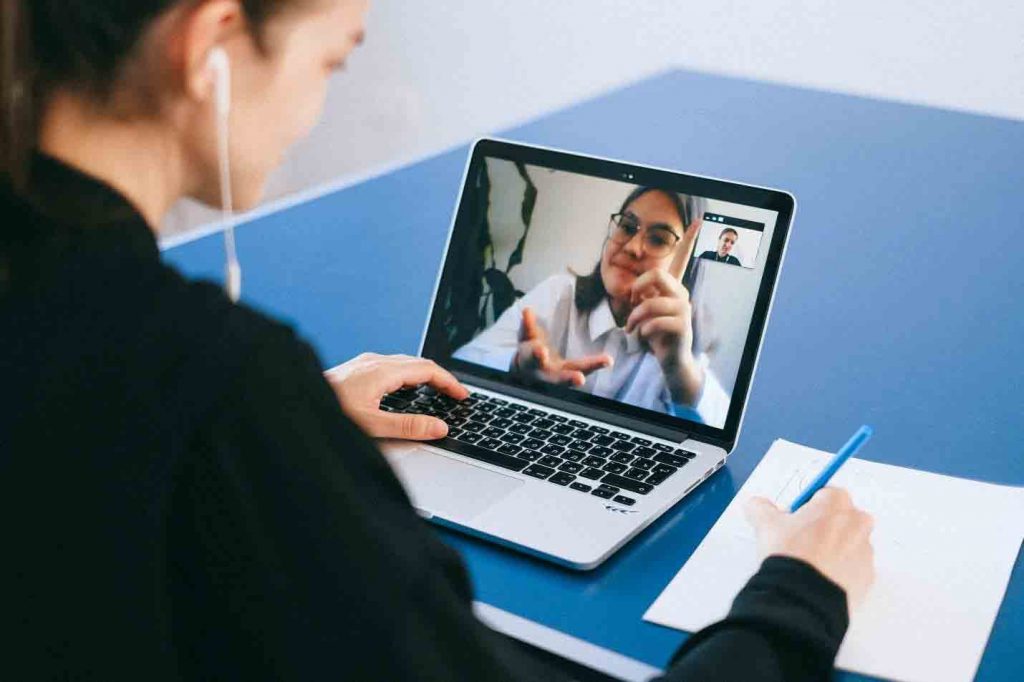 Finding the right customer is, of course, the first step in creating one of these videos. It could be a long-term client with whom you have a positive relationship or a new customer who appeared particularly pleased with your service.
If no one comes to mind, inquire around at your place of business. There's a fair chance one of the employees or coworkers can recall a client or two.
Of course, sending out a general invitation to your customers never hurts. You might, for example, send an email to your mailing list asking if anyone is interested in making a video review for your business.
Reaching out to a particular client, on the other hand, is far more likely to be effective.
3- Choose a Filming Location
How do you pick the perfect spot for your photoshoot? The location needs to provide viewers with some meaning. Select a setting that best supports the message you're trying to get across in the video.
You can monitor the atmosphere (light, traffic, noise, etc.), and the setting would be safer and more private if you shoot indoors, as Omada Health did for the video below. It's much simpler to shoot special effects and create extraordinary scenarios.
However, costs are higher, and shooting indoors isn't the best choice for recreating a practical or everyday package. A studio, lobby, meeting room, or bar/café are examples of indoor locations.
If you're on a tight budget, shooting outside could be a safer choice because the costs are usually low. However, since you won't be able to monitor the environment, safety and protection (for storing your equipment) can become issues while shooting.
The front of an office building, a sidewalk, a special location relevant to the video's subject, a city square, and so on are all examples of outdoor locations.
For example, the video shown below is an example of an outdoor shoot.
4- Record the Video (How Do You Record Client Testimonials?)
Once you've selected the right candidate and chosen your location to film the video, all you have to do now is grab your phone and follow these instructions:
Open the camera app on your device.
Make sure it's in "Video Mode" rather than "Photo Mode."
For horizontal footage, turn the phone sideways. (If you're having trouble keeping your phone steady, a phone gimbal could be a good investment.)
To focus the lens, tap the screen where you want it to focus.
Ascertain that the face of your client is properly visible in the video. (As a general rule, placing the individual slightly to the right or left of the middle of the screen looks better.)
Before the testimony begins, press "Record," then "Stop" when it is over.
That's it! You'll have everything you need for a valuable piece of video content in a matter of minutes.
Of course, if it makes the customer feel more at ease, you can still do multiple takes. However, once you've finished recording, your client can leave, and you'll be one step closer to gaining more customers for your business!
5- Edit the Video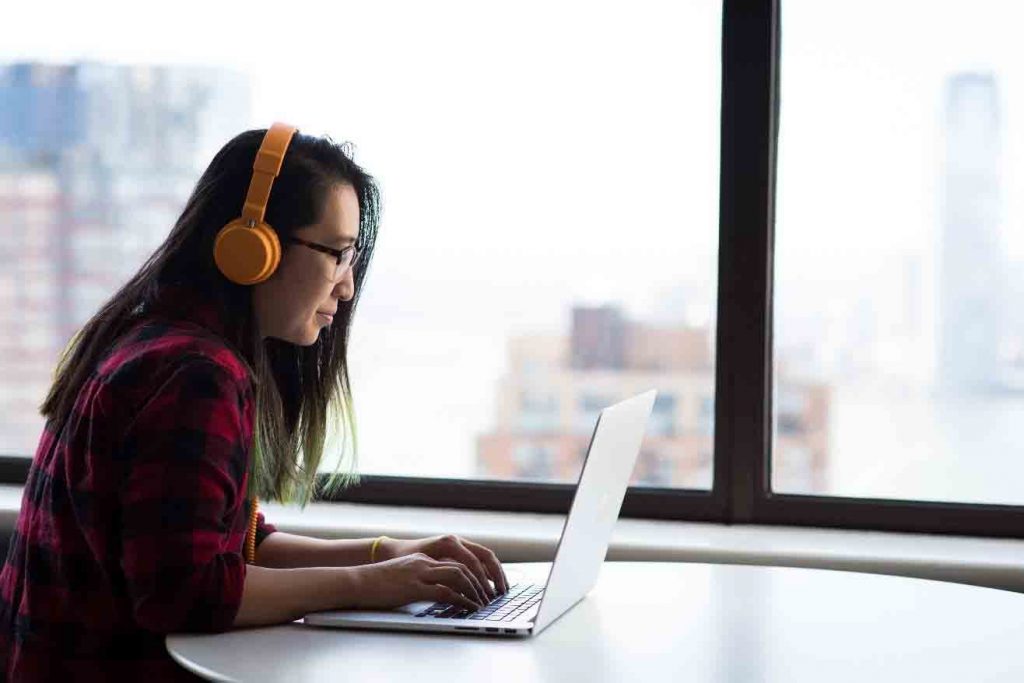 After the recording is complete, edit the footage to produce a video testimonial that is approximately 90 to 150 seconds in length.
Make it something pleasurable to watch, understandable, and trustworthy.
If the topic drags on for an extended time, trim the material to avoid losing track of the thread. Include quotations and content that have genuine value.
Here are a few more ways to improve your video testimonials during the editing process:
When there is not enough interesting content on the topic, you want to emphasize an argument, or you just want to add some excitement, incorporate inserts and cutaways.
Close-ups, remember, are an excellent way to emphasize an emotional message.
Change the lighting to fix any problems that arose during the shoot (too cloudy, too bright/dark, etc.). To achieve a clear aesthetic, use special filters.
To identify the person speaking, use lower thirds as text overlaying the video (name and title). Other graphic elements, such as boxes, photographs, or coloring, may be added, but don't go overboard.
For the footer, lower thirds, and cards, as well as the beginning and end of the video, use your brand colors (in these two cases, with the logo included).
Read: 10 Proven Statistics About Using Video Testimonials In Marketing
What Makes a Good Customer Testimonial Video?
A client testimonial video may help you sell your products and services significantly. An actual consumer presenting a compelling tale about his or her excellent experience working with your organization has to be worth something.
Other firms will be convinced to see what your company has to offer if you detail actual outcomes, problem-solving solutions, and a nice rapport.
Moreover, here are a few key pointers that refer to a great client testimonial video.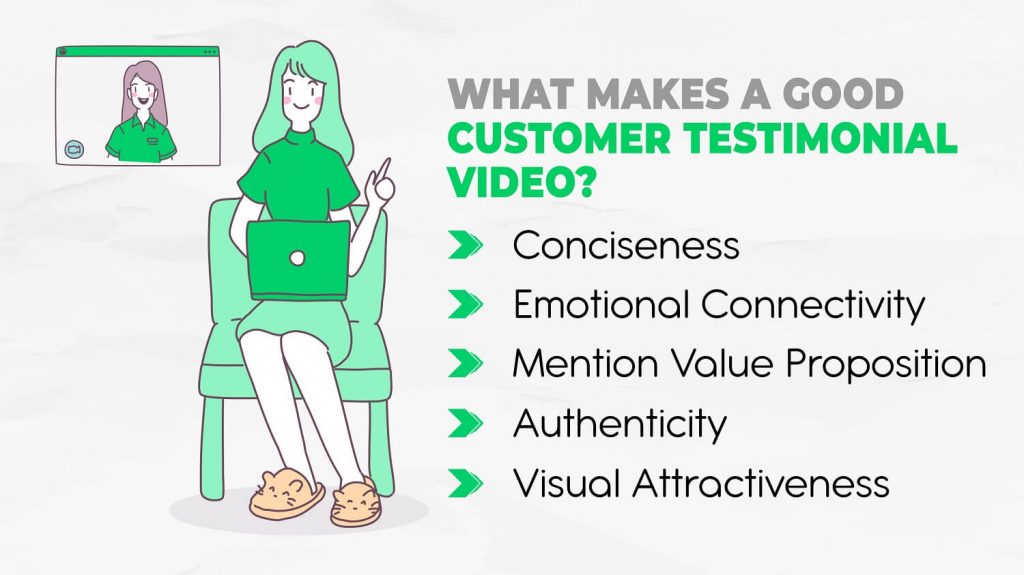 1. Conciseness
Nobody wants to read a two-page review with minute details or watch a twenty-minute video. Therefore, as marketers, we must focus on creating short and concise testimonials.
2. Emotional Connectivity
The top testimonials make an emotional connection with the reader or viewer.
In order to entice potential consumers to take action, your testimony should appeal to both their emotional and rational capacities.
3. Mention Value Proposition
The best kind of testimonials complements and enhances the product or service's main messaging and value propositions.
A testimonial demonstrating how much money was saved and the ROI is great if the main advantage of the product is cost savings.
4. Authenticity
We, as humans, have a particular fondness for and trust in those who are vulnerable and appear to be "genuine people."
That is why always lean on the side of establishing trust via honesty and authenticity rather than gloss and glitz using fake scripts and actors.
5. Visual Attractiveness
To excel with a video testimonial and to give it a professional vibe, invest in video production and motion graphics.
Your testimonials' visual styling is a superb approach to bring attention to your consumers in your marketing.
Conclusion
On a normal course, to produce a successful client testimonial videos, you must devote time to preparing the interview, securing the venue, and editing the film.
A high-quality, professional video can help prospects choose you as their vendor by projecting the right picture for your business.
However, as customer success experts, we understand that devoting exclusive hours to video recording sessions is not practically convenient for you.
That is why Vidmonials is here to help businesses like you to:
Remotely collect, manage, and share video testimonials
Improve the SEO for your websites
Convert more customers for your business
More so, the remote feedback management system makes it easier for businesses and their clients to record and share video reviews at their convenience, eliminating half of the process mentioned above.
Anyhow, if you want to know exactly how it works, Give it a Shot.