Customer feedback tools help to collect the feedback provided by the clients of a business. The customer feedback however is the perception of the customers of a brand towards its service or product.
The perception of the customers towards a business can be negative or positive, depending on the customers' satisfaction level. And this can influence the success of any business significantly.
A study from Vendasta.com reveals, 80% of customers trust online reviews as they'd trust a personal recommendation. Another study suggests that 58% of people are likely to abandon using a business only after facing one bad experience.
According to a study conducted by LocalSEOGuide, search engine giant Google uses the reviews to prioritize and order the search results.
In a nutshell, customer feedback has become much more than rhetoric in the business world. And while customer feedback has become crucial, using a suitable tool can also have a far-reaching effect.
This article discusses five such customer feedback tools that collect testimonials effectively. Read them as under:
1) Customer Feedback Tools: Vidmonials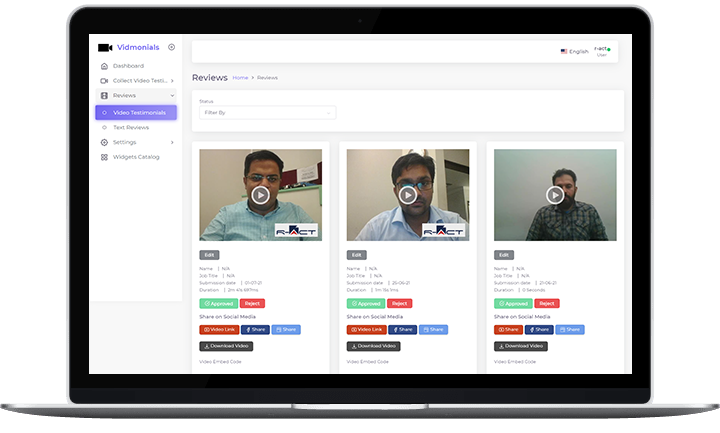 Vidmonials, a video review software, is one of the most efficient and empowering customer feedback tools.
It helps collect testimonials effectively in three simple steps: requesting a testimonial, making a video testimonial, moderating, and publishing the testimonial.
You can use Vidmonials to request one or more customers for a video testimonial. Also, you can ask multiple clients at the same time for feedback. The request then sends a link to the selected clients, on which they can submit their testimonials.
With Vidmonials, for customers to sign-up before providing a video review is not mandatory. It makes the whole process easier for both users and their clients.
In addition, Vidmonials automatically creates a video library for the client testimonials that a business receives. Each video in the library has all the required information that makes it easier to search and browse through the videos.
Vidmonials goes a step ahead of other customer feedback tools by monitoring the video testimonials for its users before publishing them. After scrutinizing, Vidmonials uploads the video reviews to the website and youtube channel of a business.
All in all, this makes Vidmonials one of the efficient customer feedback tools, besides being the best video review software already.
Read More: How Vidmonials helps to get Remote Video Testimonials
2) Customer Feedback Tools: Survey Monkey
Survey Monkey is a survey platform. It is an excellent option if you're looking to collect survey-based customer feedback.
It is one of the customer feedback tools with a user-friendly interface and allows the users to collect testimonials with ease. The users can carry out surveys using short answers, extensive answers, multiple-choice questions.
Survey Monkey makes it easier to collect customer responses. The users can collect feedback through emails, social media platforms, etc. Moreover, users can collect the feedback, which the users submit on the website.
You may use Survey Monkey to conduct surveys free of cost. However, you will require an upgrade for using their advanced features.
3) Customer Feedback Tools: Linkedin
Linkedin is an employment-oriented online service. However, you may also use it as one of the customer feedback tools.
Linkedin is also used for making recommendations. In the beginning, Linkedin's recommendations were only for the help of employers. However, today, they are being used beyond employment purposes.
Businesses today are using Linkedin recommendations to receive testimonials from their customers. And they are proving to be one of the excellent customer feedback tools.
You can use Linkedin as a customer feedback tool by navigating to the 'recommendations' section. After this, you can press the 'ask to be recommended' icon. And in the last, you provide the name of the person you wish to review your business.
It is pertinent to mention that to use Linkedin as a feedback tool, your customers need to be using the platform. Nevertheless, it is still one of those customer feedback tools that can help to collect client testimonials effectively.
4) Customer Feedback Tools: Testimonial Tree
Another one on our list of customer feedback tools is the Testimonial tree. And as the name suggests, you can use it for collecting testimonials.
As a feedback tool, it has a simple and easy process; for its users to collect and share client testimonials.
It facilitates its users by enabling them to create customized forms. It also comes with a dashboard, where users have an array of functions to perform different actions on their testimonials.
The dashboard lets you sort, filter, and organize the testimonials. It also lets you choose the ones that you consider to be worth sharing. And thereby, you can use the selected testimonials on social media platforms, in emails, on websites, and similar.
5) Customer Feedback Tools: Boast.io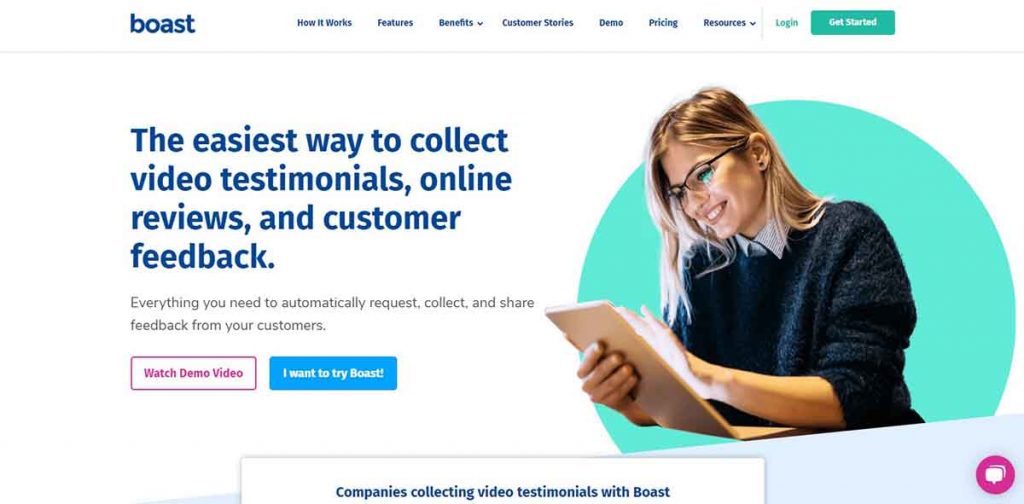 Boast.io helps to collect video testimonials, customer feedback, and online reviews. And the process for doing so is rather automatic with this platform.
Boast.io helps to collect customer feedback by using forms. Thus it helps a business in becoming better by making the most of the received feedback. Some of its features are form templates, multi-page forms, video/ photo collection, customized forms.
It also provides its users with the Sequences, which are email and SMS drip campaigns for automating the feedback requests. Its salient features are email and SMS requests, pre-built templates, automatic enrollment and reminders, recurring requests.
Boast.io also allows its users to add code snippets to the website. Using this snippet of code, the customers can submit their video testimonials using a collection form.
Once the customer submits the feedback, the user can approve the very testimonial and can then share it. Furthermore, users of Boast.io can also download their testimonials and share them on various platforms. Resultantly, one can promote the business better.
Last few words
As we have discussed the five customer feedback tools, it is up to you to decide the one that suits your needs.
That said, you should choose the platform that goes the extra mile in making you collect testimonials. Speaking of which, Vidmonials takes extra care of your testimonials by identifying the testimonials based on hate speech.
Want to learn more about Vidmonials? Schedule a demo here.