We have headed into a new decade, and the demand for the video review service has intensified as a result. The way people do business has changed since the COVID-19 took over our society.
Businesses from various industries are now seeking the most effective ways to sell their products without contacting their clients face to face. As a result, the era of video review service has arrived.
Video testimonials from satisfied clients have become the most effective technique to establish your market credibility.
As a result of this market requirement, many video review software companies have gotten on board and are now marketing ways for businesses to gather and distribute video testimonials.
Here are the ten best video review service for 2021: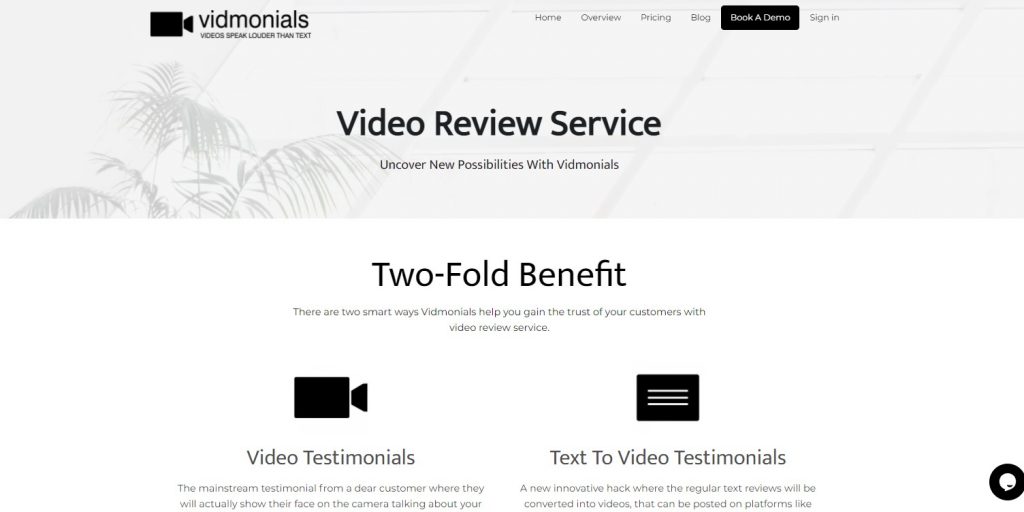 Vidmonials is a new and rapidly growing client testimonial platform assisting businesses with video review collection, management, and sharing. The platform aims at building an environment where exchanging remote video testimonials will be a norm.
Some of the primary benefits provided by Vidmonials include:
Send Video Testimonial Requests
You may send individual or bulk video review requests to your clients with a single click. With Vidmonials, your clients can record and submit testimonials instantly with quick links. You benefit the most by letting your clients self-serve to record video testimonials.
Easy-to-Manage Vidmonials Library
All videos are stored in the database so that they could be accessed directly. If you keep scrolling down, you will see any video you wish. More so, your teams can conveniently access these videos and utilize them for various marketing purposes.
Embeddable Video Widgets
Videos from your clients may be embedded easily on your business websites to boost your site's trust among your visitors.
Additionally, Vidmonials users will be able to enjoy the following features.
An extremely responsive web application
An easy-to-use interface
Surveys & Questionnaires
Anti-malware
a strict regulatory adherence
24-hour on-call technical support
Read More: 5 Best Testimonial Video Examples For Everyone in US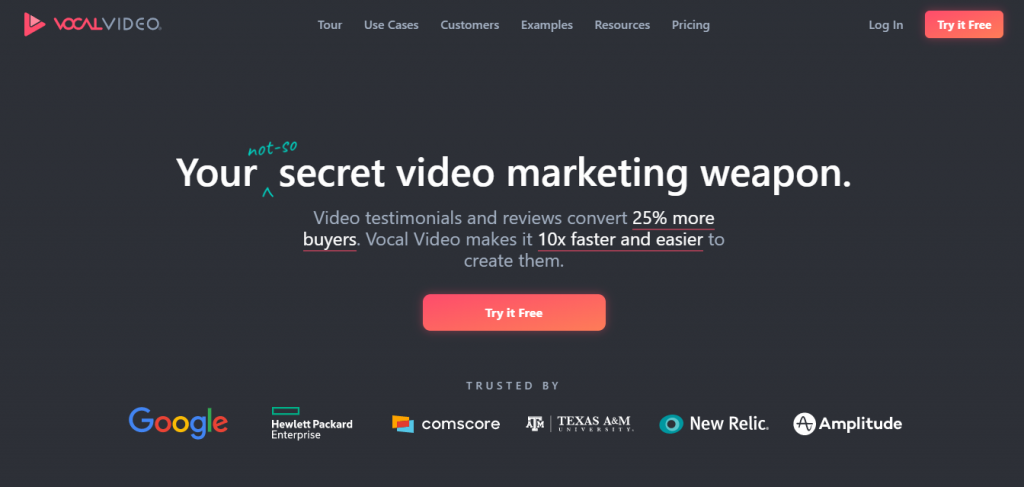 Vocal Video is aimed at optimizing the video marketing efforts of businesses all around the globe. The platform provides easy-to-use customizable video review creation tools.
Besides, Vocal Video serves as an all-in-one place to:
Save, store, and maintain your video content
A good resource for video reviews
Creating and editing promotional videos
Sharing Video testimonials on the internet
Hosting video testimonials
Customers can use Vocal Video at any time, from any device, to share their experiences. More so, the platform is highly user-friendly, ensuring that you and your clients get the best experience out of it.
The platform's key highlights include:
Collect both audio and video testimonials
An app that works on any device
It's remote and asynchronous to the full extent.
You won't need to install anything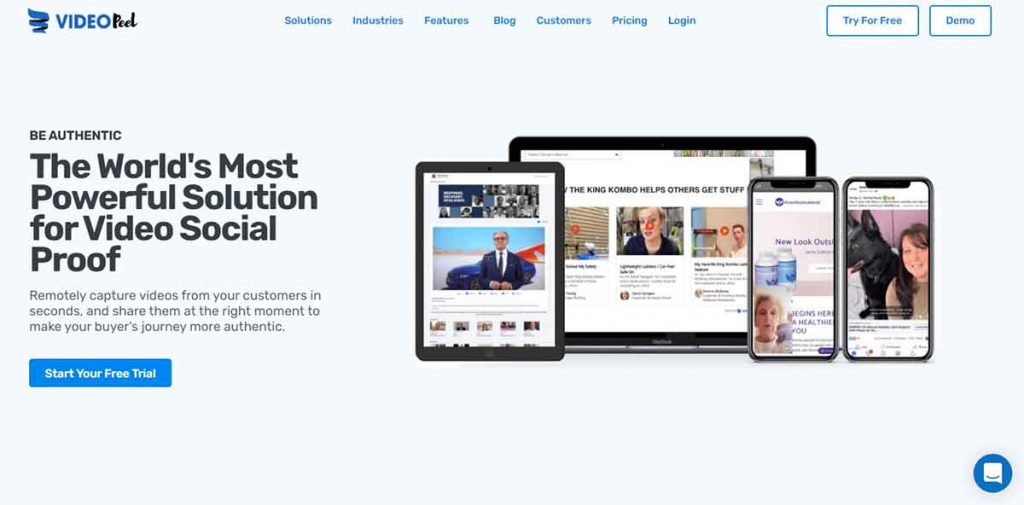 Using video-social proof as a solution is what Video Peel excels at. Video Peel's integrated self-service tool provides a streamlined method for recording video reviews.
Video Peel's main advantages are:
Share testimonials from customers.
On-the-go video reviews
Safely and securely collecting and storing the video testimonials in a database
Creative and inspiring video testimonials to improve a company's online reputation
Furthermore, the application offers some excellent features, such as:
Out-of-view camera capture
Integration with Shopify
Syndication with Amazon
Carousel of video
Picture in Picture with a video
The video-sharing community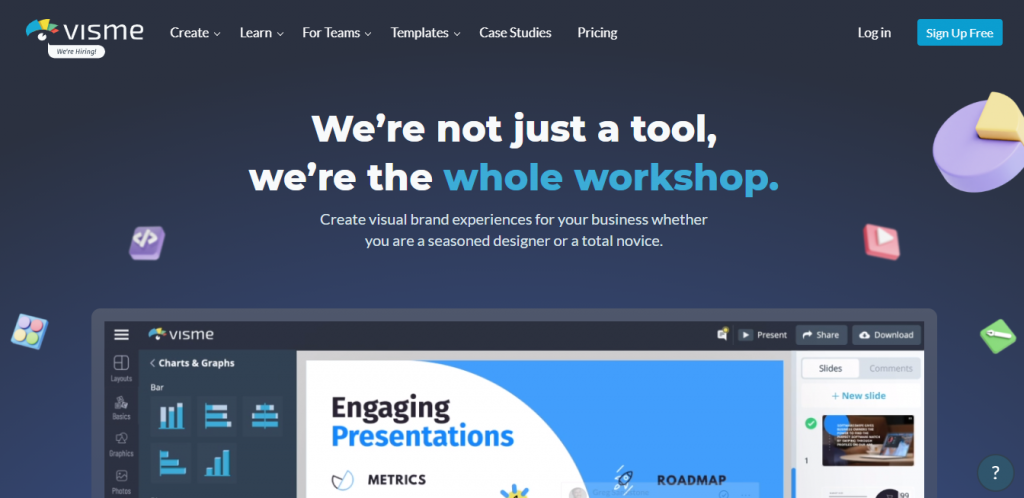 Video reviewer Visme also falls into the "best video review software" category as it is highly interactive and simple to use.
With Visme, you can use professionally created video themes to generate high-quality video testimonials.
Once you've chosen all of your favorite design ingredients, you can use them to input customer reviews, add your company's branding, and download your final design.
Some of Visme's most notable characteristics include:
Videotaping of client testimonials
Customer videos utilizing professional editing software
Surrounding the customer on-site with videos of testimonials and posting them on social media
Encouraging customers to create video testimonials for your company
5- Trustmary – Customer Video Review Service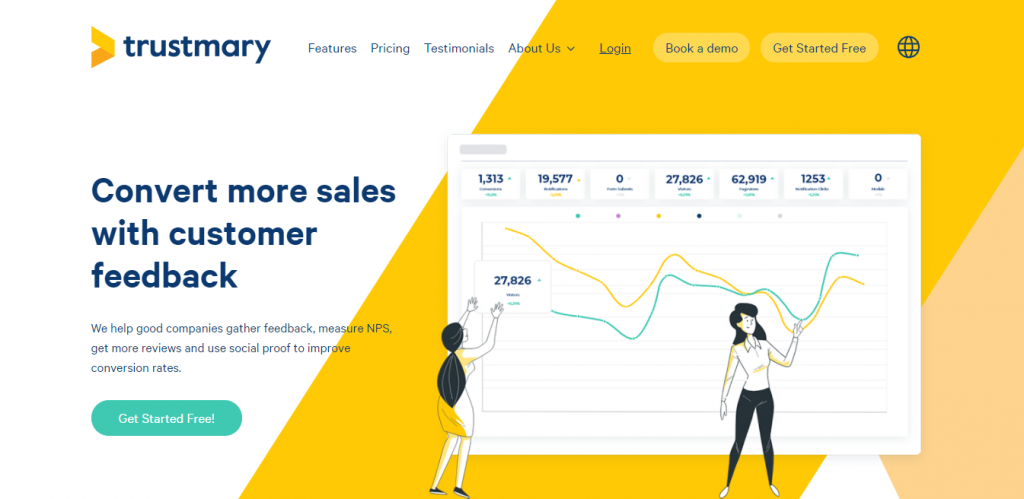 Trustmarry is yet another excellent tool that provides businesses with the opportunity to grab great quality video testimonials.
The platform takes pride in offering a full-fledged video review service. It helps businesses in controlling several operations such as
Obtaining feedback to track NPS
Using feedback to create testimonials (including videos).
Using customer data to improve conversion rates
A social content product that uses a/b tests to demonstrate proven results.
However, Trustmarry, unlike Vidmonials, does not allow clients to record their testimonials. Instead, a team of videographers must contact the customers and schedule a time for high-definition video testimonials to be recorded.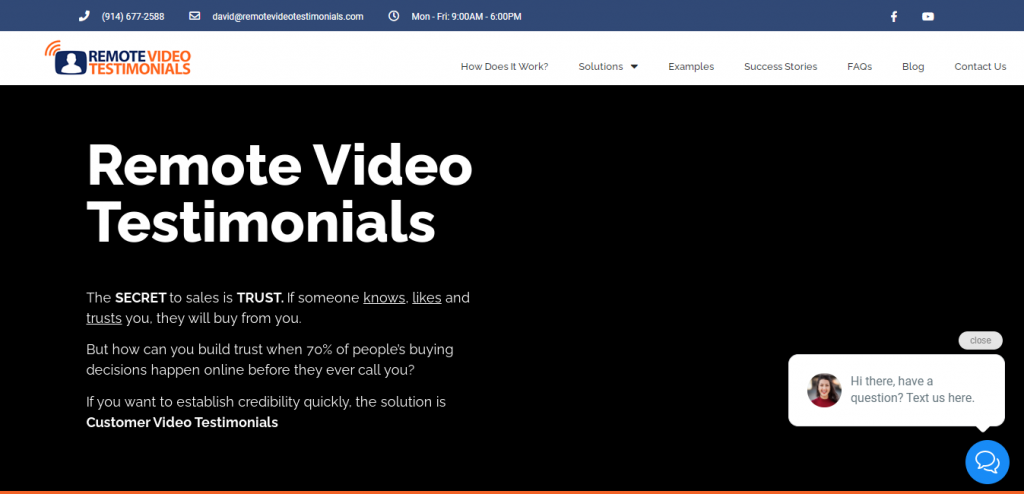 Remote Video Testimonials is a firm that specializes in producing video testimonials remotely.
Similar to Vidmonials, it is a quick, simple, and inexpensive way to generate high-quality video testimonials using smartphones, mobile app technology, and remote access to video marketing experts.
Furthermore, their remote video review service adheres to the following procedure:
Interviews with reviewers online
Appointing professional interviewers for the task
Audio and video recording equipment of the highest quality
Skilled editors to get the best out of your recorded videos
Graphics and call to actions for improving the effectiveness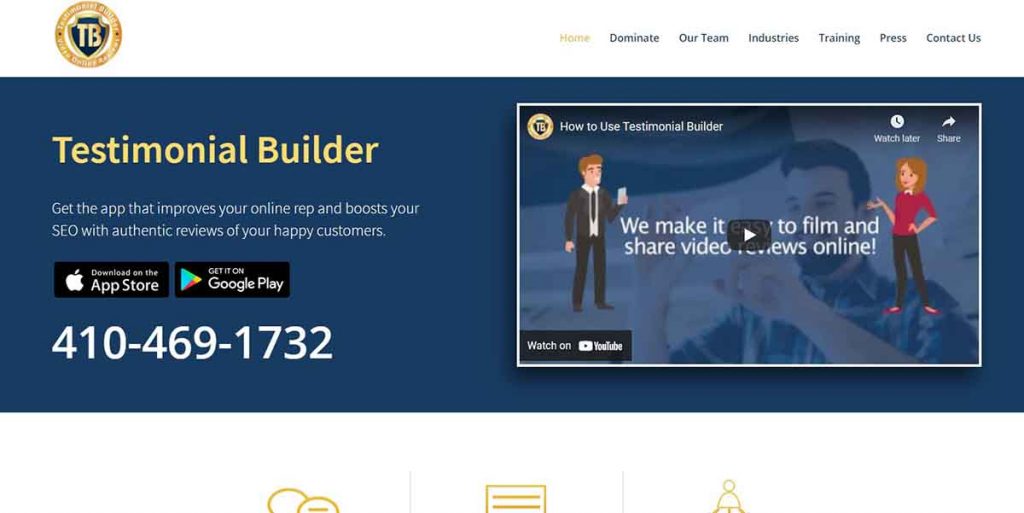 Testimonial Builder is a mobile video testimonial application that helps to raise your SEO and your online reputation by providing legitimate client reviews.
The software makes it simple for clients to follow step-by-step instructions to get video reviews filmed for their firm. More so, a general trend of operations includes,
Your customers would record video testimonials
They would sign an automated release form that is attached to the product
You can upload the video to your YouTube channel after collecting it
Share the video with your customers, so they can share it as well
Another notable attribute of this application is its great keyword prompter that assists consumers in incorporating search-engine-optimized (SEO) keywords into their videos.
8- Testimonial Hero – Stunning Video Review Service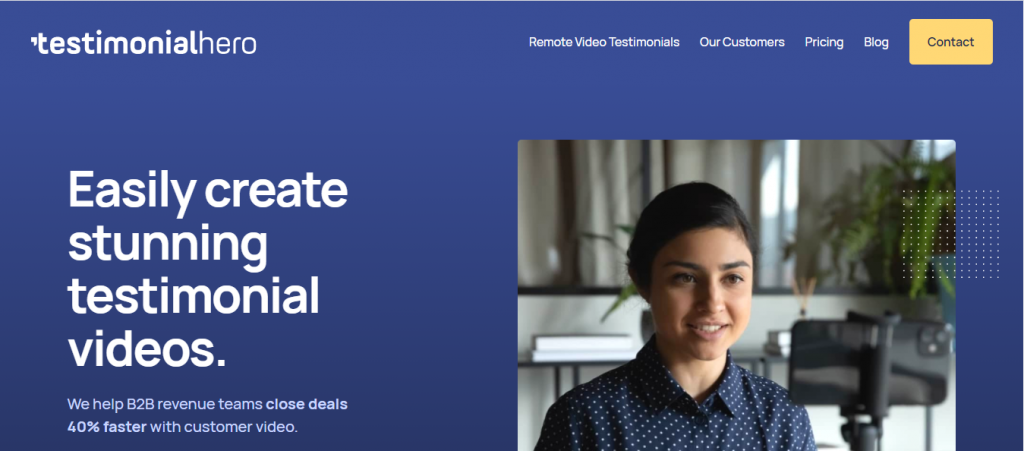 Testimonial Hero represents a group of customer testimonial video specialists, as the name suggests. Video testimonial services for nearly all B2B service organizations around the world are offered by them.
Currently, they offer a remote video review service for those who want it. Testimonial Hero allows customers of their clients to film videos about their experience with the product or service and then return these videos to them.
Testimonial Hero provides its video review development services via the following process.
Executing an initial interview with your customers to draw a concept for the video
Advising your customers on how to get great feedback online.
Cutting a 20-minute video to an informative, helpful, and impactful 90-second video review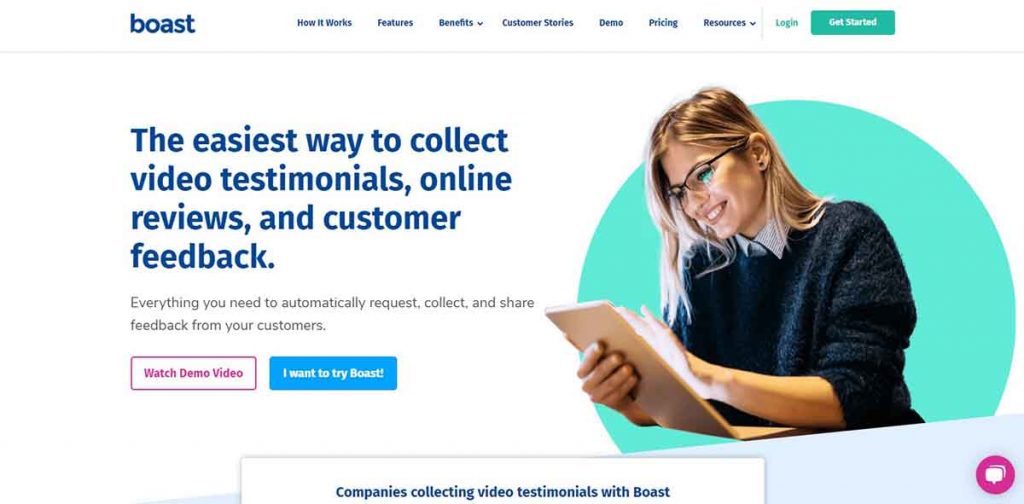 Boast is a video review service that allows your customers to express their appreciation for your company from their PCs and smartphones.
After the testimonials have been received, you have the opportunity to assess and approve them. More so, using the Boast display widgets, you can instantly express your customer thankfulness on your website and social networking sites after you've verified it.
Boast makes gathering and sharing video testimonials easier than ever for you and your clients.
Moreover, Boast provides the following services:
Online Reviews
Customer Surveys
Customer feedback incentives
Feedback Kiosk
Integrations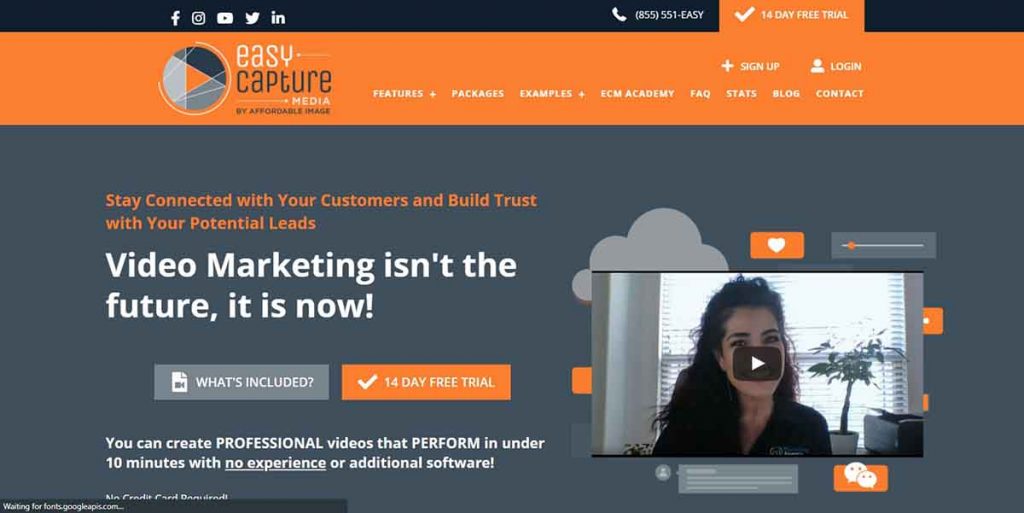 Easy Capture Media helps you produce unlimited videos from your mobile phone, tab, or computer. You can create these videos without any experience.
However, the platform isn't just video review specific. Instead, it is a space with a bit broader spectrum of video marketing.
It can provide you with all the tools, tips, and methods you need to look professional and create different kinds of videos quickly and easily!
You can easily construct a library of professionally-made films that will connect with your clients and aid in the development of confidence in your brand and business.
Furthermore, Easy Capture Media provides you with the following functionalities.
Comfortable DIY Video Making Platform
Low-cost branded videos with no outside post-production
Marketing features to maximize the impact
Ending Points
So there you have it: the finest video review service platforms for attracting, engaging, and satisfying visitors. Nonetheless, each of the aforementioned alternatives has a distinct edge over the others.
Your requirements and financial restrictions, on the other hand, will strongly impact your options.
More significantly, a video testimonial platform like Vidmonials may be the way to go if you're looking for a solution to save time, effort, and money.
This is due to the fact that it is one of the most automated systems for collecting client testimonials, requiring less effort from both you and your clients.
Furthermore, visit Vidmonials right now to learn more about it.