Are you looking for testimonial video examples? Well, you're in just the right place.
They say a picture is worth a thousand words. According to consumer researchers, a video is worth 1.8 million words each minute.
Furthermore, since 90% of buyers claim internet reviews affect their purchasing decisions, it's no wonder that customer video testimonials carry more weight than written ones.
What is a Customer Testimonial Video?
A customer testimonial video is just an on-camera suggestion from a delighted customer.
These are sometimes in the form of 'paid collaborations,' similar to the type of testimonials or recommendations you find on social media.
But, more often than not, word-of-mouth from regular consumers is the key to a successful testimonial.
What makes a good Testimonial Video?
When done right, testimonial videos may offer your potential consumers the impression that they are receiving a word-of-mouth endorsement from a trusted friend or, at the very least, a genuine human they can relate to.
Moreover, some of the significant qualities of a good testimonial video are as follows: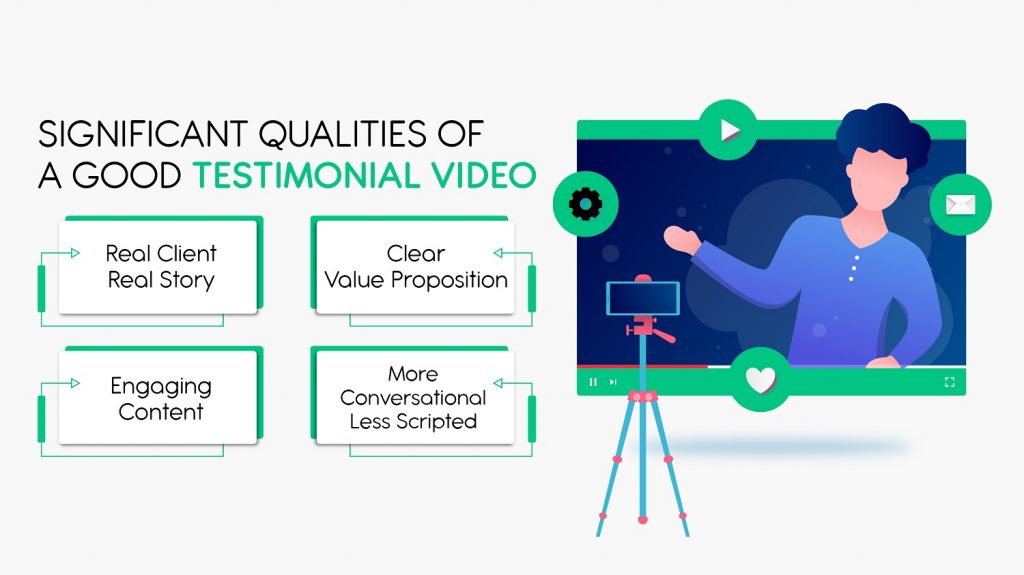 They will have real clients with real stories
A clear value proposition is portrayed
The content will always be engaging and interesting
They are more conversational and less scripted
How Do You Write A Testimonial Video?
Yes, you must never script the customer testimonials, and everything mentioned in the testimonial video should be all true.
However, there are some things you need to keep in mind before you get along with the recording process.
You want your testimonial video to be conversational while also eliciting emotional and motivating responses from your audience.
However, you cannot enter the recording studio on the day of the session fully unrehearsed.
You can't expect your consumer to respond rationally and give a compelling tale. Waiting for spontaneity will only result in discomfort.
Pose the right questions ahead of time, and your consumer will be able to prepare their responses while maintaining a natural flow carefully.
Here are some of the questions we recommend addressing to obtain a solid testimonial:
What issues in your firm were you attempting to resolve?
Why did you pick us over other companies that offered comparable products and services?
How far has your firm progressed since partnering with us?
What do you like the best about our services?
Why would you refer us to other companies?
Our Favorite Testimonial Video Examples
Let us dive deep into this topic and see some of the best testimonial video examples for B2B businesses.
This video review was recorded by one of eKomi's customer success team members using Vidmonials, which is a novel customer video review management platform.
It is a great testimonial video example, as it represents authenticity because the respondent has recorded it on their phone at will. The environment also looks natural, as the guy in this video is probably sitting in his home.
The best part is that this testimonial lack extravaganza and special effects, yet it still appears more convincing for the viewers. That is so because testimonial videos recorded with fancy cameras may look good to watch, but they do not look natural.
However, this is not a customer review but a review of an employee for their company, showing the commitment and vision of the company. But then again, the purpose of sharing these testimonials here is to show you that: how impactful they can be when it comes to B2B relationship building.
Read More: 5 Best Features of Remote Video Recording Software
This customer testimonial video is a production by Testimonial Hero, which is a specialized video testimonial platform.
This video is a straight-up B2B video review for GrowthGenius by the COO of FirePower. It is a fine example of business testimonial videos where we can see a representation of gratitude and support for one business by another business.
The video seems to be shot with the help of good quality equipment and a support team. In essence, this is a typical way of showcasing your customer opinions through a video, and Growth Genius has done a fabulous job here.
Lemonlight is a video production company that deals in all kinds of video creation services. This video is the result of one of their business activities.
It is one of the neatest testimonial video examples, as it provides clear pointers for potential businesses looking for revenue acceleration services. This particular review video is for a company named On Demand Advisors by one of their satisfied clients ICUC Social.
As far as video production is concerned, it is a well-scripted and well-designed video that creates awareness and appeal for the video viewers.
This testimonial video example is from Ada ACX customers, created by using VocalVideo. VocalVideo is another good platform to record customer video reviews.
In this video, we can see various Ada ACX customers sharing their experiences with the company. Each client shares a unique bit of their experience – which as a whole adds much value to the video.
Video testimonials like these are valuable when you want to prove more with fewer efforts. As you can see, these videos were also made by customers via their webcams and personal devices. This thing represents the will of a customer to support their trusted businesses.
Here is another compelling example of a customer testimonial video. In this video, an IT company named SaffronTech is being reviewed by one of their delighted clients, DK Specialties.
Again, in this video, the best thing is its authentic outlook, recorded on a regular camera while sitting on their office chair. However, they are not using any video review software in this video, which makes it a bit hectic task – to do everything manually.
However, the best thing about this testimonial video example is that the client continuously compares SaffronTech with other service providers for good. Thus, making it easier for the company to prove its significance over the competitors without spending anything on exclusive marketing activities.
Conclusion
So, these video testimonial examples have got a lot for us to learn. The biggest lesson in these videos is that nothing can beat the impact of video testimonials in building trust and credibility in the market.
A business (no matter if it is B2B or B2C) cannot flourish without a positive word of mouth about it in the masses. Everyone needs to be sure of receivable benefits before shaking hands with the other party.
Moreover, it is the year 2021, every business wants efficiency in their processes, and the efficient way to collect video reviews should be via some specialized software.
Furthermore, in the new normal, people prefer remote interactions. And from the above-mentioned tools, almost all platforms require human interaction to some level to continue. The only one that doesn't require any physical meetings is Vidmonials.
Vidmonials is not only the best match for remote users, but it is also fast, authentic, and user-friendly. In addition to that, Vidmonials helps its users in marketing these video reviews adequately.