The best recording software should be able to offer multiple video recording features. In addition to the video recordings, it should also provide screen and webcam recordings.
With this criterion, Vidmonials becomes one such software that you can consider the best for the video recordings. Not only does it come with robust video recording functionality, but video screen capturing and webcam recordings as well.
Different industries can utilize Vidmonials for recording videos. However, the most prominent industries that can benefit from it include customer testimonial, recruitment, real estate, and eCommerce.
This article talks about the use of Vidmonials for industries of different nature. It also discusses why Vidmonials is considered the best recording software.
Read its efficacy as under:
Why is Vidmonials the best recording software for eCommerce?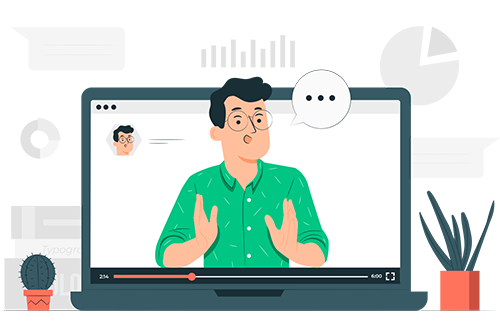 When it comes to an eCommerce store, the importance of videos in converting leads into sales is second to none. Using Vidmonials, you can create and include persuasive videos for your website visitors. And, as a result, there will be a significant increase in your leads-to-sales conversion rate.
Videos are a better call to action for the visitors of an eCommerce store. Thus, you can make testimonial videos of your satisfied customers using Vidmonials. You can also make videos of all your sales that have been successful. And this will help you in completing the conversion funnel successfully.
You can also have the bounce rate of your eCommerce website decreased by making compelling client testimonials through Vidmonials. And subsequently, the conversion rate of your website will increase.
Avails of Vidmonials for eCommerce store
It comes with the following avails for an eCommerce business:
Decrease in the bounce rate
You can decrease the bounce rate of your online business store notably by leveraging Vidmonials.
With Vidmonials, you can make videos of all the successful sales. And it will help in attracting more visitors to your business. It will also compel a visitor to learn more about your business, brightening the chances for a successful sales funnel.
All this leads to a decreased bounce rate of your website.
Curb the abandonment rate
With a decrease in the bounce rate of your website, its abandonment rate also tends to limit.
Using Vidmonials also helps you restrict the website store abandonment rate. And it is made possible by persuading the visitors using compelling testimonial videos, which make the conversion funnel complete.
Increase in the conversion rate
Besides helping to decrease the bounce and abandonment rate, Vidmonials can also elevate the sales conversion of your eCommerce website.
Vidmonials help you present your business in a better light. It also helps in sharing the efficiency and utility of all the services by your company. And this not only helps to convince the website visitors about the usefulness of your business but also the ones who randomly surf your website.
Features that make Vidmonials the best recording software for eCommerce
Vidmonials was designed to cater to the requirements of an eCommerce online store. So, using it for a better call to action helps complete the sales funnel process.
It has the following features in this regard:
Collect the successful Videos
Using Vidmonials, you can gather all your successful sales videos together in a single place. And this enables you to go through all the videos quickly and use the required one on the website.
Ease of requesting a testimonial
You can send all your customers a request for video testimonials at once. It allows tracking all the successful sales of your eCommerce store.
Additionally, your clients are not required to sign up for providing their testimonials. And this encourages more of your clients to provide you with their video reviews. Subsequently, your business can have a maximum number of client testimonials for itself.
Credible eCommerce website
Vidmonials comes with a feature of embeddable video widgets. Hence, you can use them on your online store, which will result in your website being more credible and authentic. And in this regard, you can use a video playlist widget or a floating trust seal.
Get live analytics
Vidmonials allow you to track all the requests made to the clients for video testimonials. In addition to this, you can generate a summary of all the received video testimonials.
Read More: Why Choose Vidmonials as an Online Camera Recorder?
Why is Vidmonials the best recording software for the Real estate?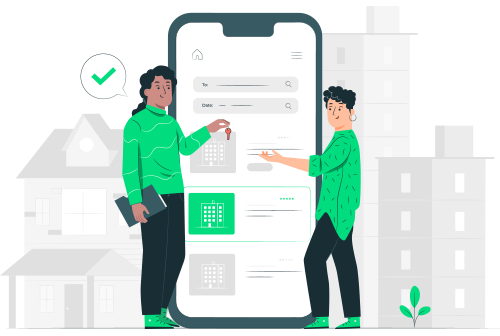 The utility of Vidmonials regarding the real estate industry also makes it one of the best video recording software for this industry.
You can use the platform of Vidmonials in marketing your real estate business. Therefore, you can use it as a video funnel in this industry. Besides it, you can use Vidmonials to filter out serious buyers and genuine sales leads.
In addition to this, you can leverage Vidmonials in video recording the properties. Precisely, it can give virtual property tours to interested customers. It leads buyers to make up their minds about various properties from the comfort of their homes.
The utility of Vidmonials in virtual property tours also helps to save the time and monetary expense of each stakeholder alike, seller, buyer, dealer.
Whether a property needs to be sold or purchased, it is very convenient through Vidmonials. You can witness a significant increase in your real estate business by making most of its functionalities.
The features of Vidmonials that can give a boost to your business include, but are not limited to, video funneling, buyer filtering, seller-leads filtering.
Avails of Vidmonials for real estate industry
It comes with the following avails for the real estate industry:
Better agents for your business
A real estate business thrives on its real estate agents. So, understanding this, Vidmonials helps you hire efficient agents for your business.
With Vidmonials, you can quickly hire better real estate agents using its 'asynchronous video collection' feature.
Virtual house tours
One of the principal avails of Vidmonials for this industry is virtual property tours.
Using the capability of Vidmonials as the best recording software, you can give your clients a virtual tour of the property of their interest.
To maximize your profit level, it allows you to show a property to as many clients as possible. Moreover, this use enables the customers to choose a property from a range of available options. And this use of your business makes it a go-to place for others as well.
Get meaningful feedback
You can learn where your business stands in the market by receiving meaningful feedback about it. Also, you can establish your business better by collecting feedback on your properties, which helps in adjusting the selling price.
Features that make Vidmonials the best recording software for real estate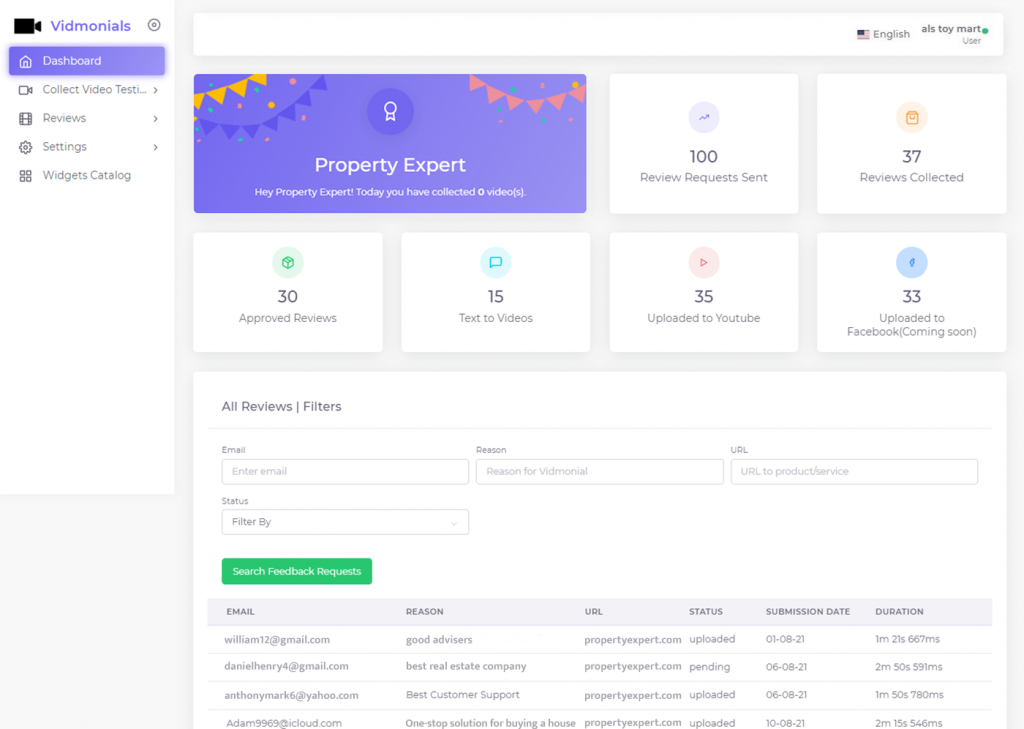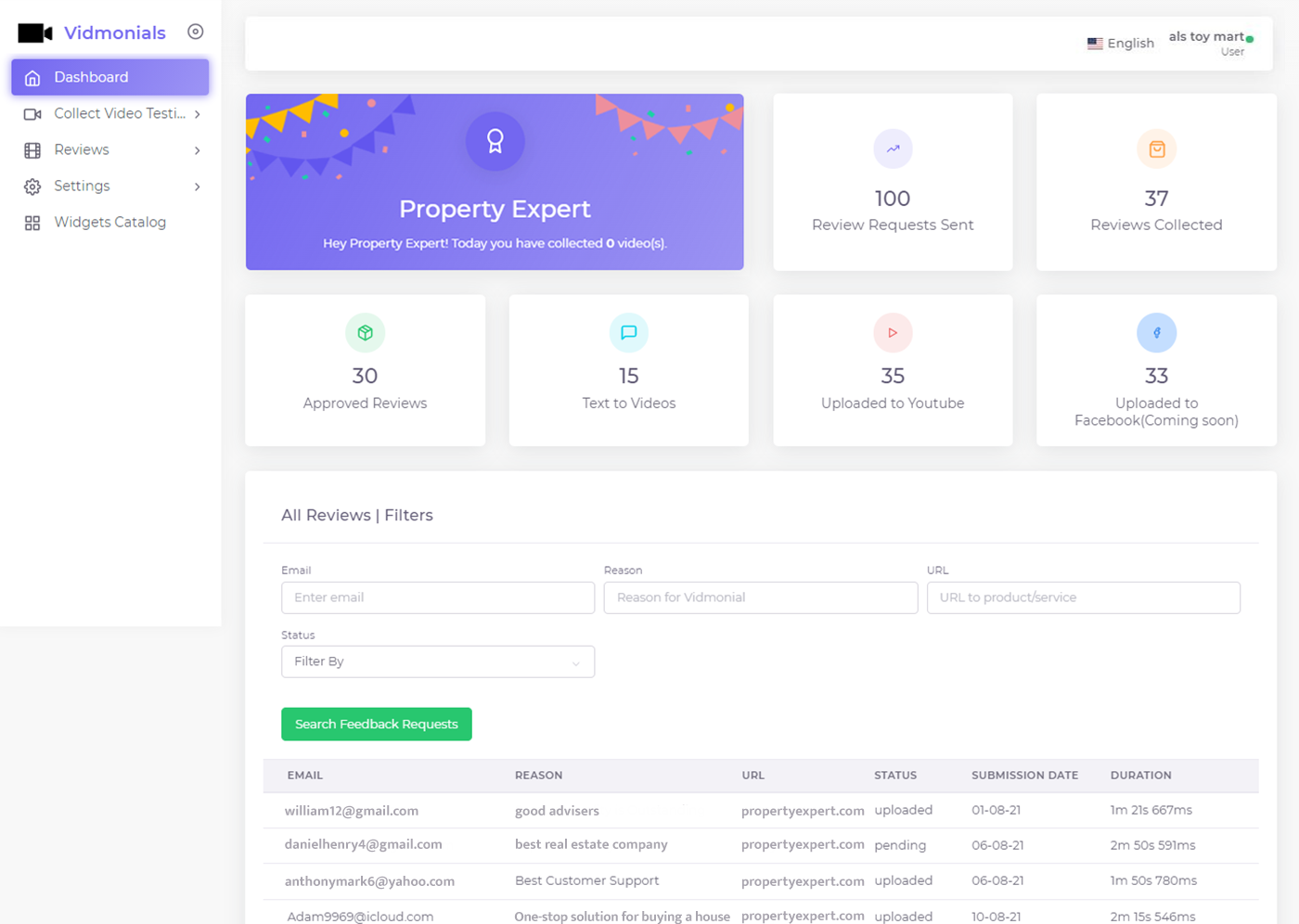 The design of the Vidmonials entails catering to the needs and requirements of anyone in the real estate business. It is the best recording software in the video content marketing of a property.
Its features in this regard are the following:
Social media marketing
Social media marketing is an open secret about the success of many businesses today. The success of this marketing strategy is mainly due to the preference of social media users for videos.
One can utilize the video functionality of Vidmonials in creating persuasive videos that can effectively promote their business over the internet in no time.
You can share the efficacy of purchasing/selling properties through your business using the words of your satisfied clients. And this can make your business attractive to many people.
Email prospecting
Email prospecting is yet another marketing tool many businesses use, including property. So, using Vidmonials, you can create testimonial videos of your clients and include/embed them in the emails.
In addition to this, using customer testimonial videos gives the email prospecting a sense of personalization.
All in all, this is an excellent feature for convincing the efficiency of your services to the prospective customers.
Why is Vidmonials the best recording software for recruitment?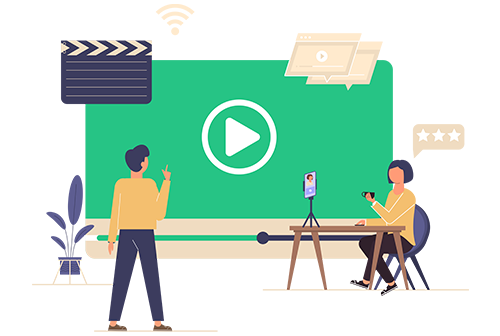 Using Vidmonials, your company can acquire candidates with the required skills and get top-tier candidates working for itself.
Vidmonial reduces candidate ghosting and proves itself the best recording software for the recruitment industry. It makes the recruitment process easy and quick, which minimizes candidate ghosting.
It gives the interviewing process a sense of personalization, making fewer interviewees abandon the recruiting process. Moreover, the hiring process is efficient and convenient for both the candidates and the interviewers alike.
As Vidmonials makes the entire hiring procedure easier, finding and hiring suitable candidates also becomes more accessible. Similarly, candidates can also be hired quickly with a simple interviewing process.
A company can employ candidates with in-demand skills, which can help compete in the relevant industry. Simply put, with Vidmonials, employers can find the desired employees, and candidates can work for their ideal companies.
Avails of Vidmonials for the recruitment industry
When it comes to recruiting, Vidmonails comes with the following avails:
Curbs the applicant ghosting
Every hiring process is essentially emotionless. But the one that takes place offline is especially non-human, making most applicants give up the process in between.
The dispassionate side of recruitment makes companies lose the top candidates. So, considering this, Vidmonials makes the recruitment process through video conversation.
Through Vidmonials, you can have applicants provide their video resumes and interview them through video conversations. With the hiring procedure becoming video-based, the humane factors become added, making the process personalized. It is how Vidmonails curbs the candidate-ghosting.
Makes the recruitment process more specific
Mostly, companies use a general hiring procedure in recruitment and consider it sufficient to hire highly-skilled candidates. In simple words, a company interviews all the candidates with different skill sets and industries using the same methodology.
Nevertheless, an unspecified hiring process could help to employ average candidates. However, to hire top candidates with the most sought-after skills, an unspecified interview procedure can provide no help.
Since the individual that possesses high skills or IQ tends to be more innovative. Therefore, unspecific interviewing procedures are one of the main reasons companies find it challenging to hire the desired and highly skilled candidates.
Applicant feedback
Vidmonials not only make it possible for you to hire the most suitable candidates, but you can also have the applicants evaluate your recruitment procedure. And this empowers a company to a more robust and efficient hiring procedure by using the feedback provided by the interviewees.
This one of the avails of Vidmonial enables a company to improve its recruitment methodologies by optimizing the process of interviewing the applicants/candidates.
Besides improving the process, you can also leverage the feedback to improve your employer brand.
In conclusion, the received feedback can help better the interviewing and recruiting and the employer brand of a company.
Features that make Vidmonials the best recording software for recruitment
The features of Vidmonials relate to the requirements of the recruitment industry, enabling companies to acquire suitable candidates.
Its prominent features for this industry are as follows:
Collection of video resumes
Video resumes
Using Vidmonials, you can gather the video resumes of all the potential candidates. It lets you have a talent pool using the video resumes. And this makes it easier to find a candidate relevant to the available position.
You can also find candidates with the required skills by performing filters on the available video resumes. Hence, the use of Vidmonials in recruitment is unparalleled.
Easy process
What makes Vidmonials the best recording software for the recruitment industry is its simple functionality for both applicants and recruiters.
Vidmonials make the process easier for the recruiters by allowing them to capitalize its 'multiple request' feature. In simpler words, it will enable its users to request multiple candidates for a video resume or interview. And all it takes is a single button to click.
For the applicants, the process is straightforward because they do not require to pass through any extra steps, including the sign-ups. And, as like the recruiters, they only need you to click a single button.
Thus, the hiring process is easy, simple, and uncomplicated for anyone involved.
Employee testimonials
Besides making the recruitment process convenient, Vidmonials also empowers a company to leverage the positive views of its employees to attract sought-after candidates.
Simply put, you can make and share testimonial videos of your employees to give a realization about the benefits of working for your company.
When a company successfully builds its perception as a worthy company to work for, its prospect of attracting top-tier candidates increases.
All in all, it is an excellent feature for an organization to have top candidates work itself.
Why is Vidmonials the best recording software for Client Testimonials?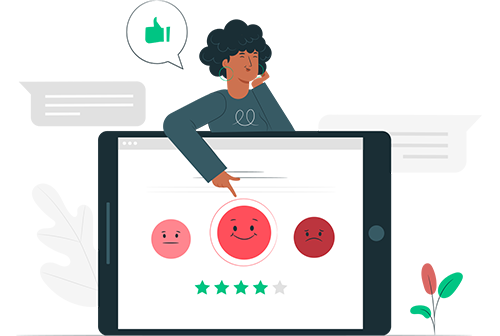 You can win new customers with your existing customers through Vidmonials since your customers' words can influence your prospects the best.
Vidmonials allow you to promote your business more authentically and credibly by using the testimonial videos of your clients. And it can help you greatly in earning new clients for your business.
Making your happier and satisfied clients the face and the voice of your company is more valuable than any other marketing strategy.
Avails of Vidmonials in the Client Testimonials
While the avails of Vidmonials in utilizing the client testimonials are manifold, we mention below the most prominent ones:
Authenticate your business
Your own words about the usefulness of your business cannot considerably help to convince the masses in the same. However, the views of your existing clients can.
No amount of marketing can be as fruitful as the client-success stories. So, using Vidmonials, you can make compelling and influential customer stories. And as a result, your potential clients will be more convinced.
Improve your SEO ranking
Videos are an essential factor in improving the SEO ranking of your content. And with the testimonial videos, the SEO ranking of your content can skyrocket. So, with Vidmonials, you can persuade prospective clients and improve the SEO of your business website.
Increase sales conversions
Do you know that people are more likely to purchase a business that uses videos to explain its product/service? So, making a video of how your service/product helped one of your customers to overcome a problem can significantly increase your chances for a sale.
Features that make Vidmonials the best recording software for recruitment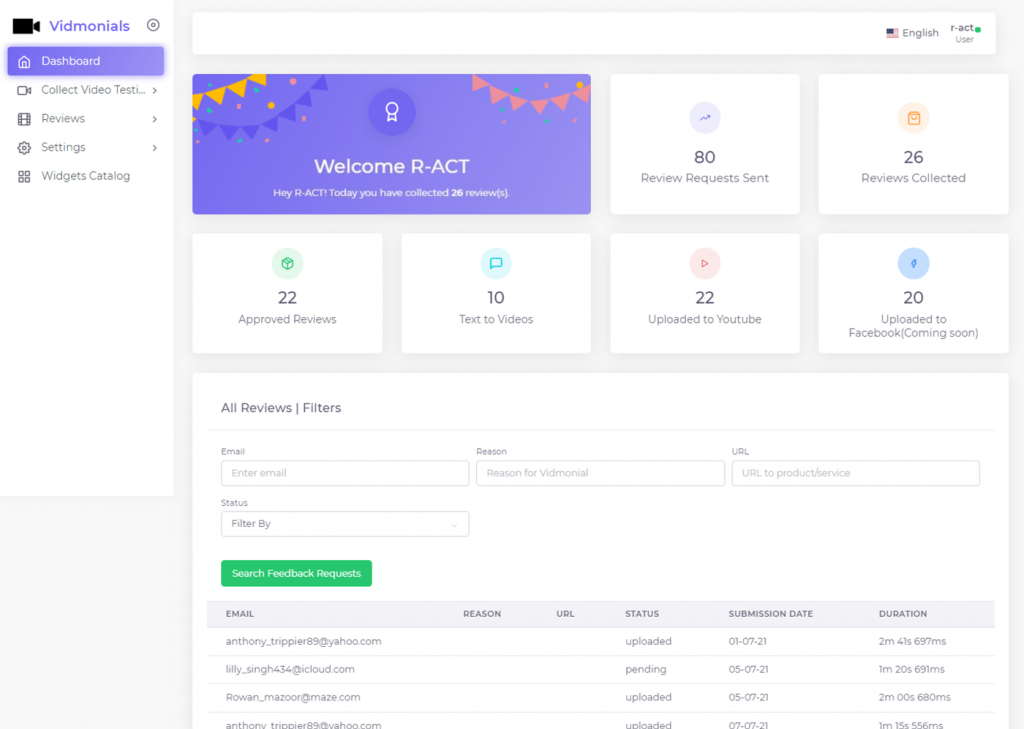 Vidmonials has all the features required to make the customer video testimonials. Moreover, all its features help make the most of the video testimonials. And it is why it is one of the best recording software for customer testimonials.
Its features to help you in client testimonial videos are the following:
Quick testimonial requests
Users of Vidmonials can send video testimonial requests to their clients through emails, QR codes, etc. Furthermore, users can send a request to as many customers as they want at one time.
Managing the testimonial videos
Vidmonials empowers its users to accept or reject a received testimonial video. It helps the users have a collection of only such useful videos that can be used for marketing purposes. Additionally, all the videos that the users receive are saved in a single repository by Vidmonials.
Making testimonials genuine
Vidmonials help a business further its credibility and authenticity by using trust seals and video widgets, enabling the testimonial videos to appear genuine to its audience.
Frequently Asked Questions
What do Youtubers use for recording?
For recording, Youtubers use video recording software, including online recording platforms such as the Vidmonioals.
What is best free recording software?
The best recording software can perform all the functionalities related to video recordings. Moreover, it should offer additional features besides video recording. And so, this makes Vidmonials a pertinent example.
What is the best and easiest screen recorder?
Vidmonials is the best and easiest screen recorder since it can be used to perform video recordings along with video screen recordings.
Bottomline
Vidmonials is considered the best recording software because of its utility to different businesses. Moreover, it is not limited to video recordings only as it offers other beneficial features.
As an online video platform, it is equally helpful for different industries. The comprehensive and multifaceted features of Vidmonoials are why people consider it the best recording software.
You can know more about it at https://www.vidmonials.com/book-a-demo