Your website's viewers will be more likely to buy from you if you establish a sense of trust with them.
When developing trust, allowing visitors to view your customer experience is the most effective method.
We can refer to this behavior as "social proof" for shorthand purposes.
You won't have to do anything by hand for the most part. With video social proof software, you can speed up the entire process.
While software tools for social proof can help you achieve that high trust signal increase lead generation, conversion rates, and sales, it isn't easy to choose the proper one for your company's requirements.
To assist you, we've looked at every single product on the market to find the best one for you.
Here are 13 of the top video social proof software applications for boosting conversion rates.
But first, let's go through the basics of social proofing.
Understanding Social Proof
The concept of social proof is based on psychology. It is predicated on the premise that vast groups of individuals will act similarly.
If many people are doing something, they assume it must be right.
Instead of pondering the issue, they copy the acts of others without giving it a second thought.
As a result, we need the best social proof tools to get the best results. Social proofing is an effective marketing strategy for online businesses.
Consumers aren't privy to the same selection as they are at brick-and-mortar businesses when it comes to internet shopping.
Even still, more than 90% of internet shoppers prefer to do their homework before purchasing.
A social proof brand is developed to meet the needs of today's customers.
They should provide them with enough information to form an opinion about your company and the things you provide.
A variety of behaviors are involved in establishing social proof.
You can, for example, use your home page and landing sites to post favorable reviews or publish client testimonials.
Furthermore, social proofing includes endorsements from well-known figures in the field.
An essential part of a successful social proofing strategy includes increasing and promoting social media shares.
Let's look at some of the best social proof tools available to you.
What video social proof software solutions are there to assist you in this endeavor?
Video social proof software is a form of software that can assist you in streamlining your social-proving activities.
Video Social proof software applications eliminate the need for many technologies to gather, store, and distribute information about your customers' shopping habits, reviews, and testimonials.
They also take care of social proof notifications for you to keep track of and benefit from any new positive social proof signals that may be added to your collection.
Notifications based on social proof make it simple to stay up to date on the latest developments in the field.
Use the appropriate social proof tool for your situation, for example, to keep track of how many people have bought from your online business and display that information prominently for the benefit of all customers.
Other options include capturing consumer feedback in real-time or sending a post-purchase follow-up email automatically generated.
Some social proof tools are better than others. Some are more durable than others. Beginners may find some easier to use.
Others necessitate a certain level of technical expertise and prior experience. They all aim to build trust with potential clients with the same purpose.
There is no difference between the most excellent app and the best social proof software solution when boosting sales and engaging customers in meaningful dialogue, gaining more social proof from current customers, collecting customer reviews, and establishing instant trust.
Top 13 Video Social Proof Softwares
To help you make an informed decision, we've included 13 social proof tool evaluations below.
1.  Vidmonials – Best Video Social Proof Softwares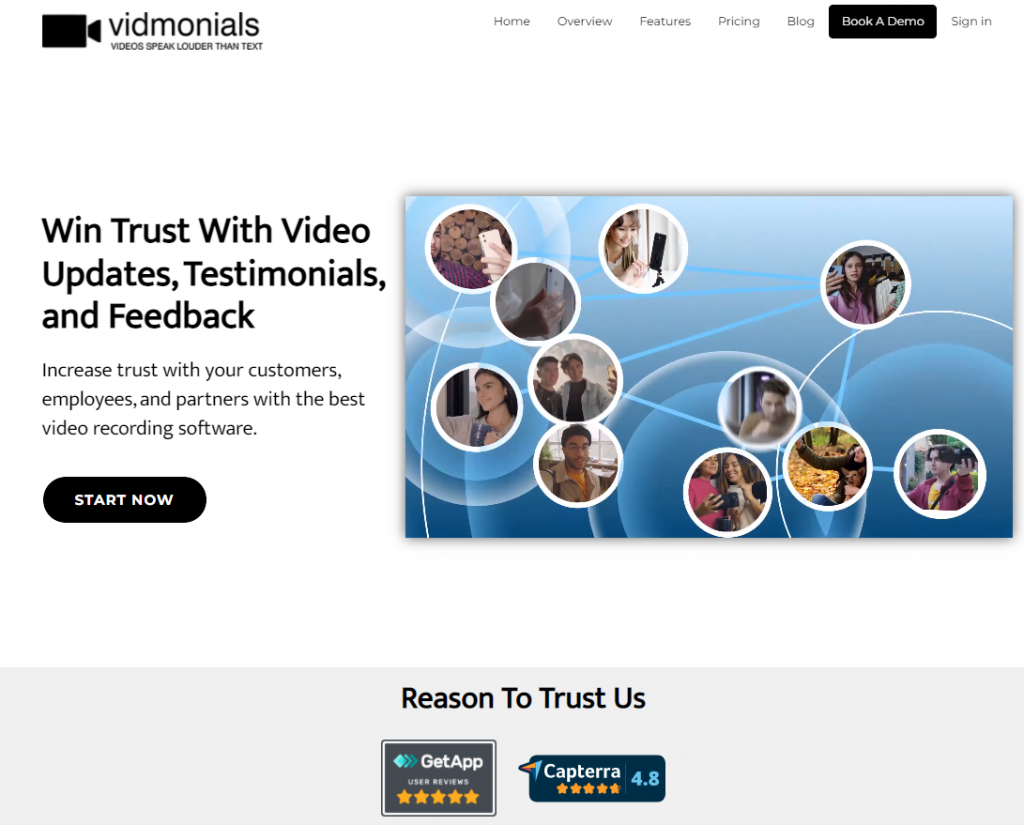 As a video social proof platform, Vidmonials enables you to make better use of social proof and collect more of it from your current customers.
For Vidmonials to stand out, it must interface with your CRM so that you can collect feedback, get more social proof, and leverage the social proof on your website all from one location.
For enterprises with a client base and active lead generation from their website, this end-to-end solution provides unrivaled opportunities to use social proof.
If you have satisfied customers and want to increase the number of leads coming from your website, look at Vidmonials. It's built for sales companies trying to do the same.
To keep your social proofing efforts moving forward, turn to Vidmonials. It's a tool that everyone can utilize. You don't need to write a single line of code to use it on your website.
Vidmonials offers a free trial!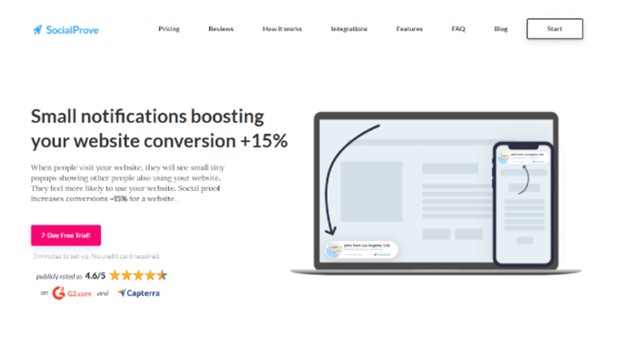 As a social proof tool, SocialProve is easy and effective. Both your desktop and mobile websites benefit from the familiarity it provides. By utilizing SocialProve, you can give the visitors an on-site notification updated in real-time.
The notice can be tailored to your liking.
The number of persons who have purchased a particular product in the last seven days or are presently browsing on the same web page can be shown to your visitors as an example. Visitors can also be informed of recent purchases.
Logging onto your SocialProve dashboard and setting up Live Activity, Activity Combo, Live Count, or Visitor Combo notifications is a breeze after you've completed the setup process above.
Templates for notifications are included right out of the box. You may, however, entirely modify messages, alter the language, allow visitors to stop announcements, and add links to your notifications if you so like.
In addition to Google Tag Manager, WordPress, Wix, and other platforms can also be integrated with Zapier, ClickFunnels, etc.
3.  Proof – Video Social Proof Software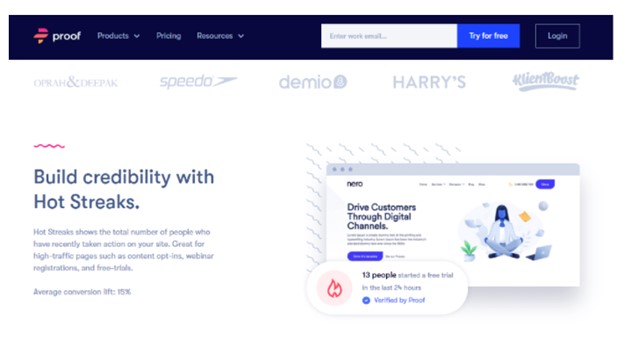 Proof has a solid reputation to uphold when it comes to social-proving software. It now sells two different items on the same website. Proof Experiences enable website visitors to have a more personalized online experience.
Proof Pulse, on the other hand, is a tool designed to help you increase sales and conversions through social proofing.
Like Social Prove, Proof Pulse has a lot in common. To use, it's a simple process. You may use notifications to convey trust and urgency by publishing them on your live website.
Notifications in Proof Pulse have several code names. Notifications that display how many individuals have taken a given action on your website are Hot Streaks.
A Live Visitor Count notification lets you know how many people are now accessing a specific page on your website or the entire site as a whole.
Notifications that show real users with their geo-locations who have taken action on your website are called Recent Activity notifications.
Another fantastic feature offered by the proof pulse is analyzing how notifications affect lead generation, conversion, and sale outcomes.
For each social proofing campaign, customers can customize the design and timing of the notifications and define their own display rules for the messages to appear.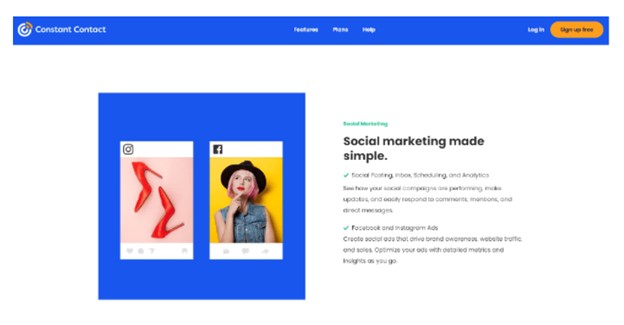 The Constant Contact software suite is explicitly designed for internet enterprises; the Constant Contact software suite offers a wide range of valuable features.
Even though the program includes a website builder and an SEO tool, we'll concentrate on the elements that aid social proofing and increase conversion rates.
Use the email marketing features provided by Constant Contact to your advantage by sending out attractive and practical emails at the exact time your potential customers need them.
An email editor with simple drag-and-drop functionality is included with the program. If you don't have a lot of technical knowledge, you can send beautiful emails.
As a bonus, Constant Contact offers marketing automation. You may automate your email marketing from welcoming new subscribers to creating smart triggers for email series.
Constant Contact does an excellent job of merging social media marketing with email marketing regarding the social proof. Your social media presence, audience growth, and client trust are included in one package.
In addition to Facebook, Instagram, Twitter, and LinkedIn, Constant Contact lets you run paid ads on any of these networks.
Post-by-post email sharing is an option as well. As a bonus, the application includes a post scheduler that allows you to plan out many posts and arrange their publication dates in advance.
There are further options for reporting and analytics. A single location can handle all of your comments and correspondence.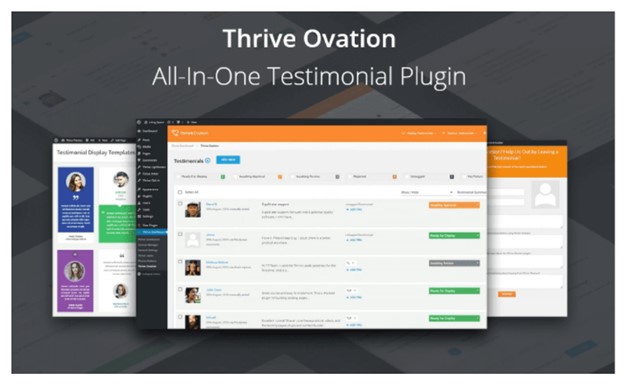 Thrive Ovation is a must-have for WordPress users. One of the best social proofing WordPress plugins available. With Thrive Ovation, you can build and leverage a library of customer testimonials for your online store.
Ovation's Thrive Ovation has a lot to offer. It's easy to turn consumer feedback into stunning testimonials with a single click.
Thanks to this plugin, your testimonials library will automatically be updated with the customer's name, photo, and comment.
Twitter and Facebook are both integrated into the plugin. Thrive Ovation can import a favorable review or mention of your product or brand left by one of your consumers.
Additional features can be found in the testimonials library.
Labels like "Ready For Display," "Awaiting Approval," "Awaiting Review," and "Rejected" are all excellent ways to indicate the status of a testimonial. It simplifies the process of collecting and storing customer reviews.
As a bonus feature, this plugin lets you send an approval email directly to a customer to ensure they've given you their blessing. As a result, your website will exude an air of legitimacy and trustworthiness.
Ovation allows you to place testimonials on your site, products, or landing page. There are a variety of professionally created testimonial templates, but you can tailor them to your needs.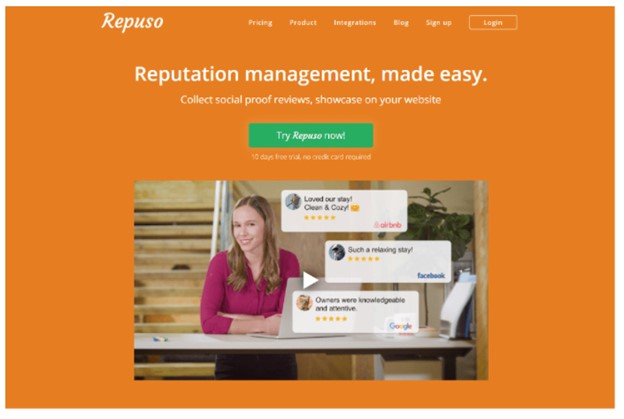 "Collect social proof reviews and present on your website" was chosen by Repuso's marketing team as a short ad line to advertise the product.
The Repuso is summed up in this statement. Thanks to a system that streamlines rating and review collection, user reviews and ratings may be quickly published on the website.
Repuso can connect to a variety of popular social media sites. Your social media accounts will automatically search for your brand or product mentions and collect reviews for you.
You can also take matters into your own hands when it comes to collecting Repuso testimonies. To encourage users to post reviews on your website, you can use the included widgets.
The testimonials library is accessible through the Repuso dashboard, where you can see all of the reviews the tool has collected. You have complete control over where and how you display customer feedback and testimonials on your website.
You may use an inline widget or a Repuso floating widget to make a testimonial stand out.
Repuso isn't lagging behind the pack as far as integrations are concerned.
It is compatible with many applications and platforms, including Facebook, Twitter, Instagram, Zendesk, iTunes, Google Play, and many others.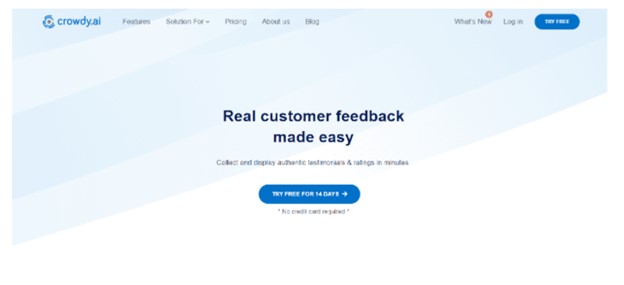 Crowdy.ai is yet another in many social proof software applications designed to help online businesses raise conversion rates and sales.
As a result, Crowdy.ai has made it possible for its users to record and post video testimonials.
Users of Crowdy.ai's video testimonial tool appreciate how simple it is to post a video testimonial for their business.
The only thing you need to do is ask them to record a video via a simple survey, and the program will take care of the rest. You may also use it to search and publish pre-existing films from social media sites like Facebook and YouTube.
Crowdy.ai uses videos from your customers' social media pages to authenticate their testimonials.
It uses cutting-edge technology to send videos to your website without slowing it down, delivering a premium user experience.
A survey builder is also included with Crowdy.ai. White-labeled testimonial forms and rating surveys are available in Survey Builder's library of survey templates.
It is possible to tailor them to fit your website. Use the tool's video feature to request that customers leave reviews kindly.
Ratings and testimonials can be shown on any page of your site. There's also an option to add Google search results page ratings using this tool.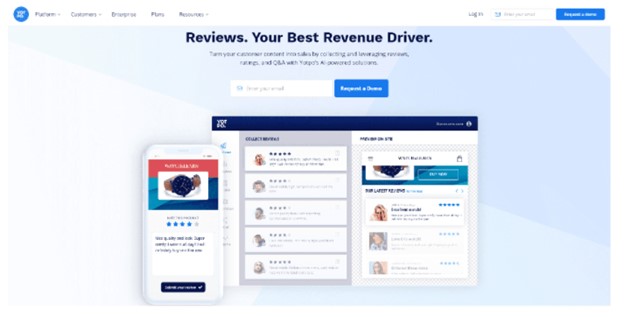 eCommerce marketing platform Yotpo is a full-featured one. It has a slew of marketing tools, many of which are geared toward making your efforts at social proofing easier. Let's start with user feedback and opinions.
For a large-scale review and rating collection initiative, Yotpo uses in-mail technology.
You can use this function to increase conversion rates to collect user reviews, product ratings, and helpful FAQ sites.
Pre-made email templates will be at your disposal. If you want to increase your email open and review completion rates, you can tweak all templates or create one from scratch.
Yotpo is simple to use and straightforward to integrate into your website.
It's a piece of cake to post reviews and ratings. To increase your website's chances of conversion, you may use this social proof software to display user evaluations and ratings at strategic locations throughout your site.
There's no need to go through the hassle of re-entering your credit card information on each one of these pages.
Instant access to metrics is made possible thanks to the email dashboard.
Emails you've sent and opened can be viewed together with the reviews and ratings you've racked up. You can use a conversion dashboard to see how well your social proofing strategy works.
Additionally, Yotpo includes rich snippets, Google seller ratings, and Google Shopping Ads to help you raise your brand's visibility and increase website traffic.
Free and paid programs are available. Only customers who request a demo on the official website are eligible for the discounted price.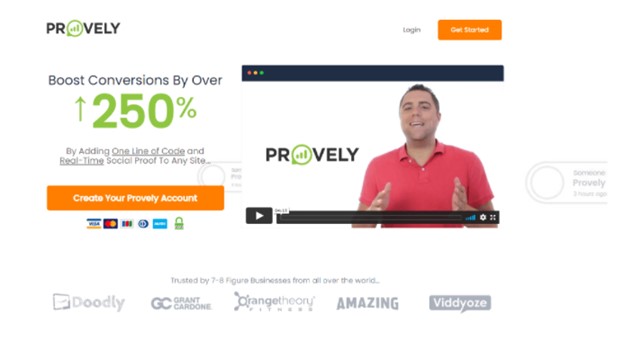 When it comes to providing its users with real-time social evidence, Provely has a clear focus. End-users appreciate how user-friendly our social proof program is.
It takes two steps to integrate Provely into your website. The first step is to design and build your popup. You can select from a variety of pre-sets.
The process of customizing a widget is just as simple.
You have the option of picking a template and then customizing the colors to fit your website's style. Copy and paste the widget's code onto your website, and you're good to go.
Two sorts of popups are available from Provely: current and archived data. Visitors to a website will get real-time notifications of new leads and sales through the use of live popups.
Data from the past will be displayed in popup notifications for sales and leads. Both of them can be tested to see which one is most suited to your marketing goals.
The user can also set location and frequency. Thanks to the location, you can display popups solely to visitors from specified geo-locations.
When it comes to setting the frequency, it's pretty straightforward. It will allow you to select the frequency at which notifications are shown to your website visitors.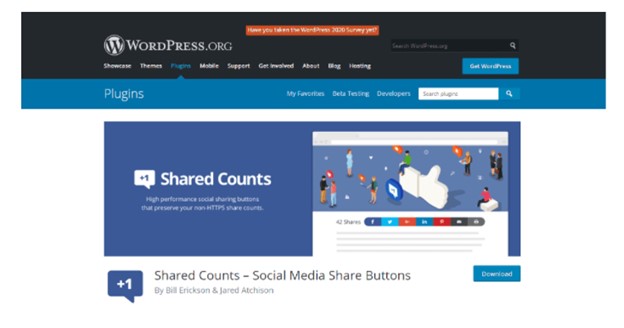 You can use Shared Counts, a simple WordPress plugin, to show your website visitors that your online material is trustworthy.
There are two things you can do with the plugin. Visitors can easily share your material on social media thanks to this feature. Every central social media platform is supported, such as Facebook and Twitter.
By simply clicking on the appropriate button, your site visitors will be able to share your message with others.
For the second time, social evidence is provided via Share Count Total. You'll appear trustworthy to new visitors to your website if they discover that many other individuals have already shared your content in your niche.
Customize the Shared Counts buttons to match your website's style and layout.
Website-friendly Shared Counts buttons can be styled in a variety of ways. The buttons can also be displayed before or after the content, depending on your preference.
Since the plugin is small and lightweight, it won't slow down even the most popular websites with millions of monthly visitors.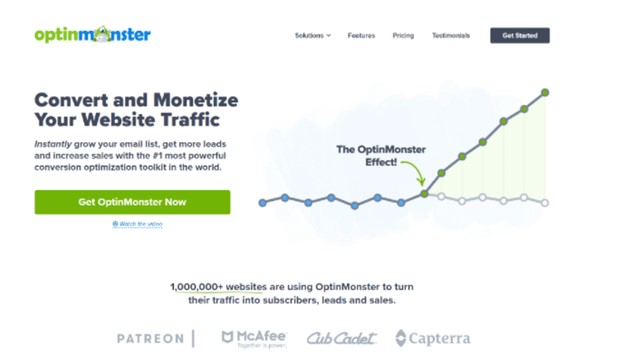 With the help of OptinMoster, you'll be able to create more leads and increase your conversion rates. In terms of popup design, OptinMonster is among the best in the business.
Using it in this way can help you build a loyal following, attract new customers, and establish your brand as trustworthy.
You may use the tool to turn any part of your website into an opt-in form. It is possible to target your visitors depending on their online activity or geography.
However extensive, OptinMonster is simple to operate. Hundreds of pre-made templates and a drag-and-drop builder are included. You may tailor the popups to fulfill specific objectives and make them work on any screen size.
Popups are supported by the tool in a variety of ways. If you prefer a full-screen welcome mat or a less intrusive lightbox popup, OptinMonster can accommodate your needs.
You can have numerous campaigns running simultaneously, and each campaign can have an intelligent trigger configured for it. Exit intents, scrolling, inactivity, or timed display triggers can all be used to accomplish this goal.
To help you boost your conversion rates, OptinMonster provides in-depth statistics so you can make changes while you're on the road.
It is compatible with many third-party applications, like social media networks, CRMs, email marketing services, and help desk platforms like ZenDesk.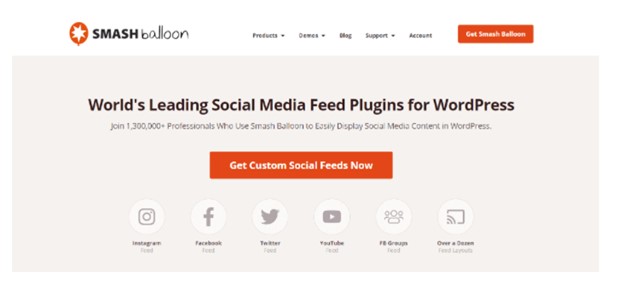 How cool would it be if your website could display real-time mentions of your brand and items from social media?
WordPress plugin SmashBalloon makes this possible. Even though it is a plugin, the characteristics and use cases identify it as a social proof software application.
Any social networking content can be shown on a WordPress website with SmashBalloon. You may use it to connect to your social media accounts on Instagram, Facebook, Twitter, YouTube, and Facebook Groups.
SmashBalloon's setup is straightforward.
The plugin has a straightforward interface. You don't need to write a single line of code to create stunning social network feeds.
Desktop and mobile devices can both access social media feeds. They can be customized to match the look and feel of your website.
It is possible to use SmashBallon on multiple social networking platforms, even if you only have one account. To ensure that your website loads quickly and smoothly, it employs cutting-edge technologies.
Publish the SmashBalloon drop-down box wherever you like. If you use this social evidence on your landing and product pages, conversion rates will rise.
It is possible to purchase the plugin for each available social media platform individually or in a single package.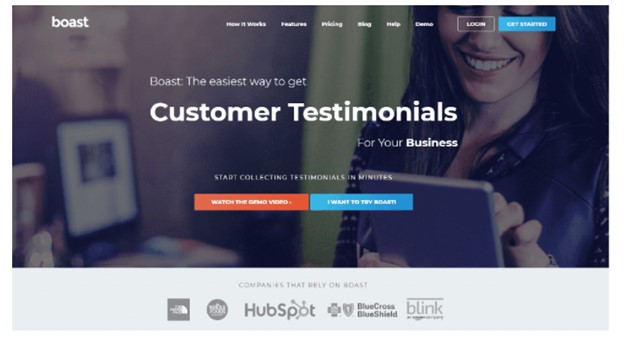 Boast is a social proof tool with a wide range of applications. Many functions are included, and it's surprisingly simple to use.
While other solutions have let you gather and publish customer testimonials in text, audio, and video, Boast goes the extra mile by allowing you to collect and publish customer testimonials in all available media.
To begin gathering testimonials, you must enter the Boast snippet of code into the HTML code of your website. The Boast link can also be immediately shared via email as part of your social proofing campaign.
The dashboard of the app is also quite user-friendly. It allows you to keep track of all testimonies, whether pending or accepted. Editing, tagging, and approving testimonials are all options available in the testimonials library.
Keep in mind that only those testimonials that you have approved will be displayed on your site. Visit your testimonials library regularly to perform some testimonials management.
Google Analytics, YouTube, Facebook, WordPress, and MailChimp are all supported by Boast.
You can use the integration features to spread the testimonials across other platforms and establish trust with your customers.
Choosing Video Social Proof Software
Every technology addresses social proofing difficulties in a somewhat different way.
Others shorten the process of collecting and posting customer feedback and testimonials while focusing on the visual display of social proof alerts.
To boost your live visitor count, they're all leveraging some form of social proof material you've accumulated, like videos of satisfied customers or online reviews.
If you have a unique business and target audience, we'll leave it up to you to choose the appropriate social proof tool.
Before making a final selection, think about your business and marketing objectives, as your efforts with video social proof marketing are linked to your potential clients and site visits.