A video capture software allows you to record or take a screenshot of video footage playing on your device's screen.
More often than not, a video capture tool comes with editing options since a user may require to trim it as per their requirement. Furthermore, some users may need other features as well.
This article brings you four video capture software. And besides meeting the primary purpose of recording/editing, they also offer other beneficial features. Moreover, the software that this article discusses is most suitable for small businesses.
Read the article under, but let's discuss the most commonly asked question in regards to a video capturing tool:
What is the best video capturing software?
With the best video capture software, you can record your laptop/pc screen with relative ease. And so, most YouTubers use such relevant software to record their screen.
As for video editing, Youtubers use iMovie, which comes free with all Apple devices, to edit videos free.
Does windows 10 have video capture software?
You can record your screen on Windows 10 with its screen recording utility, X box Game bar. However, Microsoft also comes with a video recording app, Microsoft stream.
As for the video capture device, Video DVR, EasyCAP, UVC EasierCAP, etc., are some of the best options for Windows 10.
To record the screen on Windows 10, open the app, press the windows and 'G' keys simultaneously, and click on the start recording button. However, for taking a screen-grab on Windows, press the 'Windows' and 'Print Screen' keys simultaneously.
You can also use video recording apps for Windows 10: Vidmonials, ScreenToaster, DemoAir, etc.
Top Video Capture Softwares:
Following our list of video capturing software:
1. Vidmonials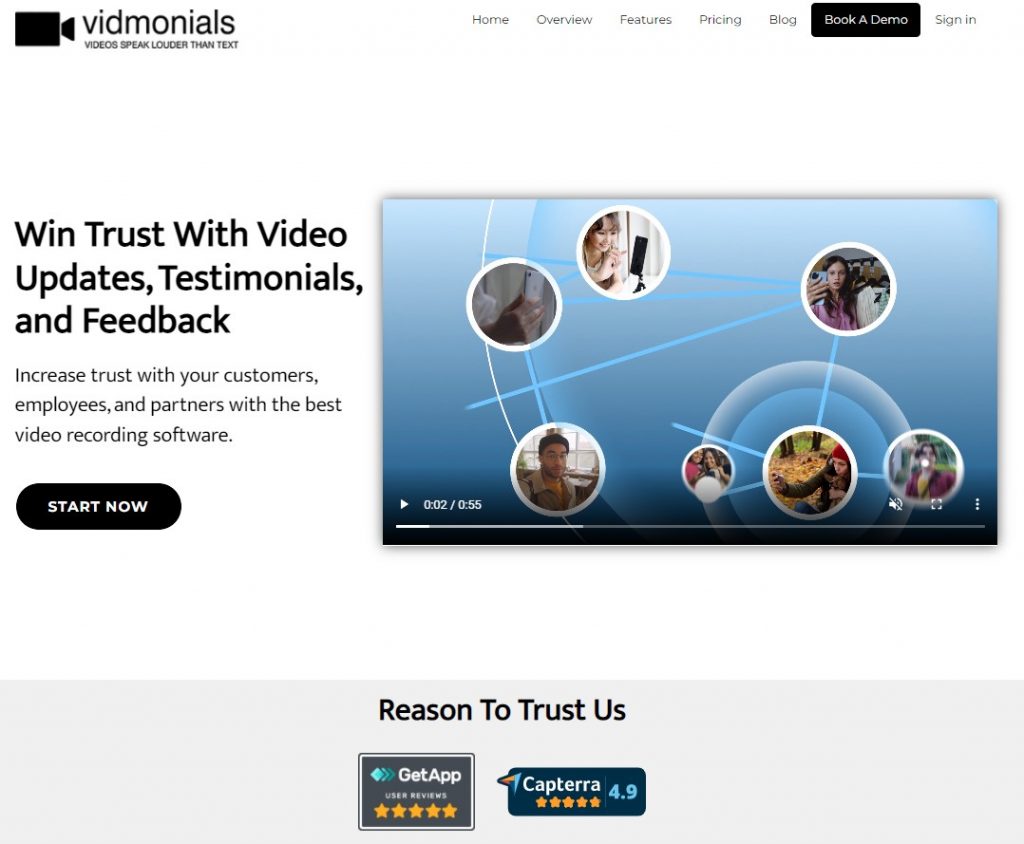 A versatile Video Capture Software, Vidmonials, is one of the best video capture software.
Generally, the video capturing software comes with the primary functionality of screen video recordings only. However, the additional features of such software serve no significant purpose for its users.
Not many video capture software are multi-purpose. However, Vidmonials is.
It has a minimal user interface that allows you to exchange audio, video, or even written text messages with their clients or website visitors.
Depending on your demands and type of business, these messages may contain your sales pitches, a feedback/review from a customer or to one, a detailed demonstration for a product or service, and much more.
In Vidmonials, the same interface allows the users to record their screens or perform video recording using a webcam.
Moreover, users can perform either of the two functions with a single click. Thus, Vidmonials empowers its users to perform dual functions with such ease.
The multi-functionality of Vidmonials makes it an excellent video capture software. Furthermore, it also makes it a 'one platform, multiple multi-use cases' software.
Read More: Easy And Fast Video Screen Capture For Companies
2. ScreenToaster
ScreenToaster is yet another video capture software. It is an excellent choice for performing video recordings on your screens without any interruption.
It comes with the ability to video record the complete screen or only the selected parts of it. Moreover, recording a part of the screen is similar and as simple as cropping an image.
Screentoaster makes the entire process further easy and quick by allowing the users to use the Hotkeys. For example, a combination of 'ALT' and 'S' keys may enable the users to stop or start their recordings.
As for its features, as with the most similar software, it allows its users to video record their screen fully or partially. It also comes with built-in support for Windows, Linux, and Mac. Moreover, users can also embed the recorded videos on various links.
Last but not least, using this tool, the users can share and upload their video recordings to different social media platforms.
3. DemoAir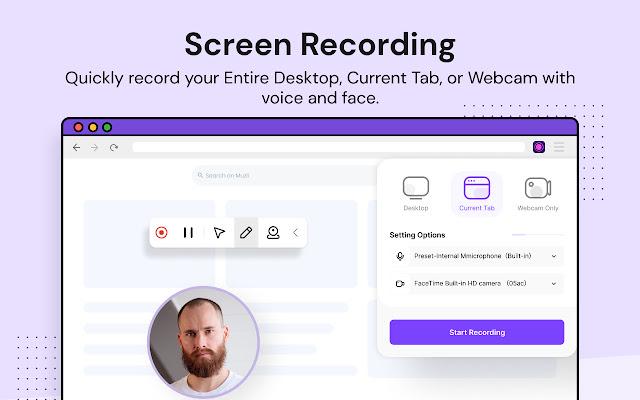 Wondershare DemoAir – Free Screen Recorder for Chrome
It is an easy-to-use video capture software. Moreover, it allows the users to record their screens as well as webcams. So, using this tool, you can record your screens and record video messages using the embedded camera and microphone.
In addition to this, you can also perform video editing and share the videos with others. Moreover, it allows users to add their faces and voices while video capturing, making the videos more personalized.
Last but not least, it comes with an automated feature of saving all your videos to google drive. So, all your videos are collected in a single place. Thus, none of your videos get lost and so become easily searchable and available.
4. Movavi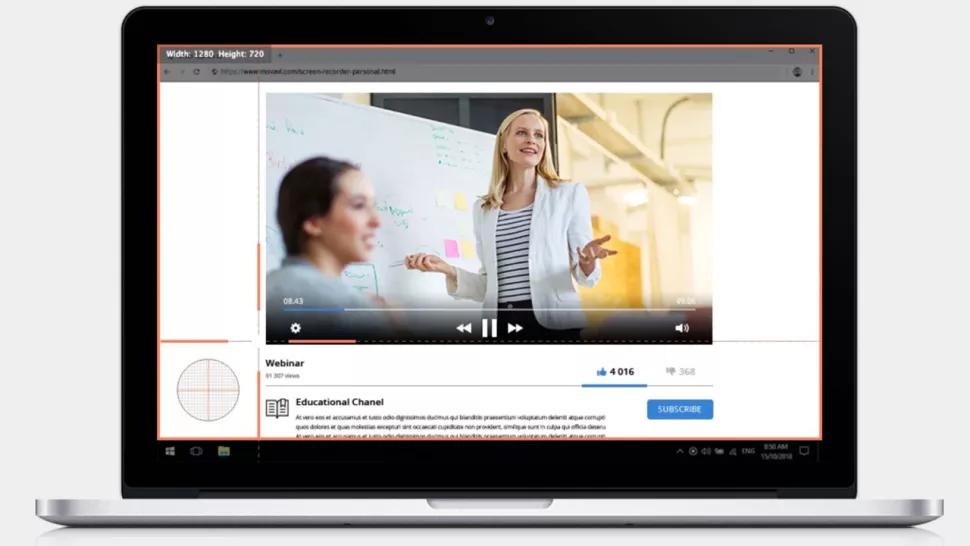 Movavi: Safe Multimedia Software
Movavi is yet another video capturing software, perfect for videos on mobile devices. Using it, a user can not only record or edit videos but can also share them. Additionally, it allows you to either record a complete screen, which is streaming the video, or parts of it.
This software has one of the best video capturing and editing features, which a sufficiently-good video capture tool should have.
You can perform functions such as pan and zoom across a video clip. Also, you can add captions/titles, use special effects/filters, use slow-mo on a normal movement, stabilize a video, and adjust its colors.
One of its features, which is not very commonly offered, is to improve the sound of video footage. However, like most pertinent software, it lets you add outside media into the initial video, which you can edit until the requirement.
It also allows you to capture audios, which you can either do simultaneously or separately. And you can also create audio-exclusive clips, such as podcasts.
Using this software, you can also optimize your videos for uploading to the web. However, it does not allow direct uploading. So you need to use the upload tools from the target site.
In case of a query, a user needs to access the FAQ section of this software. However, phone support and live chat are also available for relatively quick service.
Conclusion
We discuss four video capture software in this article. However, users can choose one that they find, or think as, better.
The choice of users for such software can vary from one user to the other. For, one software may meet the needs of a user better than the other.