As with the name, remote video recording software helps to record videos remotely.
Unlike the in-person recording, it works without requiring a video production setup. Hence, you can record videos with ease using such software.
The working of remote video recording software can vary from one to the other. But, the core working remains the same: to bring the embedded camera of the device to use.
In general, such software also lets you record yourself. Moreover, Youtubers also use such software to record videos.
The list of avails of a remote video recording software is ample. It can help you record video interviews. And, so, you can record a video interview as well.
We discuss the top five remote video recording software in this article. We also discuss the distinguished use such software offer to the users. Learn about them as under:
1. Vidmonials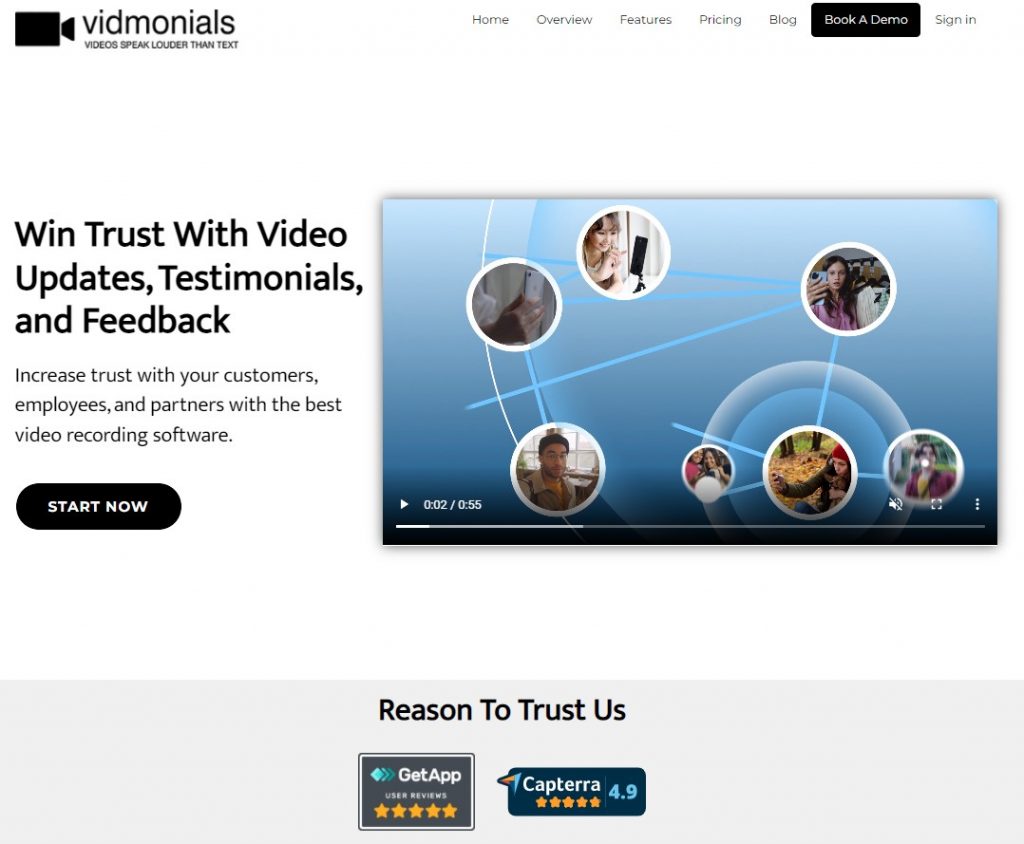 Vidmonials is a comparatively new but all-in-one remote video recording software. You can use it in recording remote videos, but it also provides a great utility in remote customer video testimonials.
You can also use Vidmonials when it comes to recording your screens or webcams. And it has great use in this regard as well.
Vidmonials can act as a dedicated tool for remote video recordings, video testimonials, screen/cam recordings all at the same time. And this capability makes it more helpful than the other similar software.
One of the key avails of Vidmonials is customer testimonials. So, you can use any of your customer videos to promote your business better. This simultaneous use of Vidmonials for various purposes makes it one of its as one its kind.
In addition to this, one of its distinguishing features is that it can convert text messages to video messages. And this ingenious feature from Vidmonials is yet to be provided by its competitors.
Lastly, video editing using it enables you to add your company's logo to the videos.
In a nutshell, Vidmonials stands out from its long-established competitors.
Read More: 5 Best Features of Remote Video Recording Software
2. VideoPeel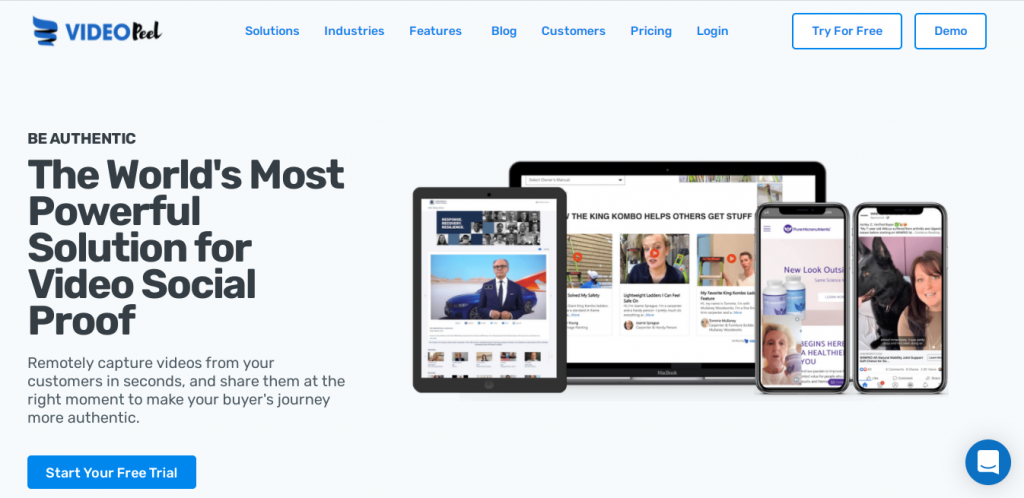 VideoPeel is a great choice as a remote video recording software since it helps to receive remote videos quickly. Its utility to collect videos swiftly from the customers is more or less the same as one of its competitors, Vocal Video.
One of its utilities is the remote interviews. In this regard, it lets the users send a link to the remote interviewees for recording the Video. Furthermore, videos can be recorded on different devices, such as desktop, IOS, Android.
In addition, you can also provide questions for the interviews. However, you can only provide them in a single slide and at the start of your Video.
As for editing the videos, VideoPeel allows its users to perform limited video edits. It allows the users to include their brand logo in the videos. It also allows users to add ratings and text overlays to the videos.
It has very few features to offer in regards to video editing. Therefore, trimming your Video using it may not be possible.
3. Boast.io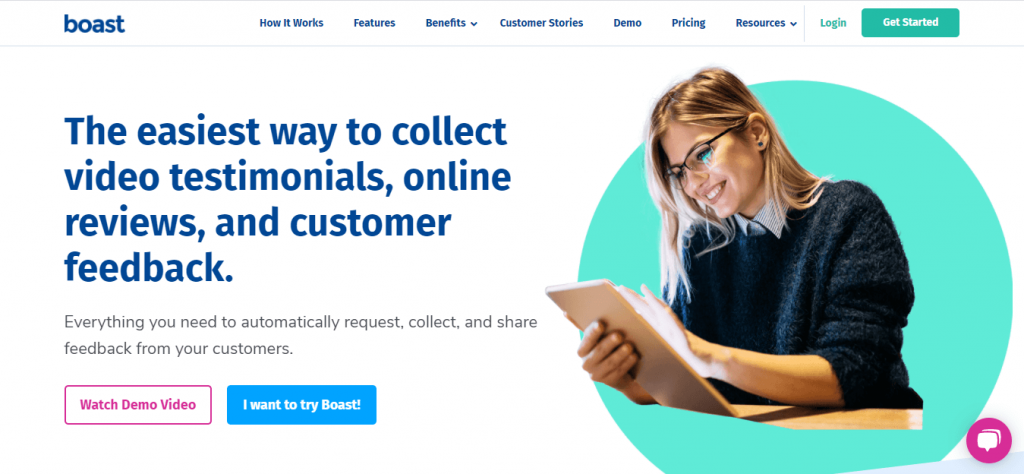 Boast.io is principally a customer testimonial platform and not some exclusive remote video recording software. But, still, it has a video recording (remote) utility. So, using this feature, you or your clients can record videos remotely.
It, too, cannot perform any video edits. Therefore, editing your videos using this software is not possible whatsoever.
Nevertheless, performing video edits is essential for any business, as it can only then leverage its customer videos. Hence, using Boast, you will need to utilize a separate tool for performing edits on your videos.
4. VideoAsk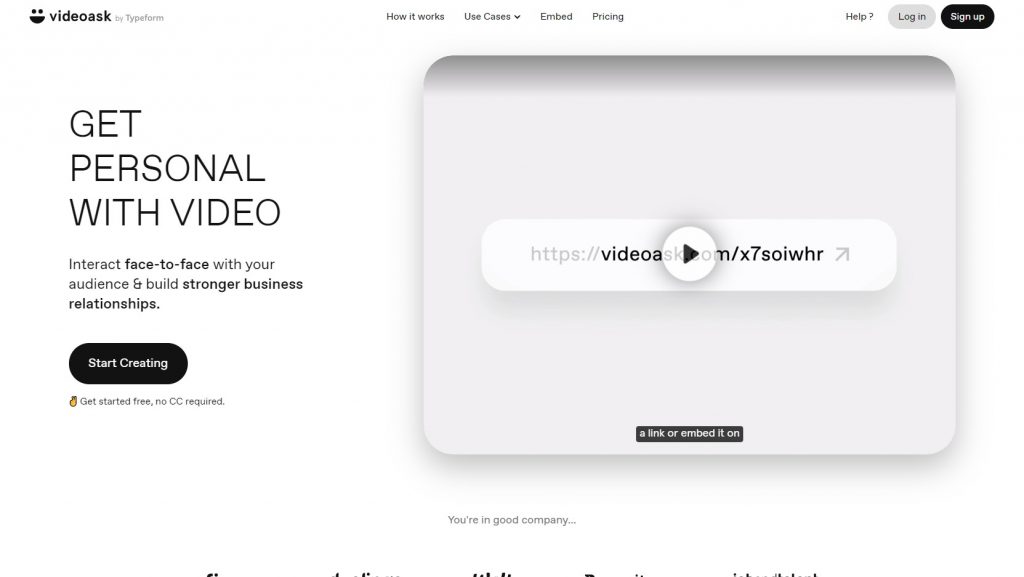 While VideoAsk is a remote video recording software, its functionality is primarily for performing video-based conversations. And therefore, it is more suitable when users are required to replace their text-based messages (emails or chats) with video-based messages.
Using VideoAsk, you can contact your existing or potential customers through video messages remotely. And your customers, as well, can send their response in the form of Video. Thus, it helps to establish a video conversation.
It is, however, pertinent to mention that VideoAsk embeds the video messages, which users exchange in their conversations, in the email body as GIFs.
The bilateral video messages (between a business and its clients) can be a persuasive marking tool. And thus, it can be helpful when it comes to converting your sales. In addition, you can also use this utility for requesting feedback or conducting surveys.
Since the conversations or feedback/surveys will include mutual video responses, it will increase the authenticity of a business.
VideoAsk is quite a robust remote recording software. However, when it comes to providing video testimonial templates, it has little utility. Besides this, it also has not much to offer to edit the rather raw videos you receive from the customers.
Nevertheless, in place of video edits, it offers an alternate feature of re-recordings. And using it, videos are re-recorded if the user does not find the result satisfactory. However, this would mean creating a video from the very start.
If users are required to leverage their customer video responses in the marketing campaigns, they will need to acquire third-party services. The reason is that using VideoAsk, making the raw customer videos presentable is not achievable.
5. Vocal Video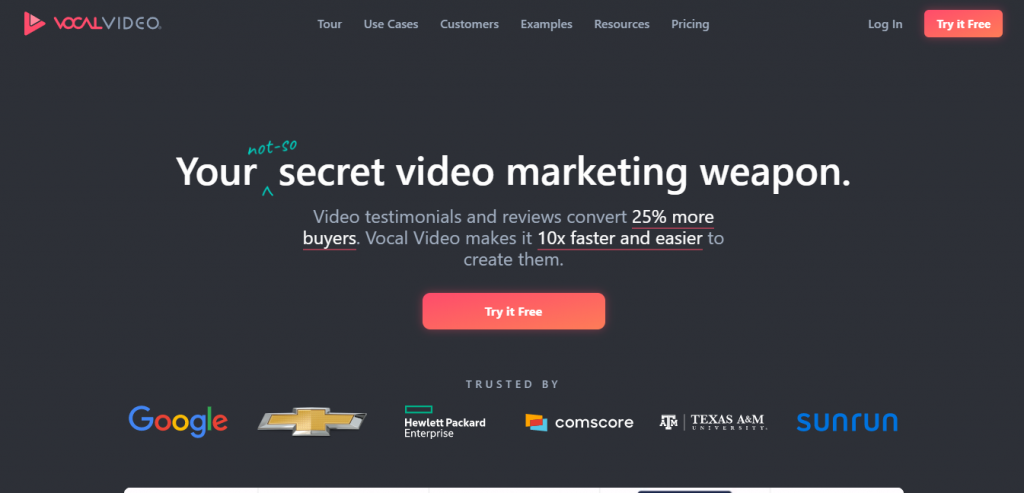 Vocal Video is one of the complete remote video recording software there. It allows you to collect, share, edit, etc., your remotely recorded videos.
Besides being a remote recording utility, Vocal Video also helps in your video-based customer testimonials to a great extent.
It comes with a range of different interfaces so that you can select one of your choices. It also lets you choose a different template to make the videos more compelling.
On receiving a video, Vocal Video performs the necessary actions itself without receiving any prompt from the users.
Last but not least, this software, contrary to VideoAsk and VideoPeel, comes with one of the most comprehensive video editing features. Thus, from the platform of VideoAsk, you can perform a variety of edits on your remote videos.
Bottom Line
Every remote video recording software that we discuss in this article has its discrete use. But of these all, Vidmonials comes out on top because you can perform other functions while you leverage it for recording remote videos.
You can enlighten yourself about Vidmonials at https://www.vidmonials.com/book-a-demo/.