An online camera recorders enables you to record videos online by using a system-embedded or external webcam. Furthermore, since it is an online utility, it does not require the users to download software for this purpose.
Generally, users can use such online recorders through their web browsers. Additionally, such a recorder also comes with the ability to perform screen recordings. Besides this, some online recorders may also be used as online video editors.
This article discusses some of the top-notch online camera recorders(s) that you should be looking forward to using.
Read these online recorders as under:
1. Vidmonials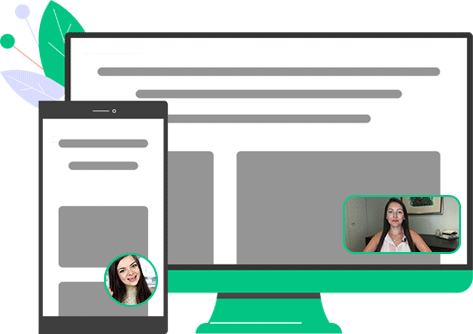 While Vidmonials is an online camera recorder, it comes with other prominent features too. Therefore, considering or declaring it just as an online video recorder will not justify its multifaceted usage.
Since Vidmonials is such a video platform with more than one primary feature, it makes it one of its kind.
Again, you can use Vidmonials' other foremost features besides leveraging it for your online camera recordings.
Vidmonials also helps its users to make their business more authentic. Hence, users, by using their and clients' videos, increase the authenticity of their brand.
As for the user interface, it is pretty user-friendly. And it's the more convenient interface that allows the users to conveniently share their videos, audios, text messages, etc. Nonetheless, the content of these messages benefits the user in regards to their sales.
The contents of the text-based messages include the sale pitch, client review/feedback, product demo, and many similar.
Relevantly, when it is used as an online camera recorders, the users get the following features:
Real-time online camera and screen recordings
Online storage for saving all your video recordings
Provisions to include your company's logo in the recorded videos
Facility to share all your video recordings on various platforms, including YouTube, Facebook, etc.
Read More: 5 Best Features of Remote Video Recording Software
2. Webcam Test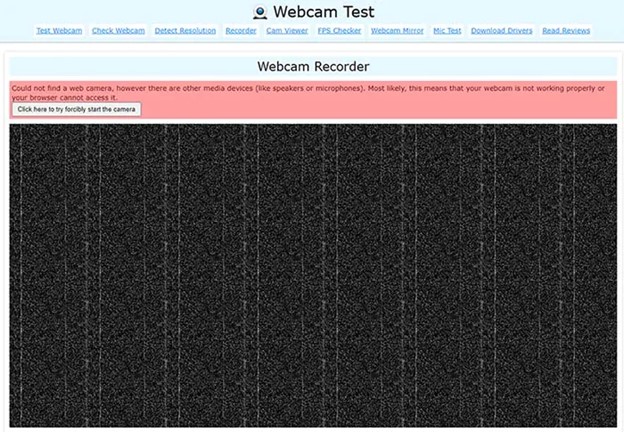 Webcam Test is another online recorder. It is a quite-known tool and comes with special effects that can be given to the video recordings.
For the online camera recordings, users can perform video recordings using their embedded or external webcams. Later, these recordings can also be saved.
Using this platform, you can also record audio. However, for this purpose, a microphone should be attached and enabled. Moreover, like most online recorders, you do not need to save any additional software to use it.
Webcam Test can help you record online videos with any camera. That is, it is compatible with most types of webcams. However, it requires a modern browser to function properly. Thus, it may ask you to update your browser to the latest version.
It is essential to mention that this online recorder is a background video recording platform. For the unversed, it means that you can switch between the tabs while you record videos. Furthermore, you can also minimize your browser in the middle of your recordings.
Its prominent features:
It performs audio and video recordings.
You can manually specify the bitrates for your video and audio recordings. Thus, it gives you control over the quality and the size of your videos.
Users can download their webcam videos at the best resolution. However, the best quality of the video depends on the maximum HD quality offered by the connected camera.
It offers different video file formats. And so, you can record and download your recordings in various formats.
Using this recorder, you can also mute the sound while performing video recordings through your webcam.
It allows its users to perform online video recordings full-screen.
You can have snapshots of the videos using this recorder. Moreover, it allows you to download or remove your recordings.
With the Webcam test, you can do video recordings using the web browser only. And so, unlike some other online tools, it does not require a launcher for using its platform through a browser.
Last but least, it also takes excellent care of the privacy of your videos. It does not keep a record of your videos for any reason whatsoever. Furthermore, it does not share your videos with any third party.
Nevertheless, it keeps the records of your videos in your browser memory only. And so, as soon as you close your browser, all the data of your videos are erased. And this makes Webcam Test leave with no sort of data.
Pertinently, as all the data is erased after closing the browser window, a user should save their video before closing the existing browser not to lose any of their recordings.
It is safe to say that the Webcam Test is one of the better options for privacy.
3. Fotofriend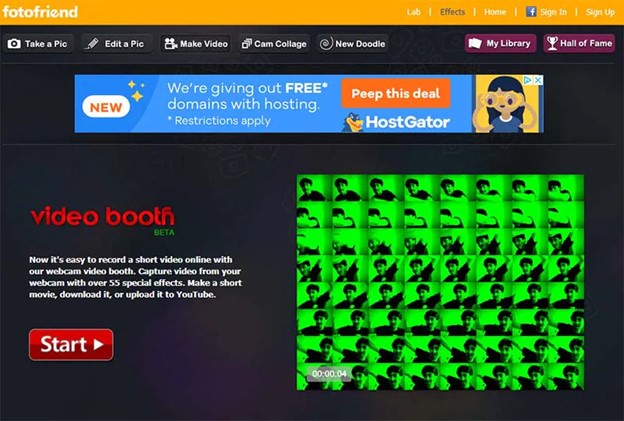 Fotofriend is an online camera recorders that will leave you with one of the best video recording experiences.
It comes with a default 'video booth' option. Also, it lets its users perform video recordings without downloading its desktop software. Moreover, this online recorder also comes with special effects and thus, offers more than 55 special effects to its users.
A user can use its special effects with a single click only. Therefore, using it, making recreational videos becomes more accessible and more fun as well.
Not only this, but it also lets its users share their recorded videos with others. And for that purpose, it generates a URL video against every video recording, using which the users can share their recordings.
It's an exciting tool with a more accessible interface and convenient functionality. Therefore, it is very well-known in the younger generation. Thereby, it has built a fan base mainly on the younger people.
A user can save all the video recordings on this very platform. In addition to this, video editing can also be performed on the saved/recorded videos.
This platform goes the extra mile in making the online camera recording convenient for its users.
Not only can you perform online video recording using it, but you can also perform enhancements to the recordings using its video-enhancement features.
In addition to this, it also comes with an integrated editing tool. And so, users do not require to download a separate tool for performing video edits. Moreover, it also lets its users download all their video recordings.
Importantly, since it generates URLs against all the video recordings, the users can, therefore, share and upload their recordings conveniently. Subsequently, you can share all your recordings on social media platforms with relative ease.
Last but not least, since Fotofriend comes with more than 55 special effects, it gives the recording content a fun factor. And such videos become excellent content to upload on social media channels as they become attractive and optimized.
Besides, the built-in editor lets the users add stickers to their recordings, making the videos more attractive.
4. Veed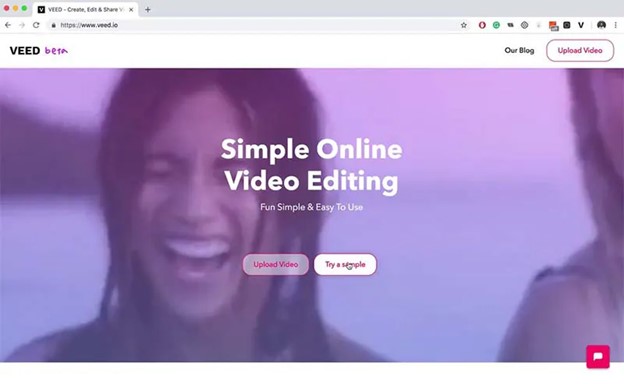 When it comes to selecting an online camera recorder, Veed could be the ultimate choice to some.
Since it is an online platform, users do not require to download its software for using it. And it can be used directly through an internet browser.
Using Veed, you can perform your online cam recordings by making use of the various screen combinations.
The screen combinations that you can use while performing video recordings include side-by-side combination, top of each other combination, and more.
The utility of this online camera recorders is more suitable for making sales-specific videos. And so, its use is more convenient for making sales videos, sales pitch videos, interview videos, and similar.
Using this recorder, users can record as many videos as they want for free.
In addition to this, Veed also comes with a by-default editing tool. Therefore, there is no need for the users to download another tool for editing purposes using it.
Not only that but the editing tool can be made to use with a one-click only. So, for the users to quickly switch between and recording and editing modes become more convenient and faster.
The editing tool of this online recorder also offers secondary features in addition to the primary components of video editing.
Using the secondary features of its video editor, you can add subtitles, cut scenes, etc. Furthermore, you can include audio and images in your video as well.
The secondary feature of the very editing tool optimizes your videos. Thus, they become more suitable for social media channels.
As for the operating systems, this recorder can be used conveniently at any system with equal ease and efficiency.
Another notable feature of this tool is the ability to perform retakes while a user performs camera recordings. And so, a user is empowered to take retakes of their camera recordings.
Additionally, concerning its retake feature, Veed comes with the ability to restart the recordings. And for this, it provides the users with a restart option, which the users can use when they require a retake.
In conclusion, Veed is a complete online camera recorder for all your needs. However, it has its shortcomings. But let's leave it your own experience.
5. Webcamera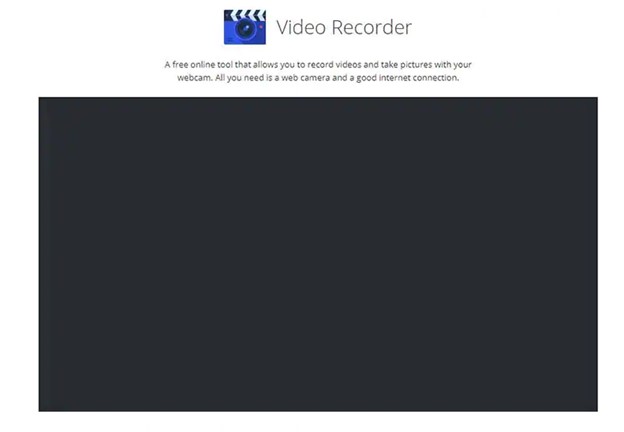 Yet another online camera recorder on our list is the Webcamera Video Recorder. And it is, arguably, one of the most used camera recorders.
It is a simple-to-use tool and, therefore, you can use it as you would use an online app.
This recorder includes the facility of making videos and capturing pictures through a web browser. And its core functionality is no different than a usual camera recorder (online).
Its interface is one of its plus points. It comes with a simple interface that enables users to get the most of its core features.
Besides, its straightforward interface also helps users conveniently utilize its secondary features, such as video/audio settings, file processing, etc.
Webcamera also facilitates its users in regards to the video lengths. With this utility, users can make lengthy videos. Not only this, but they also can save their longer videos on Google Drive, Dropbox, and their own devices.
Lastly, using this recorder, users can perform configuration regarding the parameters of their online recordings. In regards to this, a user can select the quality and go for a full-screen or mirror mode.
Lastly, regarding the video configurations, you can also decrease the echo effects to a more suitable level by adjusting the sound volumes.
All in all, Webcamera is a reasonable choice for your online recordings.
6. Clipchamp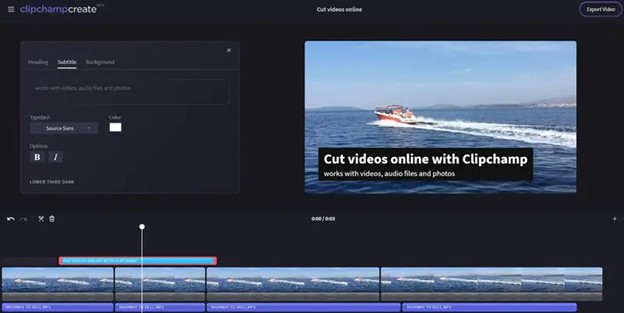 Clipchamp is such an online camera recorders that you should be looking forward to using if it falls within your budget. It is a flexible camera recorder, and besides, it is also an efficient video editing tool.
This free-to-use cam recorder comes with a user-friendly interface that makes it one of those recorders with easier functionality. Moreover, before you render a video, it allows you to perform editing on it.
Using this tool, users can trim, rotate, and crop their videos. Furthermore, it allows the users to adjust to their videos' brightness, saturation, and contrasts. Thus, it enables the users to have a much better final video.
Many recorders come with an array of features to help the users in the online recording process. And while these features provide help, the speed of these recorders in utilizing their features is mostly slow. And this takes away the essence of their usefulness.
On the other hand, Clipchamp is a relatively quick online camera recorder. Hence, using it, you can perform all the functions, whether primary or secondary, quickly.
In addition to this, users can also perform the functions that are time taking in their process completion. For example, you can perform functions such as compression, converting, etc., quickly.
On top of every utility that Clipchamp provides, it goes above and beyond in making the process further convenient for its users. So, it provides the users with an array of stock footage and video with the video templates.
When users are done with their online recordings, they can upload and share them across various social media channels. Also, it allows the users to download their video recordings so that they can access them for later use.
Clipchamp also enables its users to perform direct uploading of their videos. Thus, it comes with a direct uploading facility.
Nevertheless, there exists a difference in its utility to the users when it comes to the free and paid versions. In its former version, users were allowed to perform online camera recordings for a maximum of five minutes. The former version, however, lets you video record for a maximum of 30 minutes.
7. DemoAir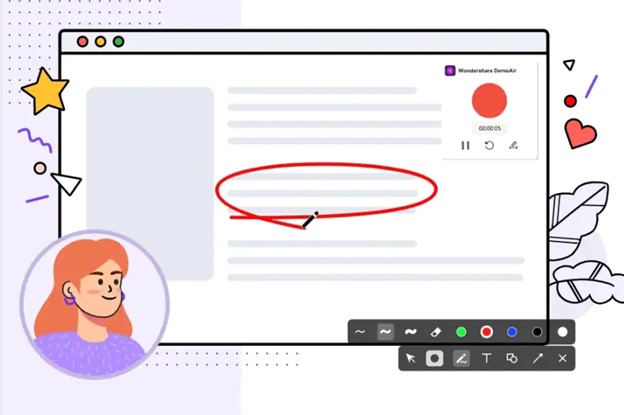 Next on our list of online camera recorders is DemoAir. It is free for the users to use, besides being an easy-to-use tool.
In addition to the online camera recordings, it also allows its users to perform screen recordings. Furthermore, DemoAir allows its users to perform edits on their videos without downloading a separate related tool.
Using it, you can make tutorials or instructional videos. For this purpose, it lets its users record a single tab, complete screen, or webcam.
One of the prominent features of this recorder is that it allows its users to make their recordings personalized. And so, users can add their face and voice to their recorded videos. Additionally, it autosaves all your videos automatically to Google Drive.
DemoAir lets users share their videos to any of the listed platforms. In addition to this, users can also watch their video recordings from anywhere.
Furthermore, you can share your camera recordings through emails, video-streaming channels, etc. You can also share your videos by embedding the code as you require.
Its code embedding feature saves you time and lets you make quick communications.
To conclude, it is a decent online camera recorder. But, its features are minimal and standard. Thus, it may give users a second thought in selecting it. Still, it offers its best to its existing and potential users.
8. RecordCast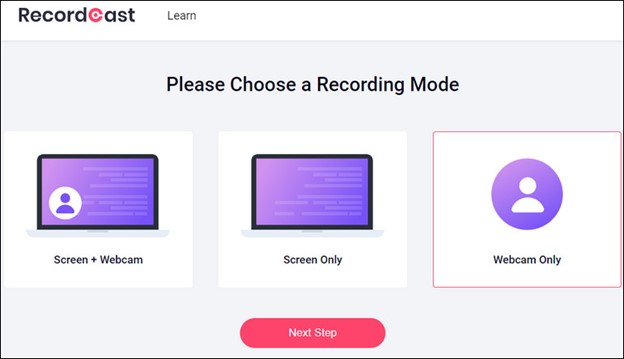 RecordCast is yet another robust online camera recorders that you should also be considering for using. It not only lets its users perform online camera recordings, but it also allows you to perform screen recordings.
In addition to its ability to perform screen and cam recordings, it can also record the screen and the webcam both simultaneously. Along with that, it also can record the microphone audio while performing simultaneous camera and screen recordings.
RecordCast also comes with the ability to perform edits on all your camera recordings. Thus, you can perform functions such as trimming, text effects, overlays, etc.
Furthermore, to its video editing, you can add music and dynamic elements to your videos. Besides this, you can also make adjustments to the background colors of your videos.
In conclusion, it is a decent but regular tool with nothing extra to offer its users. And this may give users a second thought before opting for it.
9. FlexClip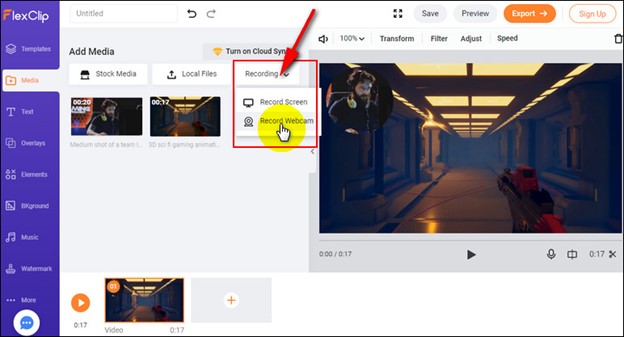 One of our recommendations for online camera recorders is FlexClip. It, foremost, is an online video maker, along with being an online video editing tool. And you can also use it as an online camera recorder.
Nevertheless, its online functionalities — video making, video editing, camera recording– are equally efficient. Moreover, it also allows its users to leverage it as an online video editor. And all its online features are free for the users to use.
Its video editing utility has a picture-in-picture feature. Thus, you can overlay your images and videos into a single project using this feature.
Additionally, with this feature, for users, it becomes easier to make tutorial videos. Also, it makes recording the gameplays convenient.
Conclusion
Using an online camera recorders, users can record videos online through their system webcams. It, in general, also comes with the utility of online screen recordings as well as online video editing.
As for every recorder that this article discusses, it is good in its way. However, Vidmonials come with principal manifold features. Thus, it accounts for its preference over a similar online camera recorder.
To book a demo with one of Vidmonials' experts, visit https://app.vidmonials.com/f/dkh7E1fDXWsYLXF8izNawy2o.