There is no dearth of client video testimonial review service available online. In fact, a number of corporations are leveraging the power of online videos to reach a wider target audience.
Almost every company that wants to improve its online presence and efficiency is using video testimonials tools to create video reviews.
Using the right video tool for the audience could be the perfect recipe of success.
Moreover, by using a powerful tool for testimonial videos, you can show social proof of previous clients and use it to gain new customers. .
In the field of online marketing, video testimonials act as a digital word of mouth, which is cost-effective and an extremely powerful tool of marketing.
Testimonial Videos help you in aiding the viewers and influencing them to make an affirmative decision for their business.
Reliable testimonial video tools may have the following benefits:
Reach more markets
Establish trust
Enhance market credibility
Generate Leads and business
Distinguish your business from the competition
What is a video testimonial service?
A video testimonial service is used to collect video feedback from the customers/ clients of a business. Such a service goes a long way in spreading brand awareness.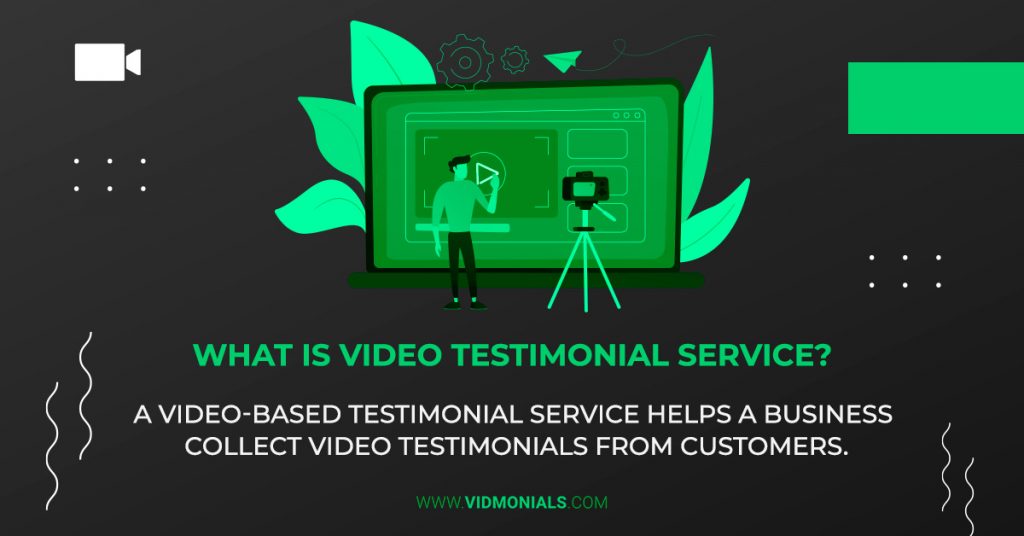 Unlike the traditional text-based reviews, a video testimonial service is used for the video-based reviews, where a customer is shown in a video acknowledging the help after acquiring the services of a business.
What makes a good customer testimonial video?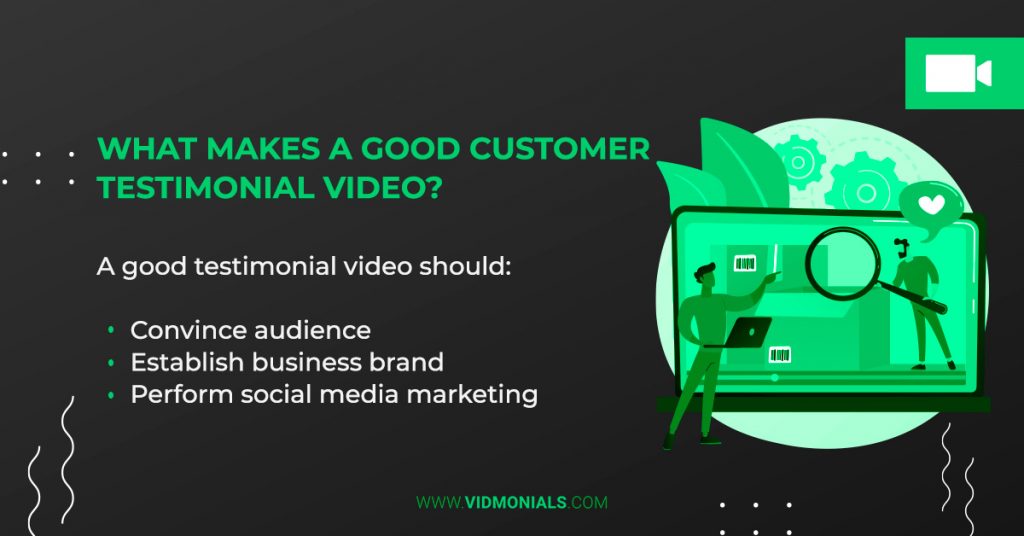 Besides serving the primary purpose of a video testimonial, which is to share the usefulness of a product/service, a good customer testimonial video should:
Be persuasive enough to convince the target audience.
Establish and spread the business brand amongst a large audience.
Market a business strongly across different social media platforms.
10 Video Testimonials Review Service
Follow the top video testimonials review service providers: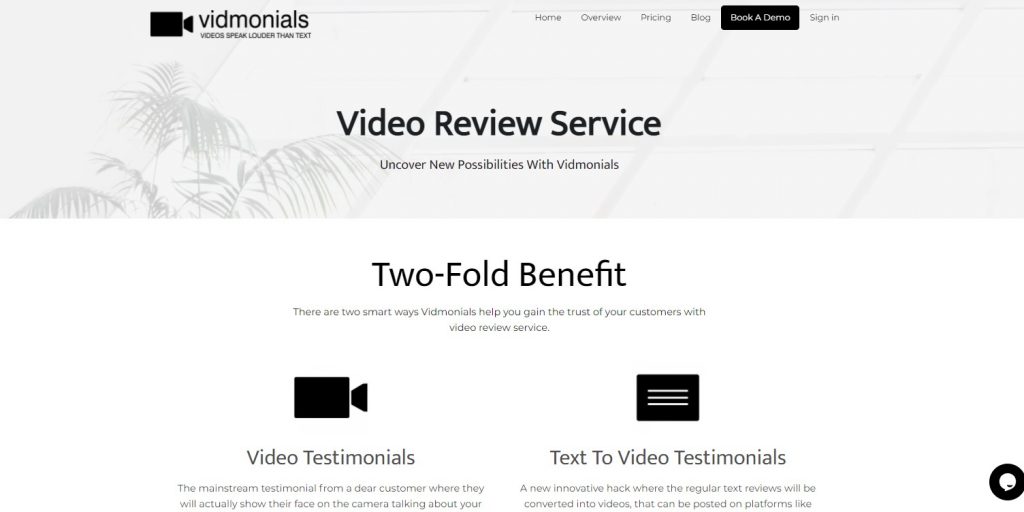 Vidmonials is a new organization that helps businesses like yours capture, manage, and share video reviews on the internet. It has many amazing features, including:
Instant Video Review Service
You can deliver bulk or individual video review requests to your clients with a single click. Using the auto-generated links, Vidmonials enables customers to record and submit testimonials right away.
Moreover, the best thing is that your consumers do not even need to register with the website to record video testimonials.
A Simple-to-Manage Video Testimonials Library
It gives the users access to an easy-to-manage video repository. A consumer can easily watch and post video testimonials obtained from clients at any time.
Widgets for Embedding Video
This functionality helps you to display all accumulated video reviews on your company page, making it easy to advertise them and increasing website traffic.
Sharing and Marketing Video Testimonials
Vidmonials assist its customers in embedding, and posting customer testimonials on various online sites such as YouTube and other social media networks.
Other features that make Vidmonials one of the best video reviews software include the following:
User-Friendly Interface
Analytics & Reporting
Security Against Malware
Regulatory Compliance
24/7 Professional Support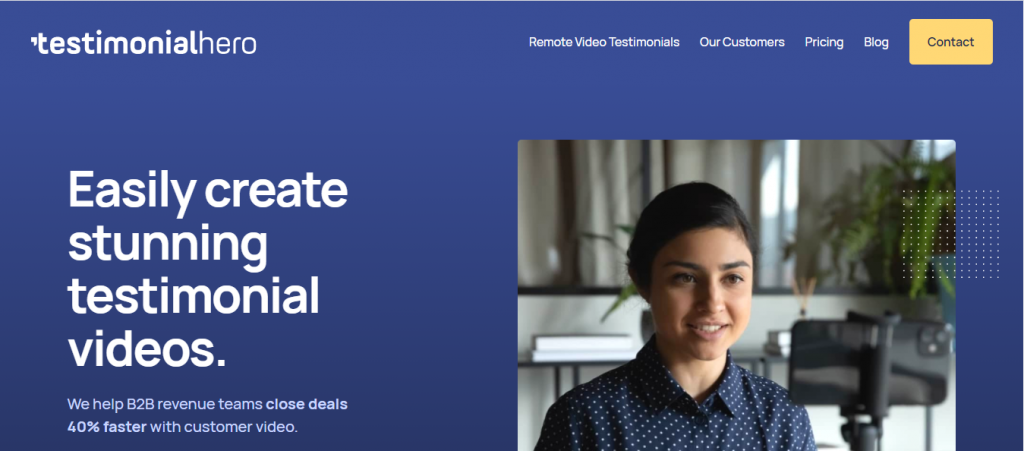 Testimonial Hero is also a popular video review platform among many businesses. They also assist companies in obtaining high-quality video testimonials from their customers.
In addition, they have recently started to provide a remote video review service. Customers of their clients can record video testimonials using their mobile phones or webcams, which are then submitted to Testimonial Hero for final touches.
Their video review development process includes the following steps:
Creation of an Idea
A Testimonial Hero agent will conduct interviews with the clients to create a video concept.
Coaching for Video Review
He then teaches the customers, how to capture a fantastic testimonial from the comfort of their own homes or elsewhere in the world?
After-shoot Editing
Then they cut a 20-minute video down to a 90-second video testimonial.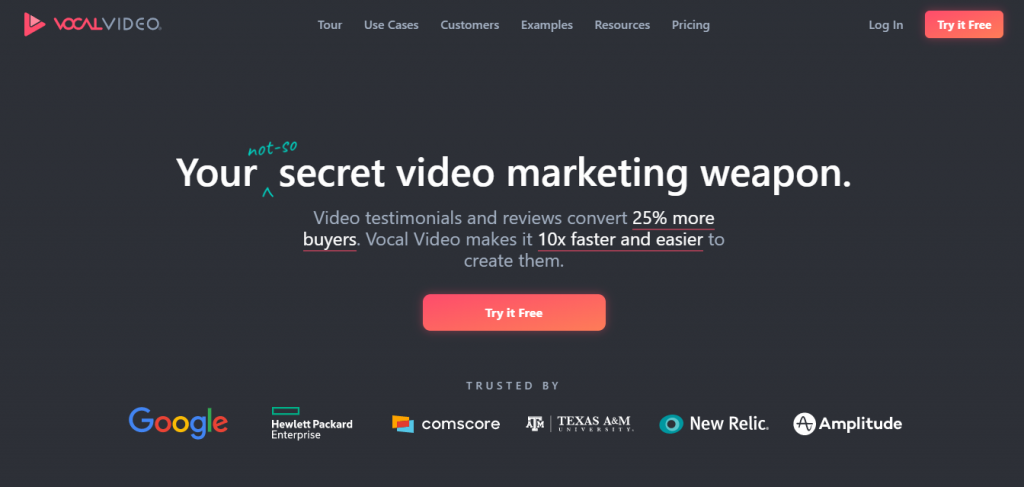 Vocal-Video is a website that enables users to capture, organize, and process a lot of testimonial videos rapidly and conveniently.
Furthermore, this video review service offers its users automatically created video templates as well as an open editing interface with various tweaking options.
Some of the most important aspects of this service are as follows:
Collecting audio and video testimonials
Multiple Device Compatibility
Fully Remote & Asynchronous
Easy To Use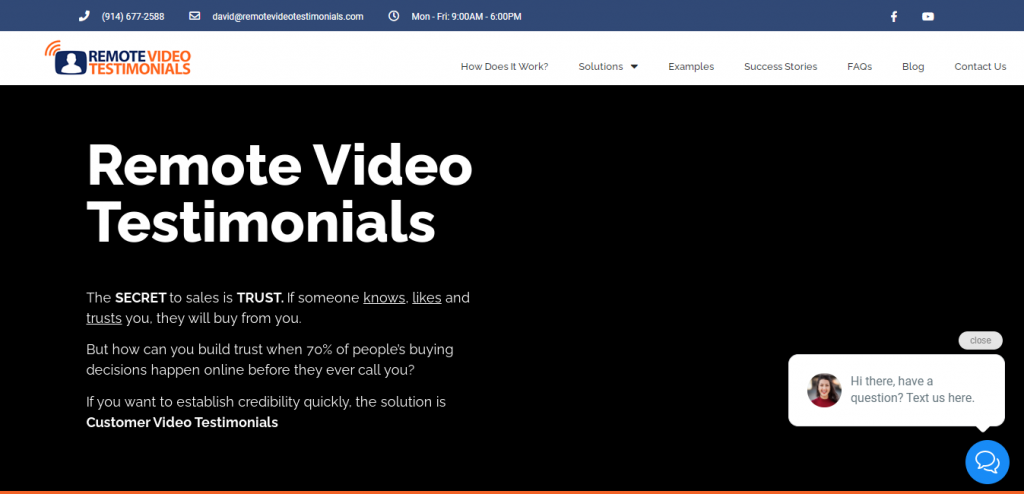 In its strong commitment to both customers and enterprises, Remote Video Testimonials is one of the few organizations attempting to establish a consistent market environment.
Remote Video Testimonials is another excellent video review service provider that assists its customers in producing successful video testimonials.
Just like Vidmonials, instead of physically visiting a customer, they provide the opportunity to their clients and customer to record their reviews remotely.
Furthermore, their remote video testimonials are generated in the following manner:
Thorough Customer Interview
Allotment of Interviewers
Arranging Equipment
Video Processing
Quality Assurance
5. VideoPeel – Powerful Video Review Service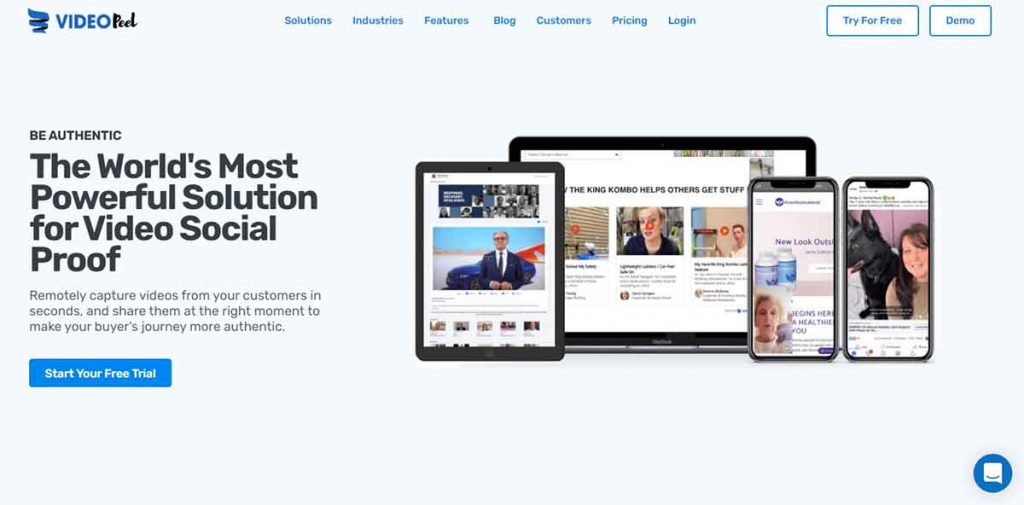 VideoPeel, like Vidmonials, automates the video recording process through a link that enables users to press, capture, and upload video testimonials.
In addition to that, thank-you notes can also be automated, and replies can be recorded and delivered via smartphone or desktop.
All captured videos are kept in a single archive for ease of management. VideoPeel's editing capabilities are simple to use, enabling you to add branding, simple text overlays, star ratings, or disclaimers.
Some significant features of the platform include:
Remote video capture
Shopify Integration
Video Carousel Player
Single Video Repository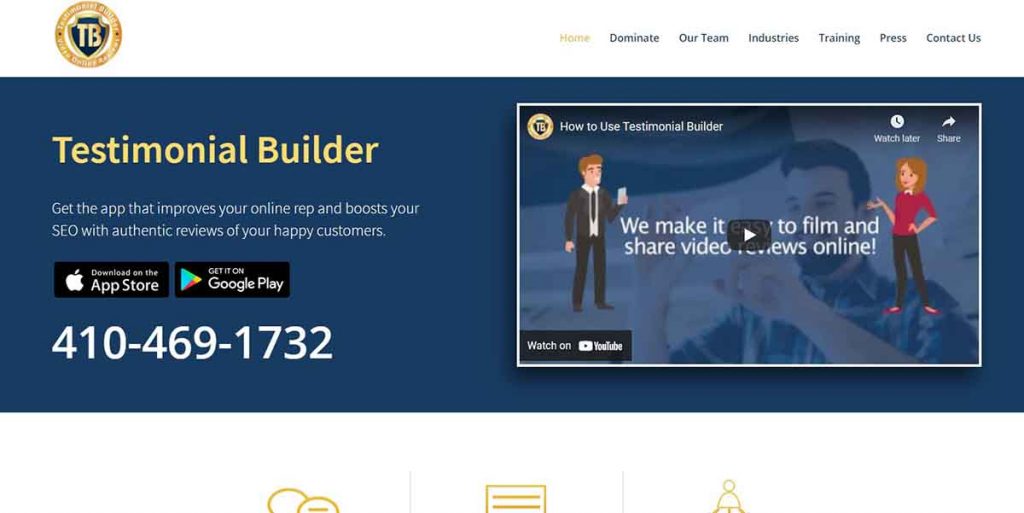 Testimonial Builder is a mobile and web application that helps to improve your online reputation and boosts your SEO with reliable tools for creating authentic video testimonials.
Besides, the app provides easy-to-follow steps to its clients for recording effective video reviews from their clients. These steps include:
Record a video review
Sign an in-built release form
Upload the video to your YouTube channel
Send your video back for sharing
One of the best features and highlights of this application is its amazing Keyword Teleprompter that can guide your customers to include specific SEO-friendly keywords that Google picks using voice recognition.
7. Visme – Video Review Service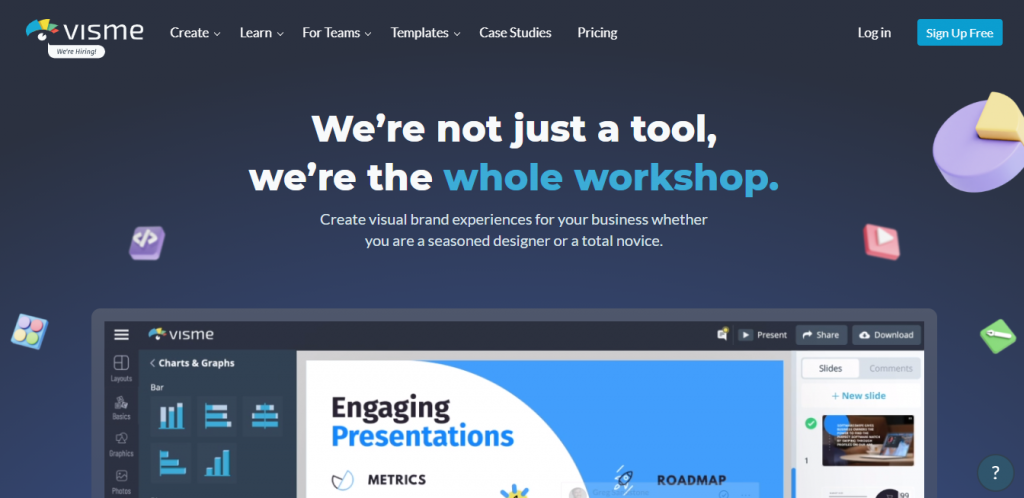 Visme is a video review software that focuses on building strong brand reputations of its clients in the market.
More so, the platform is designed to provide an extremely user-friendly interface to its clients. With the Visme tool, you can create high-quality video testimonials using professionally designed video templates.
You can easily drag and drop your fancied design ingredients in, insert your customer review, add your branding, and download.
Some of its core features are as follows:
Collecting video testimonials
Editing customer testimonial videos
Embedding video testimonials on-site
Sharing and advertising them on social media and other public portals.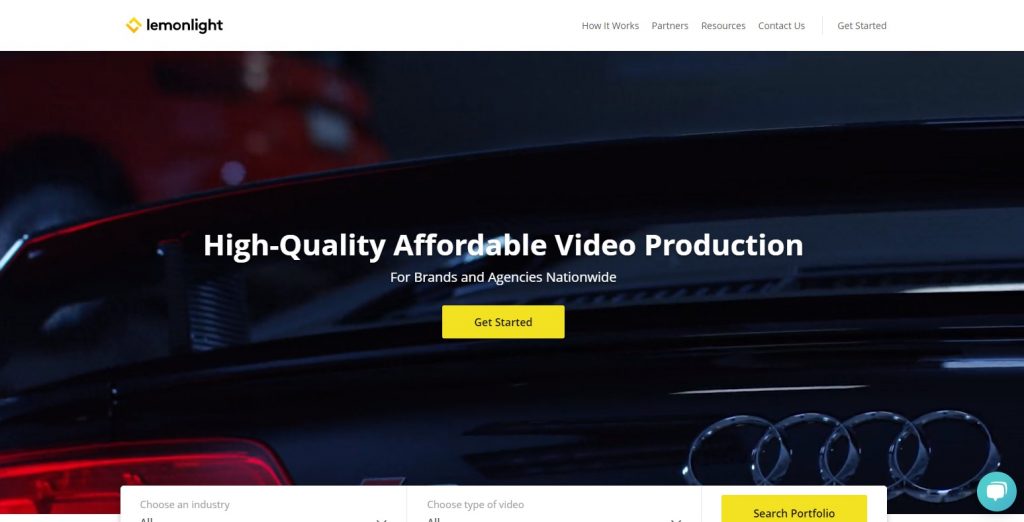 Lemonlight is not a particular testimonial company. It is an on-demand video testimonial production company that will shoot high-quality businesses or corporate videos for your business as per client directions.
However, the company is highly suitable if you are looking for some exceptional quality video production services.
In case you plan to shoot on-site video reviews from your clients, Lemonlight can be just the perfect fit for the job.
Lemonlight offers the following services to its clients:
Creative conception
Production crew
Animations
Drone Videography
Set locations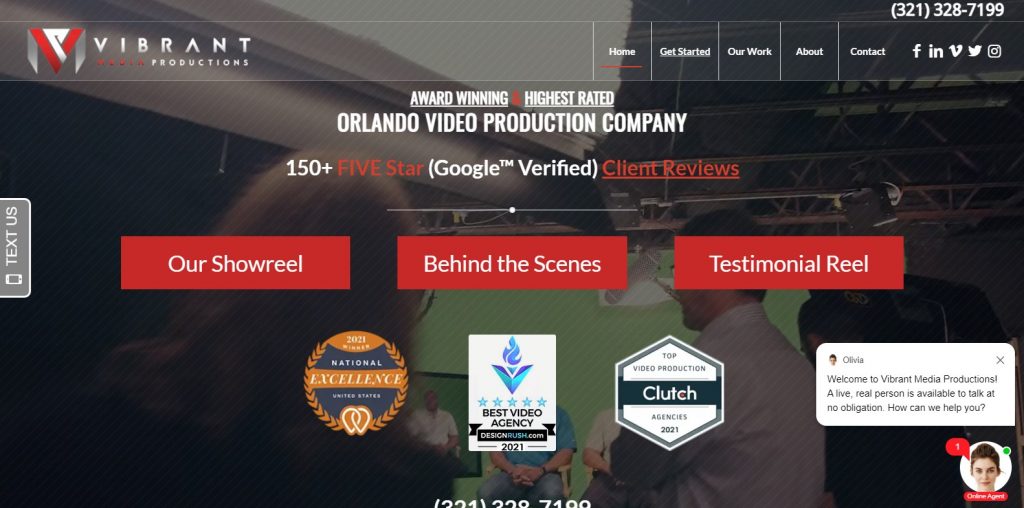 Vibrant Media Productions is a video-making company that produces corporate and marketing videos for different companies.
It is yet another on-site and on-demand video production service that you can opt for if you do not want to compromise on the video quality and have high budgets to spare.
Vibrant Media offers the following exclusive facilities to its clients:
Mobile Studio
Green Screen
Editor Suits
Production Crew
10. Boast – A Video Review Service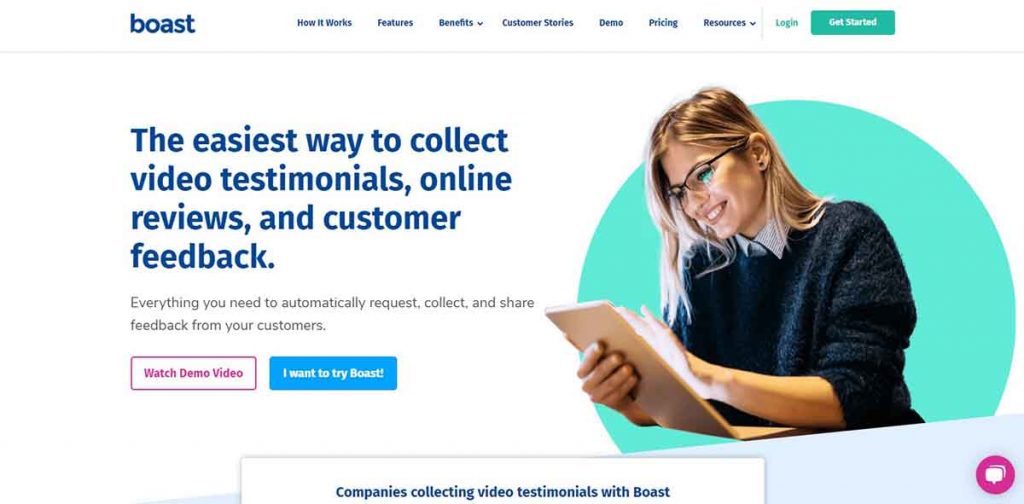 Boast is a video testimonial software that helps your clients to express positive feedback about your business directly from their cell phones or PCs.
You will be able to check and accept the testimonials you get after they have been submitted.
Additionally, once you receive your customer video reviews, use the Boast show widgets to conveniently display them on your website and social media accounts.
Boast makes it simpler than ever for you and your customers to capture and share video testimonials.
Conclusion
One feature that all the above services have in common is that they are all suitable for drawing attention, engaging, and pleasing potential clients of your company.
Moreover, we hope that all of the tips above made it easier for you to choose the best resource to assist you in delivering high-quality and transforming video testimonials.
More importantly, if you are looking for something that can save you time, energy, and resources, Vidmonials can give you a headstart.
You can learn more about the platform here.