It's never been easy to record and broadcast live events, conferences, and meetings over the internet.
To record, you'll need to procure (or rent) the appropriate AV hardware. There are always last-minute set-up concerns to deal with on the day of the event.
More so, to make sure the recording or webcast goes as planned, you'll usually require an AV technician in the room.
If your video includes several concurrent presentations, you'll need even more equipment and personnel.
Isn't it better to know that your recordings and webcasts will start automatically and "simply work" on the day of the event?"
What if you didn't require someone to watch all of the recordings in all of the meeting spaces?
What if you could get high-quality live and on-demand video utilizing commodity technology like laptops, webcams, and consumer-grade camcorders??
Vidmonials' automated recording functionality aims to achieve these ends.
Video recordings and live webcasts across your organization can be controlled via a web browser with automated recording.
The ability to plan recordings ahead of time means fewer last-minute set-up headaches. It's possible to use high-end AV equipment.
Still, you'd be surprised by the quality of inexpensive cameras and camcorders with Vidmonials support for practically any video source connected to a PC.
Hundreds of thousands of hours of video lectures are already being recorded each year at universities like Newcastle, thanks to the widespread use of automatic remote video recording systems.
In the business environment, automated remote video recording software can assist conferences, recurrent meetings, corporate training, press events, and other gatherings.
Why Using Zoom or Other Video Tools Isn't the Best Option
You can capture your video conferencing platform's screen to save time instead of using the remote video creation described above.
Of course, this is a simple approach, but the first disadvantage is the low quality of the video.
The following are additional drawbacks to this strategy:
With other systems, such as Zoom, users may choose the loudest sound and put it to the forefront, drowning out what the other person has to say because it blocks out the surrounding noise and interference.
Organizing the recording and ensuring that the procedure runs successfully will require you to be on the video call.
Aside from the fact that a specific time is needed for everyone to participate, this also implies that you'll have to coordinate your schedules if you're all in different time zones.
To have some variety in your photographs, you'll have to set up many video chats or capture just one shot.
You will need post-production tools to turn the raw footage into a more finished result. As a result, you'll save less time than you originally anticipated.
Now, we'll take a closer look at the best remote video recording software available online in 2021.
Let's dive into them without further ado.
1. Vidmonials – Remote Video Recording Software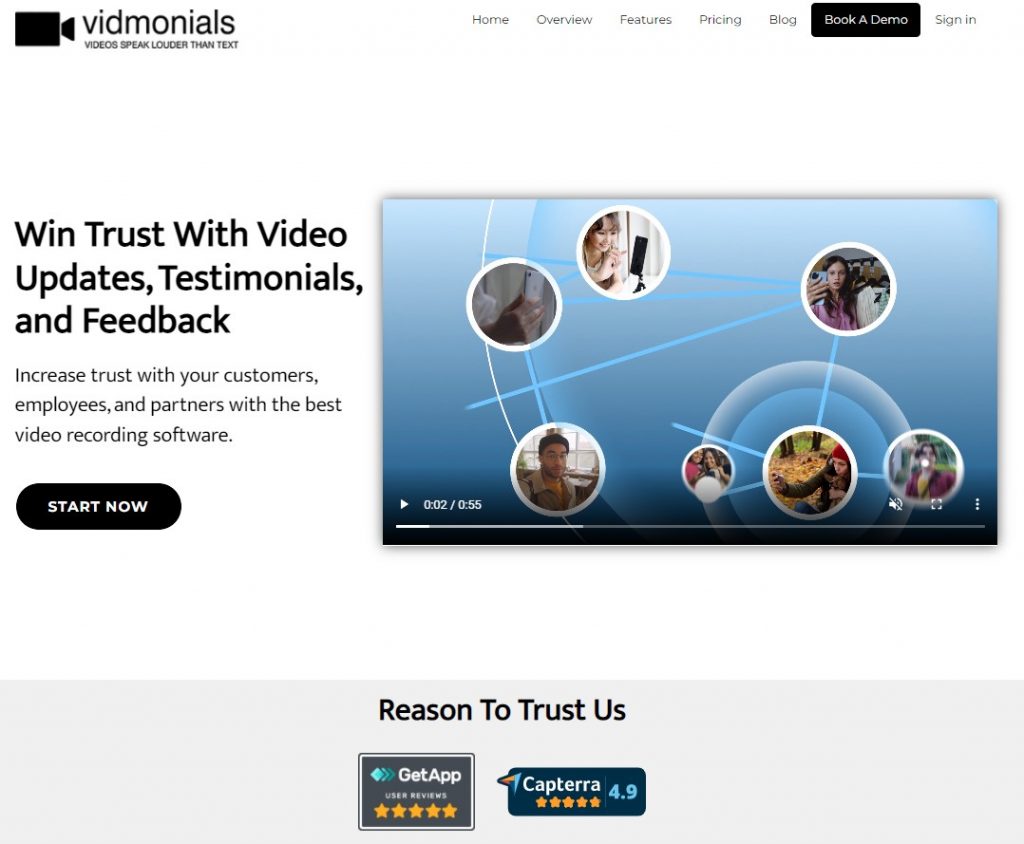 Using Vidmonials Remote Video Recording Software, organizations can gather, organize, and distribute video content from anywhere globally.
The platform's goal is to create an environment where video recordings from remote locations can be exchanged as a matter of course.
The following is a summary of the product's capabilities;
1. Video Recording for a Variety of Uses
E-commerce, recruiting, testimonials, and screen-recording are all examples of remote video recording software use.
As a video recording software, Vidmonials gives its customer an all-encompassing recording option.
One integrated platform is more cost-effective than purchasing a large number of independent programs.
As a result, subscription-based apps and SaaS solutions are growing more popular.
The most crucial advantage of multi-purpose software is that it can deal with many business difficulties.
Vidmonials was built on the notion that businesses encounter a wide range of challenges.
2. Share and Cooperate
You should be able to upload and distribute your work at any moment. YouTube is a great place to post your videos.
Furthermore, a password safeguards your data from unauthorized access.
In any workplace, video and image sharing options that don't demand additional effort from the user are available.
Vidmonials is at the cutting edge of remote video recording software, allowing you to capture or record videos with the most flexibility and security.
3. Reduce Time Spent on Editing
As a convenience to you, Vidmonials does numerous editing jobs for you, such as
With a few clicks, you may add your company's colors and logo.
Information of the interviewer is presented in the biographical section.
Pointers for the video speech can be sent with the request email.
There's also an option to add or remove background music from the settings.
Therefore, the videos are usable in their current form (which saves a lot of work), or they can be slightly modified.
Anyone can use our video editing tools, regardless of whether or not they've ever edited a video before.
4. Storage and Archiving of Videos
Your shared files can be accessed as soon as you're connected to the internet.
Furthermore, no additional software or hardware is required!
When it comes to video production, Vidmonials storage is invaluable.
When it comes to organizing your videos, Vidmonials' video library is a fantastic option.
5. Embedding Is a Breeze
Your video testimonials can be displayed in attractive boxes on your website using Vidmonials' embeddable widget.
Due to this function, your web site's visibility will rise, and the number of visitors to your site.
Moreover, this unique feature is undoubtedly easy to use and quite fascinating.
Read More: 5 Best Features of Remote Video Recording Software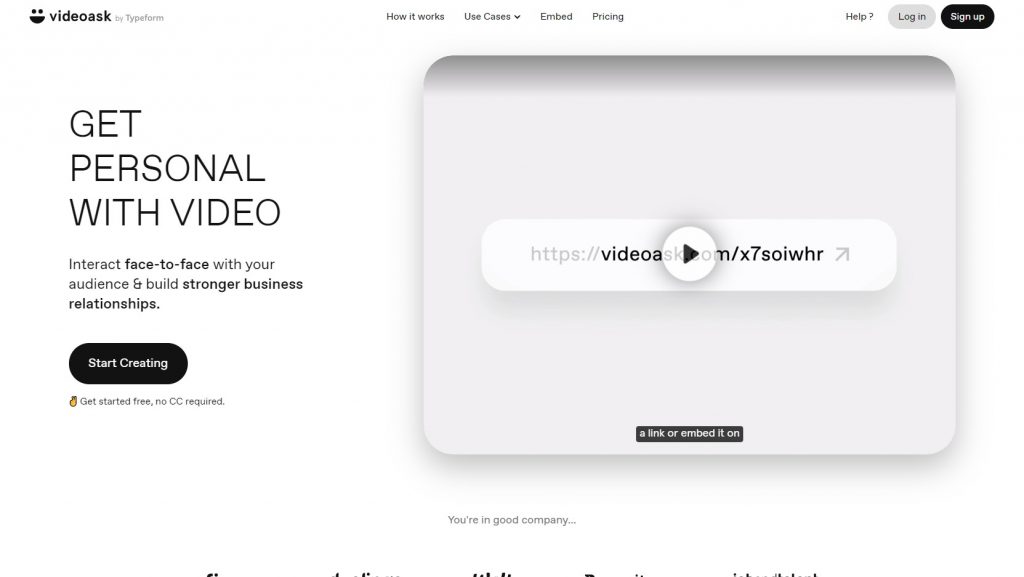 An innovative remote video recording software, VideoAsk focuses on "video dialogues."
You can start a video discussion with a customer or potential consumer on their platform, and they can answer with a video of their own (or an audio recording or text).
Following up with another question (which could either be prerecorded or you could react especially to them with a unique video), you and your audience can have a conversation via video.
In other ways, it's like if email suddenly becomes video-based.
If you're seeking to have a video conversation with someone, that's quite fantastic.
To receive a quick and easy testimonial from a customer, all the back-and-forth might not be the ideal option for getting what you want as quickly as possible, though.
If your consumer has a lot on their plate, they may not have the time to engage in several encounters for days or even in different locations.
As a result, VideoAsk doesn't place as much emphasis on the quality of the content you can produce on their site.
A more testimonial-centric solution is appropriate if you want to collect content that can be quickly modified and disseminated for marketing purposes.
VideoAsk has three pricing tiers, as well as the option to inquire about enterprise rates.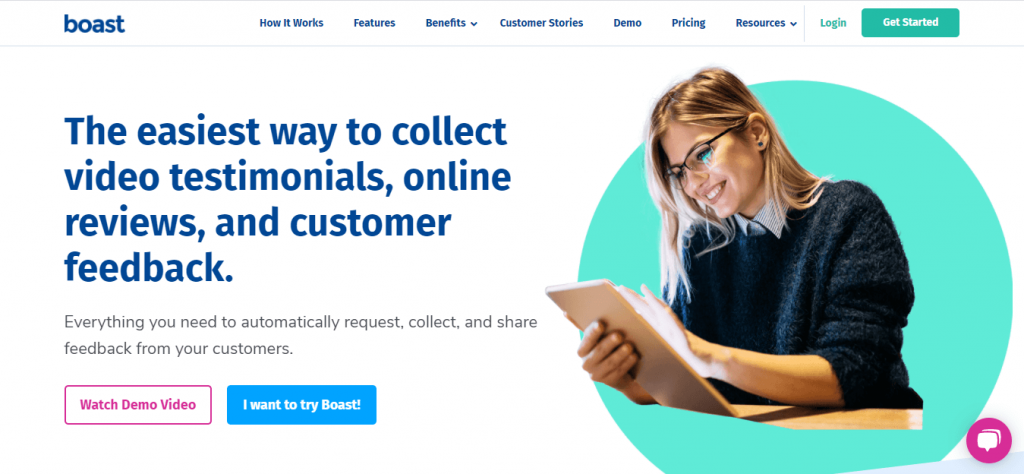 If you're looking for testimonials in general, you won't be disappointed with the services offered by Boast.io, which collects five-star ratings with written comments and a recorded video.
There is no need to add branding or music or alter the video for clarity or brevity because the customer's feedback video is attached directly to their review.
While you can select which review videos you would like to highlight, you can't edit the ones that may not be as beneficial based on the customer's capacity to use technology or speak in front of a group.
Even though raw movies have their merits, they may not be the best option if you're seeking finished videos in your marketing campaigns unless you're willing to download the raw files and use an editing application to spruce them up or cut them down.
The collection approach includes following a link to fill out the review form, so we're not sure how this is any better than what your regular email service provider already does.
Boast offers automated email drip sequences for outreach.
Boast is also working on incorporating user rewards and incentives and a feedback app to turn a tablet or phone into a kiosk. However, those are only expected in the third and second quarters.
Boast.io has four distinct pricing tiers and an enterprise plan if you directly get in touch with the company.
Boast.io has four distinct pricing tiers and an enterprise plan if you get in touch with the company directly.
The features of Boast may be helpful, but if you want to collect and generate a large number of high-quality testimonial videos or edit them without the need for a separate application, we recommend Vidmonials.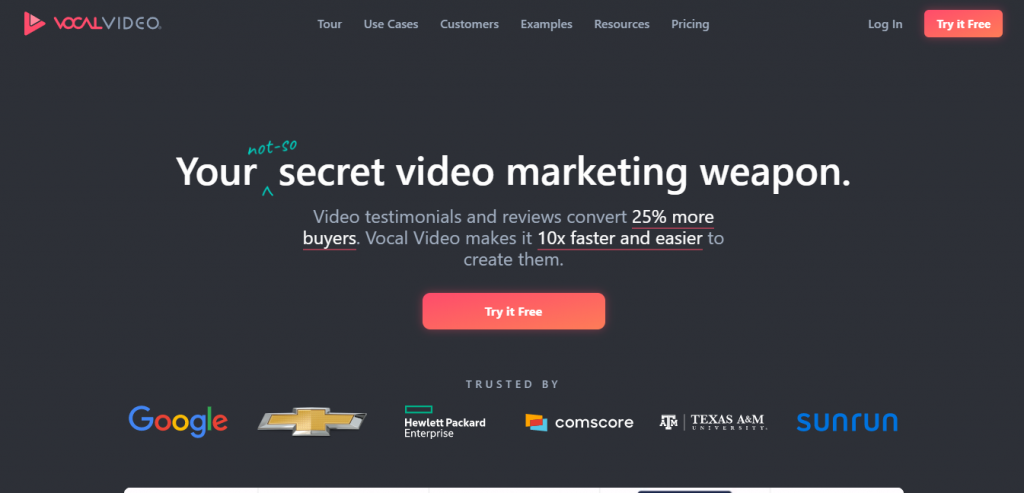 Vocal Video has a user-friendly interface for Android, iPhone, iPad, desktop computers, and a mobile app.
If the user clicks the link you send, your Vocal Video landing page opens up in their browser. They don't need to download anything.
With no downloads, this encourages participation by making the experience more user-friendly.
Using Vocal Video, you won't ever need another expensive and complicated video editing application (we're looking at you, Final Cut Pro).
That's because our application has all the editing features that most marketing teams and entrepreneurs want.
You may quickly change the video's format (basic dimensions), adjust the colors in any particular scene, customize automated subtitles, and choose which frame to use for the thumbnail, among other graphical editing choices available.
Vocal Video provides all customers with ad-free hosting and embeds to ensure that you don't lose all of your traffic to YouTube or sign up for a costly hosting service.
Copy and paste the code snippet for each video you've uploaded to your website or blog.
VideoPeel has a limited number of integrations, whereas Vocal Video uses Zapier to offer a broader range of integrations and workflow automation. Zapier's API is used by various platforms (including Slack, Google Drive, YouTube, GiftBit).
When a new video contribution comes in, you can set up Slack to notify you, save a copy of the video in Google Drive, and post it to YouTube, all in real-time and automatically.
5. VideoPeel – Remote Video Recording Software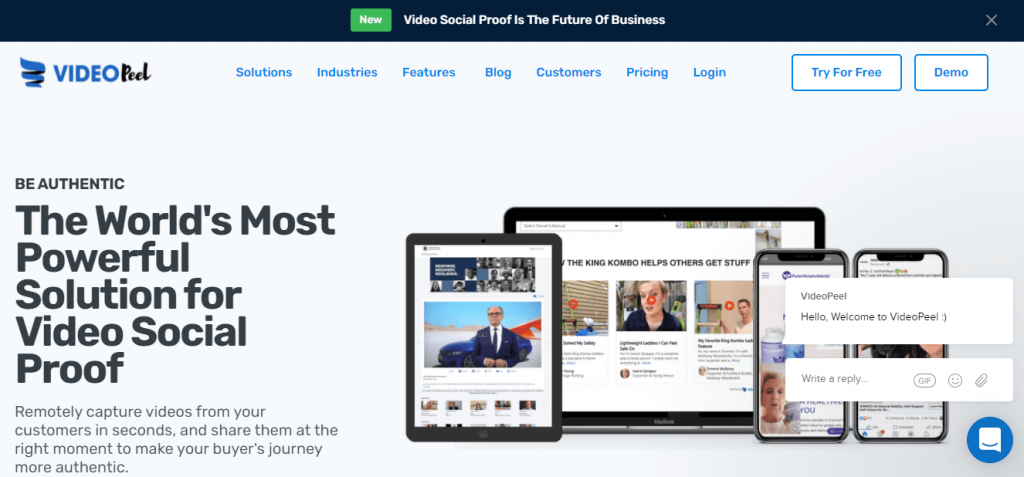 In seconds, you can collect, distribute, and analyze customer films for video testimonials, video surveys, and video messages with the help of VideoPeel, the world's most powerful video social proof solution.
Similar to Vocal Video, VideoPeel aims to collect videos from consumers as quickly and efficiently as feasible.
Remote interviewers can be invited to record videos using a link sent by users. A logo, star ratings, and text overlays can be added to recordings produced on various devices (Android, iOS, and PC).
Even if there is no trimming function or option to add text slides or other visuals or audio elements in VideoPeel's editing tool, it is still powerful.
There is also a single slide with questions for the interviewers at the start of the recording. Because of this, videos must be shot in one go and include responses to numerous questions.
This can lead to lengthy responses that deviate from the topic at hand.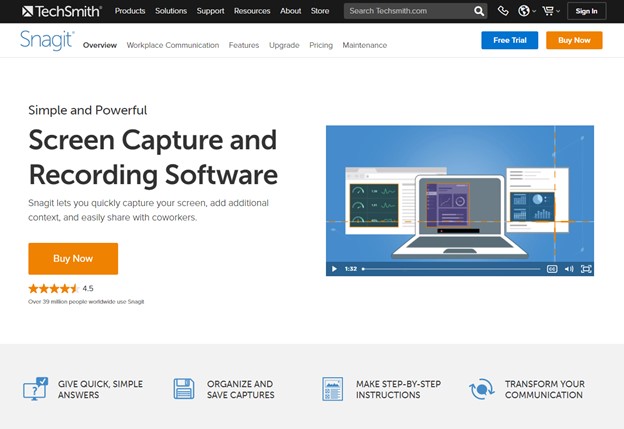 This is the Snagit home page: Screen capture and recording software; To swiftly capture your screen, add context, and share with peers, Snagit is a great tool to use.
With Snagit, you may record video from your screen and share it with others.
It allows you to focus on a particular section of your screen or a specific window, webpage, or application while editing out other areas, making it stand out from most competitors.
If you wish to record a remote video, you must first establish a video conference link with the person you want to register, limiting your video and audio quality.
7. Zoom, Google Meet, Skype, and other similar services are all great options
Despite its speed and efficiency, video conferencing platforms for recording online meetings and webinars have poor video and audio quality, as previously discussed.
In addition, you must utilize a separate video editing program to reduce the amount of film you capture, and you must agree on a time for the recording in advance.
If you're searching for a simple and easy-to-use meeting platform, Google Meet is a popular choice. The free version of Google Meet can be used by anyone with a Google account, although there are certain restrictions.
When you record a video, it will be saved to the host's Google Drive and can be shared with others via an email link. Once the material has been downloaded, the process of sending it to your coworkers can be avoided.
Allows teams to collaborate using Office products and share documents, and organize group conversations and video conferences via Microsoft Teams.
Even if the person who started the recording quits the video conference, the recording will continue until everyone departs. You can rest assured that the video will be saved even if your internet connection fails.
All major video conferencing services offer a maximum meeting capacity of 1000 participants, but Zoom has the lowest latency and highest frame rates, which results in better video quality.
Virtual backgrounds and even a beauty filter make Zoom an excellent choice for personal and professional video productions. Then again, did you know that Zoom has an extensive array of remote recording features?
Closing Remarks
Vidmonials takes the hassle out and provides you with high-quality video content when it comes to remote video recording software.
To produce high-quality remote videos with Vidmonials, you don't need to master a new editing system, technology, or new equipment. You can record, edit, and then upload and host a video from a remote place using this software.
Book a demo now!