An online video capture software helps in the video capturing of the device screen. Hence, the primary use of such software is to capture/record videos of your screen online.
Since it is an online utility, it lets you capture a video online on your computer. Interestingly, Youtubers also make use of such video capture software.
We discuss the best online video capture software that, besides offering video capturing, helps in the video capturing, screen recording, camera recording, etc. Thus, these online recorders are such online video platforms that meet all needs.
Read them below:
1. Vidmonials – Best Online Video Capture Software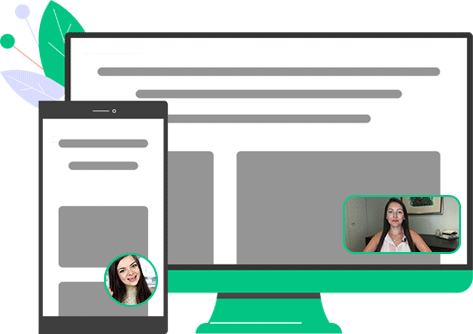 While you can leverage Vidmonials as an online video capture software, its usefulness, given its multiple features, is not limited to video capturing only.
It is a video recording platform with multiple primary features, and online video capturing is one of them.
It also helps your business/brand to grow faster and stronger by making it more authentic. And it does so by allowing its users to make use of their videos along with their clients'.
It offers the following when you utilize its video capturing features amongst the other primary features:
Real-time online video capture
Storage (online) of video capturing
Facility to add company's logo
Option to share your videos across various social media platforms
Read More: Why Is Vidmonials the Best Screen Recording Software?
2. ScreenCapture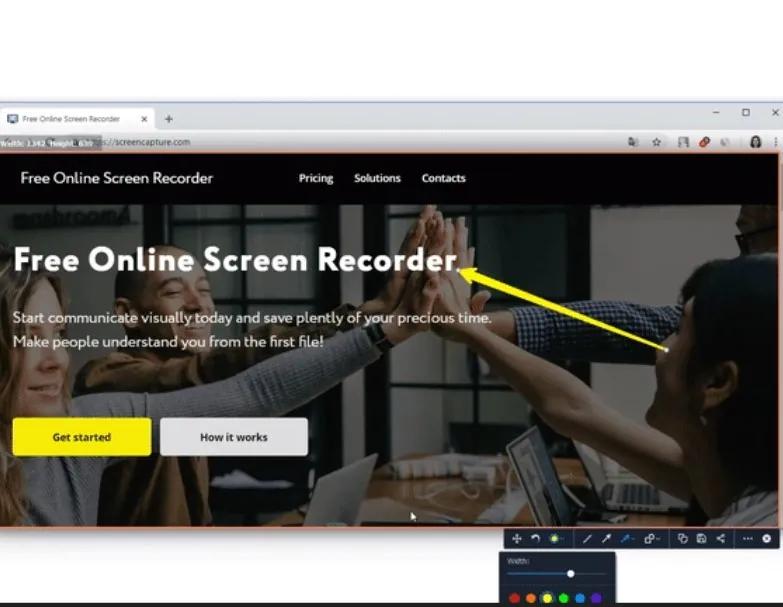 ScreenCapture is an online video capture software, which can quickly perform video recordings of your screen. Additionally, it can perform audio recordings through an embedded or external microphone.
Using this software, you can share your recorded videos instantly and conveniently by using their respective URL.
As for its video capturing efficacy, it is reasonably high. Hence, while performing screen recordings, you would rarely encounter/ experience a significant issue. To simply state, video capturing through this software is not only efficient but convenient as well.
Such software for making the users opt for their desktop version limits the features in their online utility. However, it is not the case with ScreenCapture.
Another reason for choosing this software is that it is equally competent when used online through a web browser.
As for the privacy of your videos, it also takes care of it.
The videos that you capture using it are stored in the repository that is only watchable by you. And while it has access to them, the contents are only watchable by the user only. Moreover, the videos captured are of good quality, and they do not include any watermark.
Lastly, but pertinently, you can use this software on limited browsers, such as Opera, Firefox, Microsoft Edge, Google.
3. Screencastify
Screencastify is a feasible online video capture software. And if a user requires such software that has ease of use, then this software is the ultimate choice for them.
It is one of the most efficiently operated software available on the internet. But for using it online, this software requires the users to add its respective extension to their web browser. Nonetheless, the convenience that it offers via its functionality makes this extra step worth it.
With a simple interface, any user, whether expert or naive, can have a sense of its working quickly. Moreover, it saves all your video recordings to Google drive automatically. Furthermore, using it, your videos can be directly uploaded to the video streaming channels.
The videos that you capture using this software are downloadable in one of the standard formats. And while it is an online tool, it also enables the users to video capture without the internet.
On top of the easy functionality and other features, it also comes with a 'mouse-motion highlights' feature. It helps in keeping the focus of the users on a video's particular part.
Interestingly, besides being capable of video capturing, this software is also capable of helping out in meme creations. So if you're a meme creator and lover, then this software might be your ultimate choice.
In a nutshell, this online video capture software is a reasonable option for users. However, compared to the other similar software, it has not much to offer for the features besides offering a core functionality.
This software is a decent choice. But it may not be worth it for the users who are looking or need a diversifying list of features.
4. Bandicam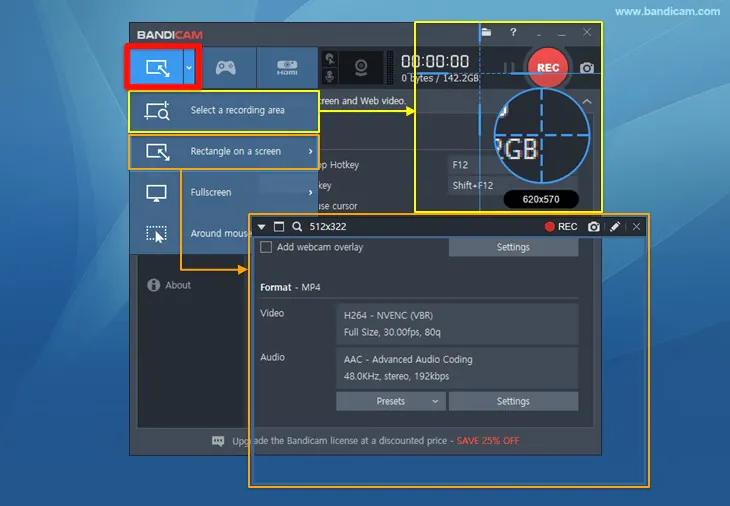 The following software on the list is Bandicam, and it is one of the popular online video capture software there. Furthermore, you can use it to perform free online video capturing of videos that are being live-streamed, online tutorials, and many similar.
One of its highlighted features is that it helps in video capturing for as long as 24-hours. And its ability to video capture online on the different device types is also second to none. Thus, it helps you video capture on web cameras, gaming consoles, IPTC, iPhones, and similar.
This software also enables the users to perform functions as effects and mouse-click-based animations. Such features prove handy when it comes to making online tutorials because they ease learning precise concepts.
Another prominent feature of this software is that it allows the users to perform scheduled recordings. It enables the users to specify the time/date for video capturing.
The 'scheduled recording' feature comes in handy when a user requires screen capturing at a particular time yet cannot perform. So, this feature acts itself at the given time without any prompt to the system from the user.
All in all, this software is excellent in regards to the online video capturing of the screens. However, unlike Vidmonials, it does not come with the ability to offer multiple primary features besides video capturing.
It is also important to mention that its online version is often complained to be not as good as its desktop counterpart, a good but not exceptional software.
Conclusion
To conclude things, each software discussed in this article has almost the same use.
Nevertheless, besides their core functionality, such software comes with no other significant usage. But with Vidmonials, it is not the case.
Vidmonials, in addition to online video capturing, can also be used for an industry with a different domain. It, therefore, is one of the best online video capture software for all needs.