Customer Testimonial Video is the new big thing. Every business that wants to grow its online reputation and increase its market value should collect some decent client testimonial videos.
Receiving an excellent video review from the top customers can help companies attract, engage, and delight more clients. With good testimonial videos, you can showcase your previous clients' good experiences and use them to grab new ones for your business.
Are Testimonial Videos Effective?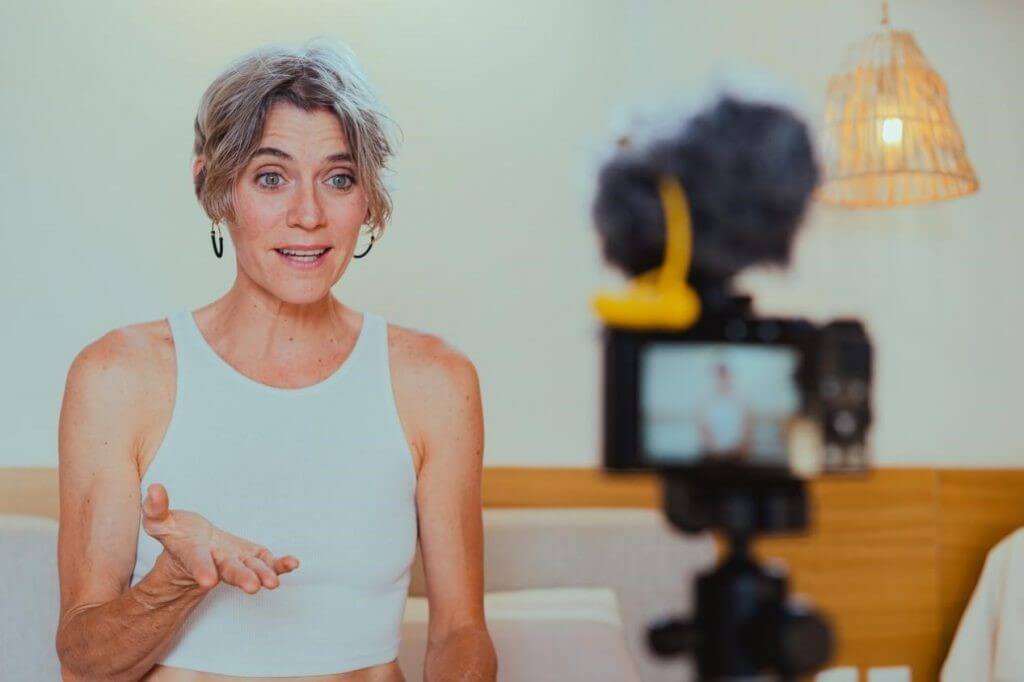 It would not be wrong to say that customer testimonial videos are a refined and more superior form of word of mouth that companies can use to develop trust, nurture new contacts and convert them into clients.
Moreover, many businesses are now shifting their focus towards customer testimonial video reviews as a significant part of their marketing strategy. 
Written testimonials are malleable, but there are fewer chances of forgery in testimonial videos.
How Do You Write A Customer Testimonial Video?
Well, if you want a powerful customer testimonial video, you shouldn't really rely on scripting the act.
Although, what you can do is that you can share an outline filled with relevant questions.
These questions will help you get feedback on your desired areas and assist your clients in proceeding confidently.
What Makes A Good Customer Testimonial Video?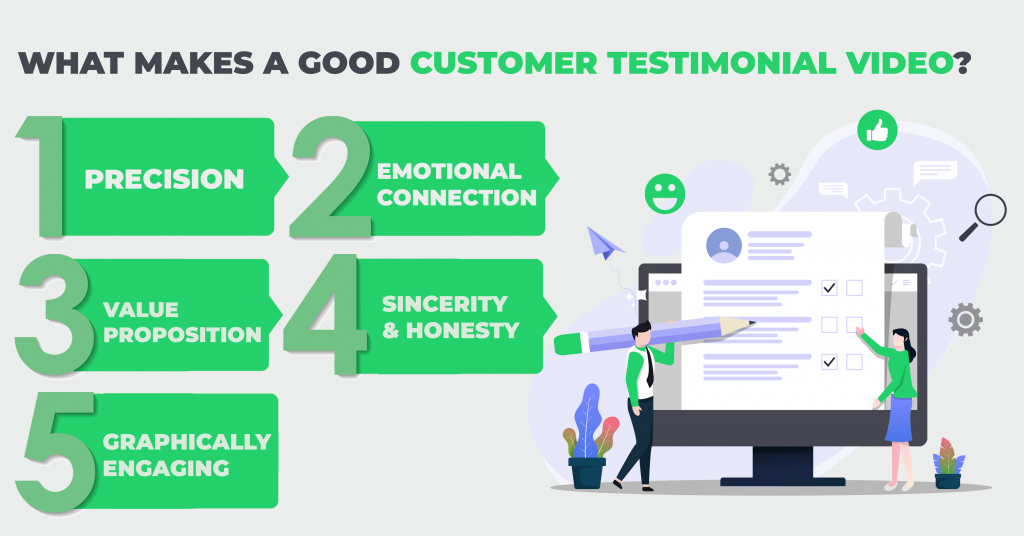 As an individual, you may already feel like you know what a good customer testimonial video would look like.
However, there's so much science involved in the making of an excellent video testimonial.
For starters, here are a few qualities that a good customer testimonial video may possess.
Precision
They must be brief, whether in the form of a video or written testimony or review.
Buyers are distracted, impatient, and want a dopamine rush from information as soon as possible. Nobody wants to watch a thirty minutes long movie.
Therefore, as marketers, we must err on the side of brief, precise testimonials.
Emotional Connection
The most satisfactory testimonials make an emotional connection with the reader or viewer.
For example, if you're selling vehicles, you'll want testimonials that indicate how a client felt after purchasing their first car from you. That is pure gold in terms of marketing.
Value Proposition
Marketers should aim to have several testimonials that support or validate each of their value propositions.
Before asking for a testimonial, carefully consider your value messages and determine what questions to ask the consumer to extract those messages.
Sincerity & Honesty
Like we mentioned above, fake and scripted testimonial videos should never be the way to go.
Furthermore, making sure each word coming out of your client's mouth lands ideally and there's no human error in the video can sometimes make your videos look scripted or unreal.
You want your potential customers to relate to the client in the testimonials on a personal level.
It's okay if they stammer or fumble over their words as long as they get the information through.
Graphically Engaging
Invest in quality video production and motion graphics to break up the video and give it a professional vibe.
Your testimonials' visual style is an excellent approach to bring attention to your consumers in your marketing.
Powerful Customer Testimonial Video Reviews Examples
Let us lead you with some solid examples that will enlighten you with the benefits of video reviews for good.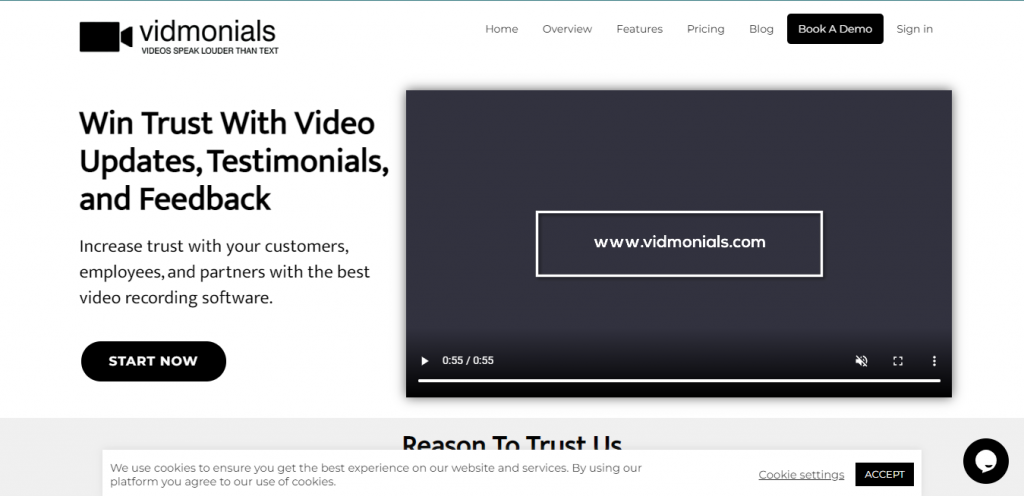 Vidmonials is an innovative solution for businesses that want to collect video reviews and testimonials from their clients. It is a one-of-a-kind automated video feedback management system that lets organizations improve their online reputation and enhance their website's SEO.
The best video testimonials are those where the clients share their genuine experience with a product, service, or company.
This particular testimonial video is a B2B client testimonial by one of eKomi's customers, and she has used Vidmonials for the job.
The reason that this video review works so well is that it is a quite natural and honest review, without any sales-y bits in it. The reviewer seems to be connected with eKomi and is pretty confident in her acknowledgments.
Another good thing that you can notice here is the recording quality. It is a generic video recorded by the reviewer from her webcam. Although high-quality videos look and feel better as a video viewer, a video like this appears to be more genuine and neutral.
In addition to that, relevance is one of the most necessary factors in a testimonial video because it provides engagement for your prospective leads to close. Also, it helps them to reflect on how good your product or service is than the others.
2. Trustmary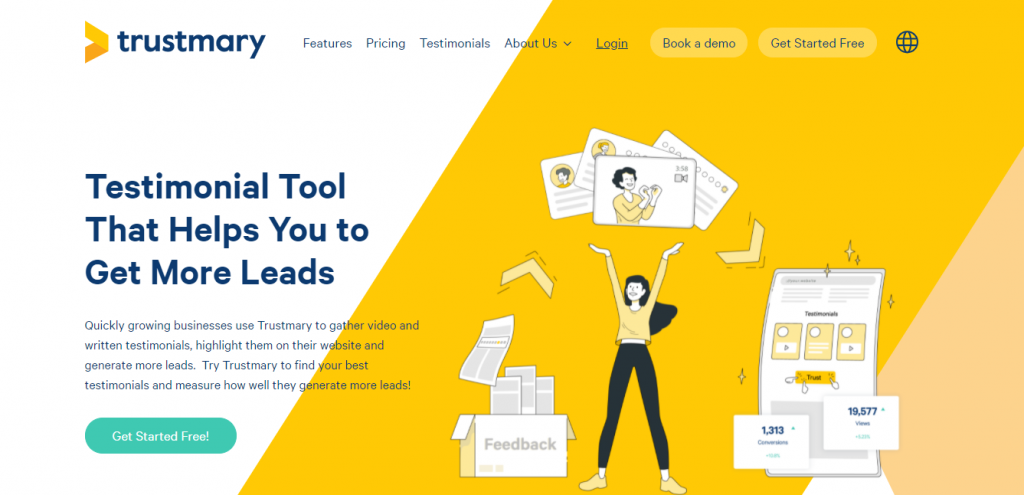 Trustmary is another video review management company that is helping businesses solve their client testimonial needs.
This review is for ExpressionMed Tapes by one of their delighted customers Katie O'Malley. This video review is powerful, as you can see the customer constantly demonstrating the product in her workouts.
A live-action demonstration is everything a customer could ask for when he/she is looking to buy a specific product/service. Showing how the product performs in the real world can assure your potential customers about their purchase decision to a great extent.
3. Testimonial Hero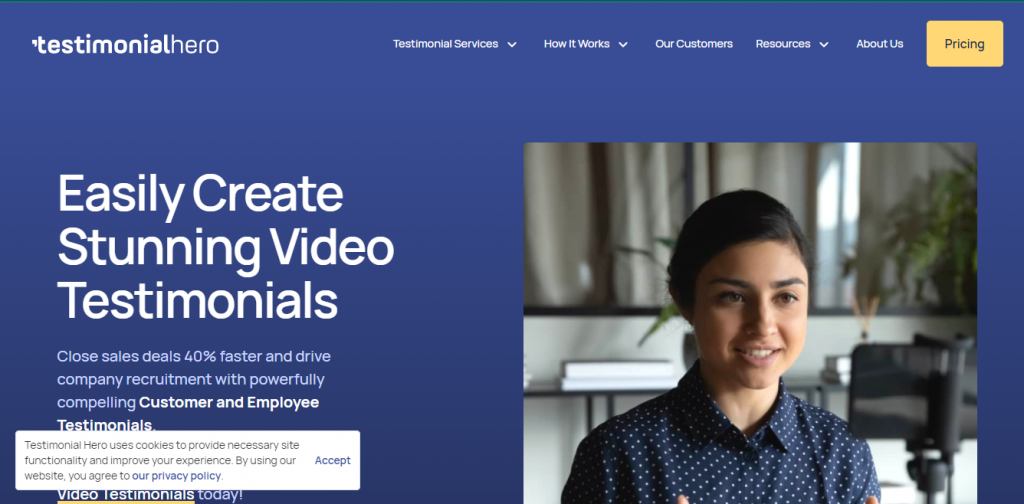 Testimonial Hero is also a company that helps other companies in recording high-quality detailed customer testimonial videos. Testimonial Hero collects and shares in-depth customer experiences for their clients.
In this testimonial, we can see the COO of Boomtrain sharing his experience with InsightSquared, a revenue intelligence platform that provides in-depth market analytics for businesses.
The main point in this video review is how the representative of Boomtrain explains their business story while smoothly mentioning the support of InsightSquared in the journey.
Moreover, this testimonial video looks like it was recorded at a premium budget with professional team efforts.
4. Vocal Video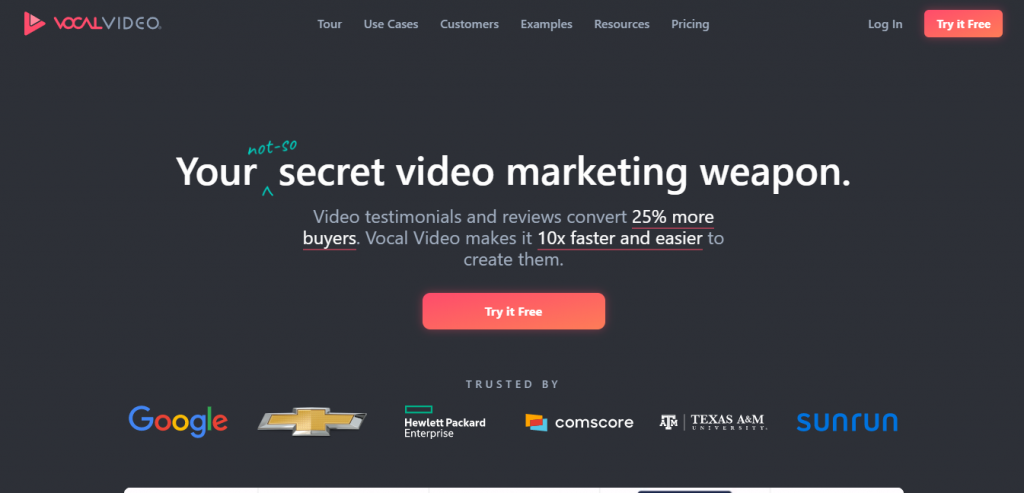 VocalVideo is the only video planning platform that
connects collecting
editing
publishing
hosting video testimonials
Ada's (ACX) is the only chatbot program to support and build an automation-first customer service strategy.
In this example, we can see many of Ada's (ACX) customers take us on their journey using vocal video, telling us about how Ada's (ACX) helped their businesses thrive with its support and services.
Moreover, this video features more than one happy customer explaining their experiences with Ada's (ACX). This technique shows that using a short video clip to display many satisfied clients of your business is a great way to use video reviews.
5. Easily Capture Media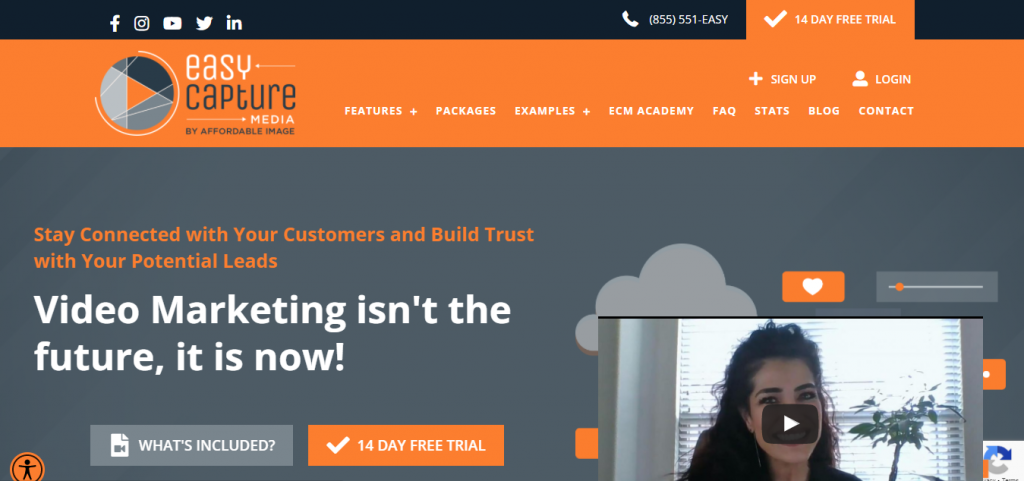 Easily capture media is a video platform from your mobile, tablet, or computer. This platform allows you to create impactful video reviews for your business and use them for marketing purposes.
Bitty Bites Pediatric Dentistry is an organization that helps children to learn healthy habits and lifestyles.
In this example, we can see Lindsey North from Bitty Bites Pediatric Dentistry talking about Easily Capture Media itself. She mentions the ease that using this tool has provided them for recording high-quality videos for their business.
This video also looks pretty natural because the reviewer is sitting casually in her clinic and is probably talking through her phone camera. This realistic view is what attracts most potential buyers, genuineness.
6. Remote Video Testimonials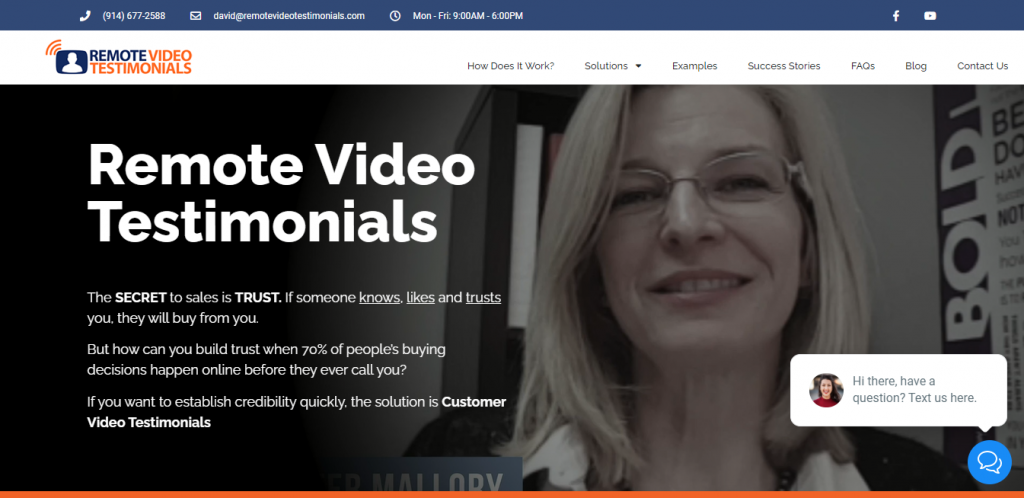 Remote Video Testimonials is also one of few companies working toward creating a transparent business environment where both customers and businesses can have clear expectations.
In this example, we can see a happy customer for the company known as OpenMove. Katie Demo, the co-founder of Brass Clothing, shares her experience with OpenMove using a directed comparison with similar service providers.
This kind of video testimonial is very constructive for a business as it not only proves customer satisfaction, but also a business' superiority in the market.
7. VideoPeel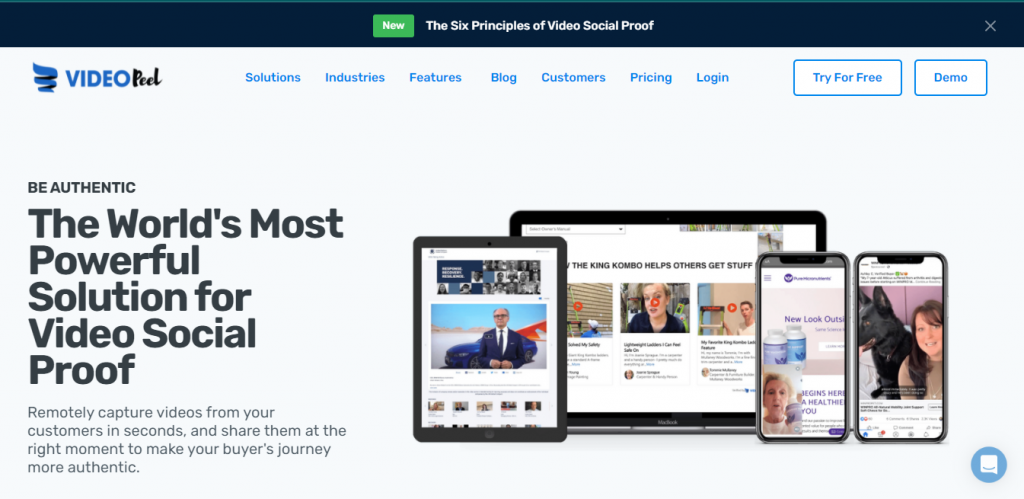 VideoPeel is an exclusive video-making platform that offers a specialized platform for customer testimonial videos. It offers user-friendly video recording functionalities along with exclusive editing features that allow higher customizability.
Here's an example of EcoFlow, an innovative tech solutions provider company. In this video, the Co-Founder of EcoFlow, Hannah Sieber, demonstrates her company's product via video reviews recorded on VideoPeel.
This particular testimonial video is unique, as it not only showcases EcoFlow's product but shows how VideoPeel is helping the company grab quality customer video reviews as well.
Conclusion
The purpose of making testimonial videos is to create transparency. Also, statistics show that video reviews are becoming increasingly impactful for many consumers. One of the prime reasons behind that is the videos are difficult to fake.
And testimonial videos are also generally seen as more genuine and reliable. It helps users or clients or a lead to understand the company product better. The above-mentioned 7 video review examples were only shared to help you understand their effect on a general viewer.
Moreover, there is a colossal amount of progressive businesses shifting their focus towards video reviews to reap their many benefits.
So, if you don't want to miss out on anything, we would recommend you to make a start with some reliable customer testimonial video review service providers like Vidmonials.
Vidmonials can be your first choice for video reviews as it is notably easy to use. All you have to do is sign-up on the platform and let the flow guide you through its easy process.
Provide your suggestion and feedback in the comments. Follow Us on Facebook, Instagram, Twitter, and Pinterest.