A video review service is what we call the pinnacle of marketing in these pandemic situations.
People can not interact physically, so they mostly rely on their online intake of information. They are more likely to believe whatever they see on the internet because everyone is too scared to go out and verify anything.
However, we do not at all indicate the idea of exploiting their condition right now. Instead, we suggest a truthful and honest environment of marketing where people can share their true experiences to benefit others in their purchases.
What should one look for in a video platform?
What you should look for in a platform depends on your video goals, but there are four considerations that can help you make the best decision.
Video Analytics
It isn't the most "exciting" topic, yet it is one of the most vital. The majority of online video platforms include an analytics tool. Google Analytics, for example, gives the video completion rate but not when users leave off.
Some platforms enable you to export customized reports in addition to the basic options. You may receive data that is both useful to you and compatible with your CRM system this way.
Platform Interactivity
Viewer engagement and conversion rates are both boosted by interactive video. There are a variety of video platforms to pick from, but each platform's amount of interaction varies.
Some enable you to just add a video link, while others let you construct full branching videos.
Dashboard Userfriendliness
The dashboard is a user interface for managing your videos. The dashboard allows you to customize your video distribution plan and provides you with detailed information.
Each video platform includes a dashboard, but the functionality and user-friendliness of each one vary. Consider if you find the dashboard to be simple to use.
It's also a good idea to see whether there's a support staff in place and how accessible they are.
Video Storage & Distribution
Your video content's storage and distribution aren't supposed to be anything you want to be concerned about at any point.
The majority of platforms allow for the hosting of video content. Hosting refers to the storage of your video locally and its distribution over numerous servers and directories, often known as the Content Delivery Network (CDN). You won't have to worry about your videos being offline or taking up too much storage space, thanks to the CDN.
So, make sure that the video platform you choose has a stable CDN.
Moreover, if you only need to record and publish basic video messages, there are several video testimonials software options, but only one of them, Vidmonials, includes robust video marketing capabilities.
Since it was created to fill a hole in the market that we saw firsthand: there was no simple, automated way to collect testimonials, we are very proud of one of the best video review software we have built.
Top Video Review Service Providers in 2021
1. Vidmonials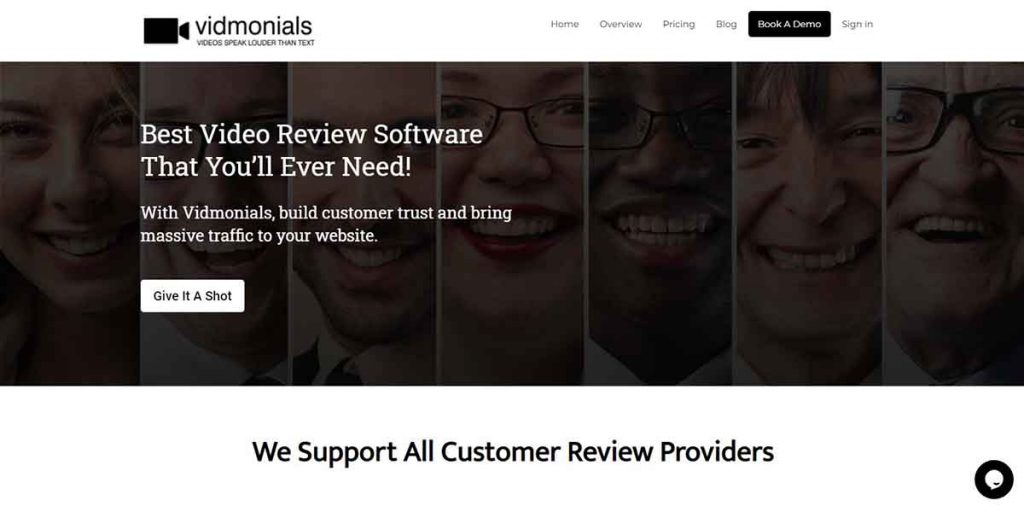 The Vidmonials is a modern and rapidly expanding company that assists companies like yours in collecting, managing, and sharing video feedback on the internet. Vidmonials has as several key features, including:
1. Sending Instant Video Review Request
With a single click, you can send bulk data and individual video review requests to your clients. Vidmonials allows your customers to record and send testimonials right away using the auto-generated links. The best part is that your customers do not even need to register with the site to capture video testimonials.
2. Easy-to-Manage Vidmonials Library
It provides its users with an easy-to-manage video repository. A user can watch and share video testimonials received from the clients anytime without any trouble.
3. Embedded Video Widgets
This feature allows you to embed all collected video reviews on your company website, which makes it easier to market them and, at the same time, improve the traffic of your website.
4. Sharing & Marketing Vidmonials
Not only embedding, but Vidmonials also helps its clients in sharing the client testimonials on various public platforms like YouTube and other social media channels.
Some of the other features that make Vidmonials one of the best video review software are as follows:
Vidmonials has a user-friendly interface, which makes the product quite easy to use.
It also lets you monitor your real-time customer feedback analytics.
The feature helps you secure your business from negative and hateful comments about the products before they go viral on the public.
Vidmonials provides Compliance features like built-in data protection, anonymization support, and local hosting.
24/7 Professional Support
Our professional support staff is available 24 hours to help solve all the problems. We are here to support clients and their businesses. We are here to help you from the client-side to their platform side.
2. Testimonial Hero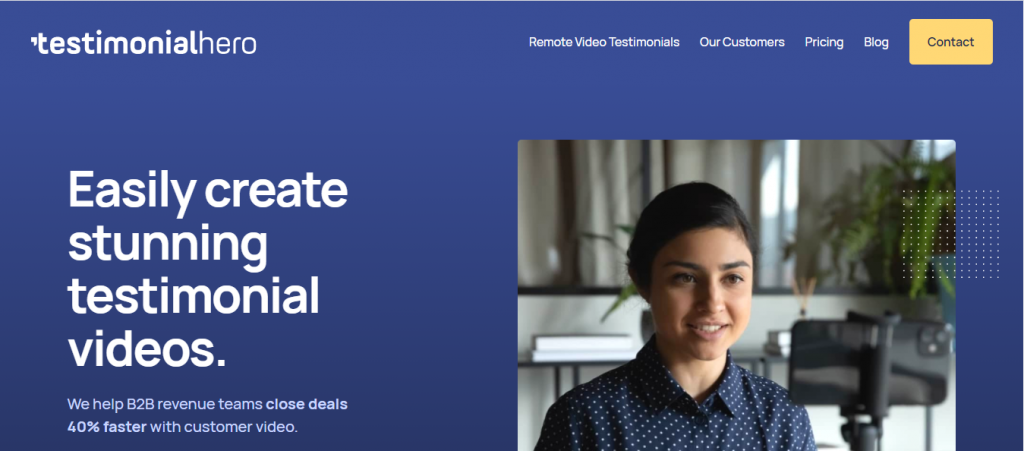 Testimonial Hero is also one of the widely used video review software by companies. They also help businesses gain high-quality video testimonials from their clients.
Furthermore, in recent months, they have begun to provide a remote video review service. Customers of their clients use their phones or personal cameras to film video testimonials, which are then sent to Testimonial Hero for processing.
The following steps are included in their video analysis production process:
A representative of Testimonial Hero interviews your customers to develop a video concept.
He then advises your clients on recording a great testimonial from home or anywhere in the world.
Then they transform a 20-minute video into a 90-second video testimonial.
3. Vocal Video – Video Review Service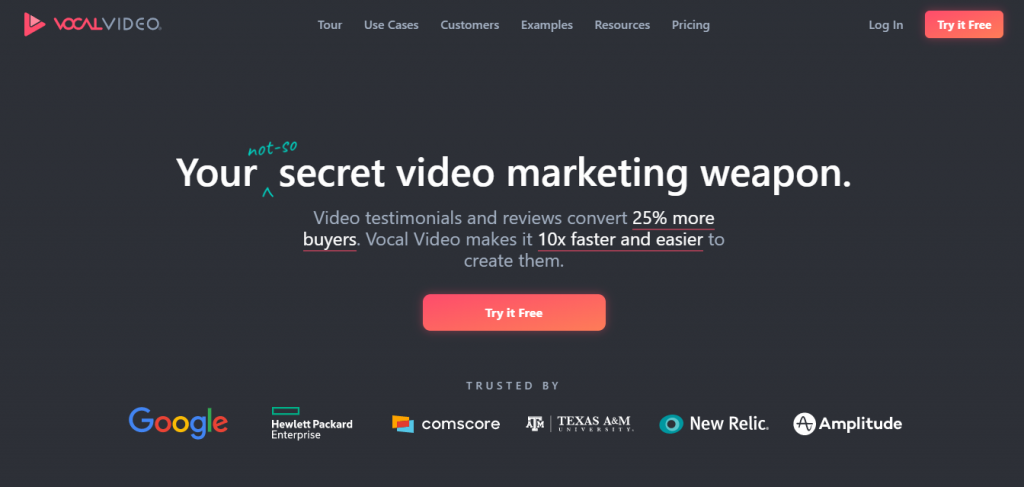 VocalVideo is a platform that allows its users to quickly and easily collect a large number of testimonial videos, edit them, and apply branding to them.
In addition to that, this video review service provides its users with automatically generated video templates and an open editing tool with multiple tweaking options.
Some prime features of this service include:
Collecting audio and video testimonials
Vocal-Video collects both audio and video testimonials to help their clients improve their online reputation
Multiple Device Compatibility
Vocal-Video works for all smart device users like smartphones, laptops, or tabs.
Fully Remote & Asynchronous
It is a full-time remote and asynchronous feedback management platform. Therefore, it proves to be handy in the current circumstances.
Vocal-Video is easy to set up and install. You can use greeting videos and templates.
4. Trustmary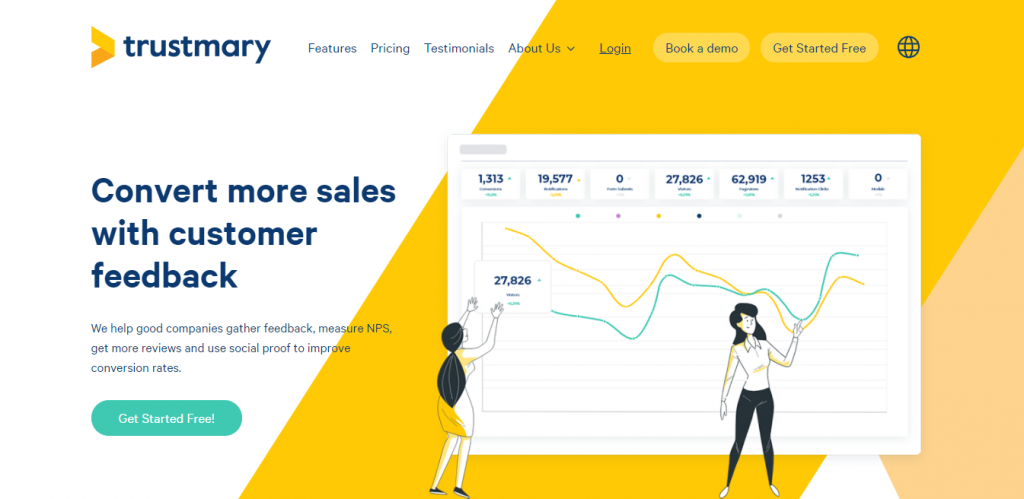 Trustmary is a unique video-creation website that specializes in customer testimonial videos. It has user-friendly video recording capabilities as well as exclusive editing features that allow for greater customization.
The platform provides its users with the following key features:
Measure NPS and Receiving Feedback
Trustmary provides you with a one-of-a-kind survey framework that allows you to get input from your customers while refining it into a piece of social evidence as well.
Transforming Feedback Into Social Proof
Trustmary assists businesses in identifying secret social evidence in their client base and website visitors.
Improving Conversion Rates
It collects useful data from your customer base, website, and other platforms, to help you boost your conversion rates.
5. Remote Video Testimonials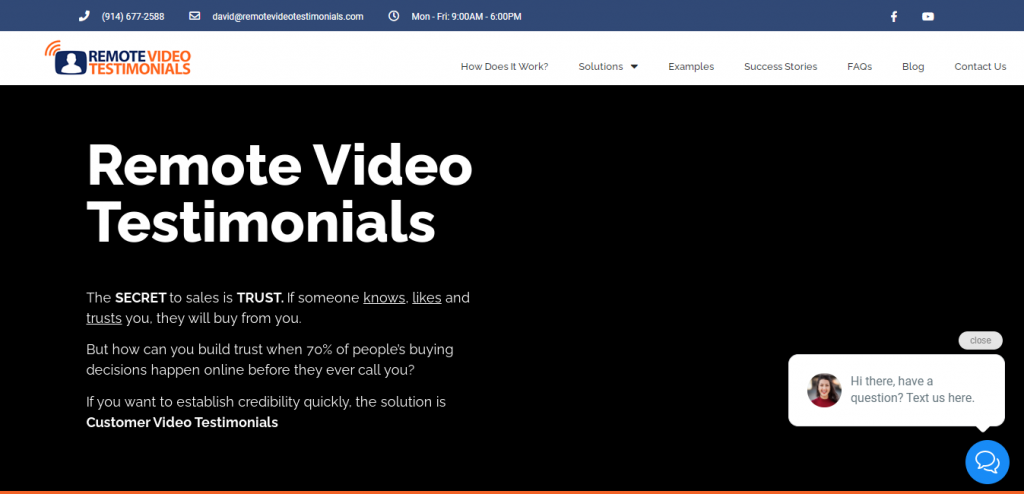 Remote Video Testimonials is one of the few organizations trying to create a consistent business climate, with its clear standards for both consumers and businesses.
It is yet another excellent video review service company that helps its clients in creating effective video testimonials.
More so, their remote video testimonials production follows this process:
Thorough Customer Interview
In-depth interviews with business customers take place to extract the maximum information.
Allotment Of Interviewers
Professional interviewers join the conversation to make the best use of the time of your customers.
Their teams make sure to arrange the best quality audio and video recording equipment.
Skillful video editors then render attractive video testimonials with general touch-ups and special effects.
The final video passes through a keen quality test for the graphics and content used in the video.
6. Video Peel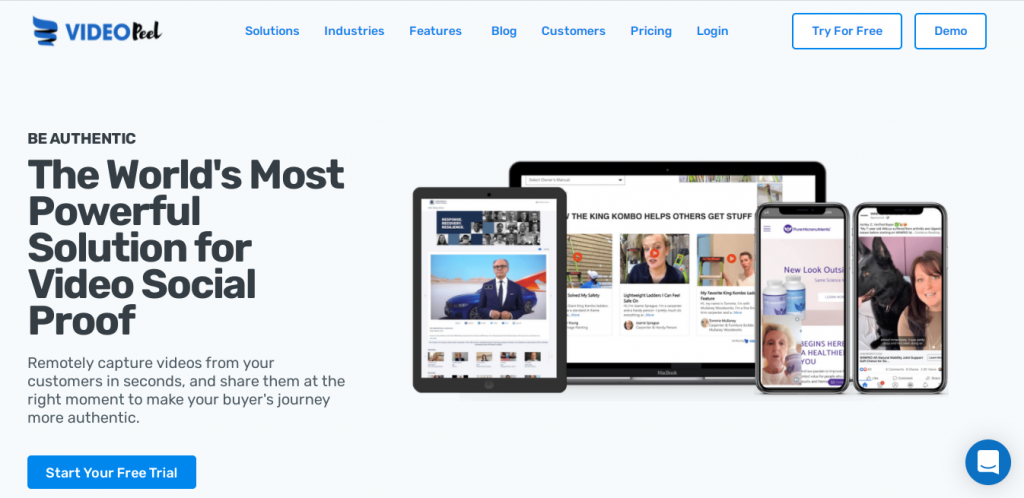 Like Vidmonials, VideoPeel automates the video recording process through a connection that allows users to click, record, and upload video testimonials.
Thank-you messages are also automation supportive, and responses can be registered and sent via mobile or desktop.
For easy management, all recorded videos are stored in a single repository. The editing tools in VideoPeel are easy-to-use, allowing you to add a logo, simple text overlay, star ranking, or disclaimer.
Some significant features of the platform include:
VideoPeel allows easy video capturing for your customers, students, patients, team members, etc., from anywhere in the world without any sign-in requirements.
Videos automatically upload to your VideoPeel account, where you can check them at any time. Also, you can easily organize, transcribe, and download your files.
With this integration, you can send emails and SMS requests to all your e-store customers.
You can include testimonial videos from VideoPeel in your Amazon product listings for better credibility
7. VideoAsk – Video Review Service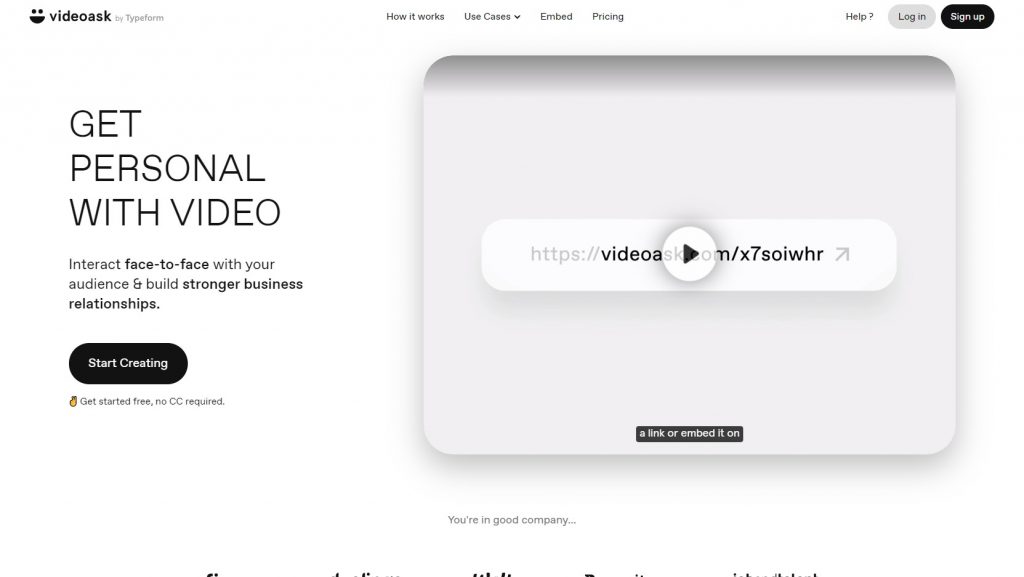 VideoAsk is a video conversations expert, which means their platform enables you and a customer to have non-contemporary conversations.
It works in the following manner:
The platform is set up in such a way that you can quickly send a video to a customer, and they can quickly respond with one of their own. You can communicate with each other via video, text, or audio.
Although the platform offers a unique opportunity for interactions, it looks as if emails were being exchanged in the form of a video — you are simply just talking to each other.
This is useful for collecting customer feedback, specifically if you need to get back to them for a lot of follow-up questions for gaining a full understanding of how a customer perceives your product or service.
Final Words
So, these were the top video review service providers and are best to attract, interact, and delight visitors. Even so, each of the alternatives discussed above has its benefits over the others. Yet, your decision to choose one will highly depend upon your needs and budget structures.
More so, if you are looking for something that could save your time, efforts, and money – a platform like Vidmonials can be your way to go. That is so because it is one of the highly automated platforms that require fewer efforts from you and even your clients to create client testimonials.