This article, Vidmonials vs. Trustmary, compares two prominent customer testimonial tools, Vidmonials and Trustmary.
This article draws a comparison between the two tools by discussing their features individually. And based on this comparison, the verdict is given.
It is pertinent to mention that both these customer review tools are similar in their core functionality. And while our comparison is to find the better of the two, both are good in their own way with competitive features.
Read the article below:
Vidmonials vs. Trustmary: Features of Trustmary
1) Measuring NPS to find satisfied customers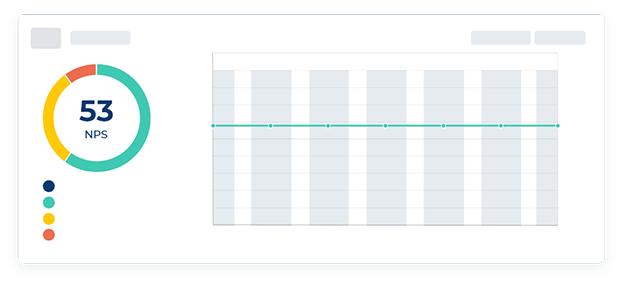 (Picture courtesy: Trustmary Website)
The Net Promoter Score (NPS) measures the satisfaction level and loyalty of your customers. And it works by asking them how likely they are to recommend your service/product to others.
Using the NPS feature of Trustmary, you can find the satisfaction level of your customer. Moreover, you can also find out your satisfied and unsatisfied customers.
This feature helps you in the following ways:
a) NPS surveys
Using this customer testimonial tool, you can send your customer surveys that include the Net Promoter Score. It allows you to send these surveys using emails, SMS, shareable links, QR codes and embeds.
b) Getting feedback from customers
You can collect feedback from your customers using this feature. And it allows you to learn the perception they currently hold for your brand/business.
c) Analyzing the customer feedback
With all the feedback and the surveys you collect, this feature helps you perform business development better. Moreover, using such feedback, you can improve your business in different segments.
2) Video and text reviews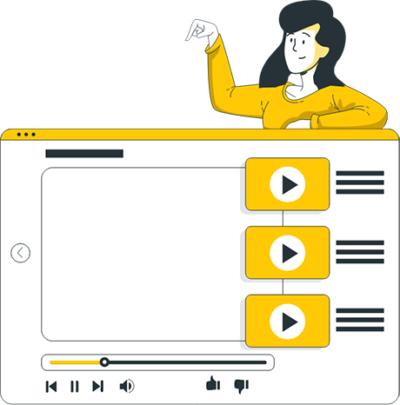 (Picture courtesy: Trustmary Website)
Making your satisfied customers provide a testimonial for you is one of the best ways you can make your business grow. The reason is that your potential customers, or the sales leads, find the reviews of your existing clients more credible and authentic.
Trustmary helps its users receive text and video reviews from their happier and satisfied customers.
It helps in the following ways in this regard:
a) Text reviews
It helps you in collecting text-based reviews from your clients. Besides, you can also collect meaningful feedback from them that could make a difference to your business.
b) Video reviews
Video reviews hold an unprecedented and unparalleled importance today in marketing and promoting a business. And many companies are thriving today by making use of them. Thus, Trustmary helps its users in collecting video reviews from its clients.
c) Use the review type that suits you more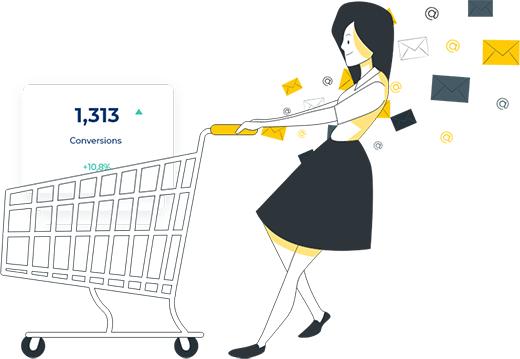 (Picture courtesy: Trustmary Website)
Trustmarty comes with two primary types of customer reviews. So, you can try both to find out which of the two helps you more in marketing campaigns.
3) Converting more sales
You can convert more leads into sales by using the social proof of your quality service with Trustmary. The social evidence that it helps you gather from your satisfied customers can be leveraged in the following ways:
a) Popups
You can use social proofs on your website, particularly the landing page, which convinces users to try your service/product more.
b) Widgets
You can also use your social proof as widgets. And this, in turn, helps to increase your conversion rates.
c) Experiment with your social proofs
Try out different types of social proofs on your website or third-party platforms. And this enables you to find out what works for you the most.
Vidmonials vs. Trustmary: Features of Vidmonials
1) Text to Video reviews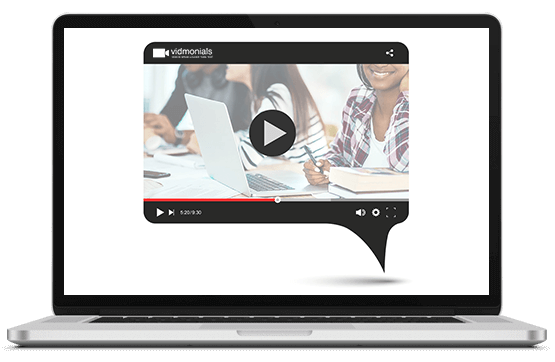 One of the features of Vidmonials that businesses find extremely helpful is the text to video reviews. It allows the users to convert their text reviews to video reviews that are professional and genuine looking in their outlook.
The importance of video reviews as a marketing tool is unmatched today. Therefore, converting your text reviews to videos can convert the maximum number of leads to sales. And the reason is that they can prompt a user to take a particular action.
2) Library list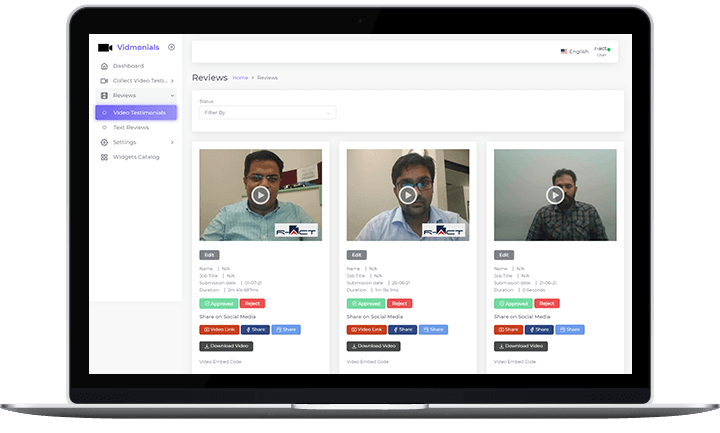 The 'Library list' feature creates a video collection of all your testimonial videos automatically. So, all your videos are saved and collected in a single place.
It is a helpful feature and has the following functionality in this regard:
a) Pre-existing Library
Vidmonials creates a video library in advance. And all your video testimonials are stored in it.
b) Easy search
Videos in the library can be searched by making a filtered search.
c) Downloadable videos
The videos in the list are downloadable. And you can post these downloaded videos on various video streaming and social media platforms for marketing.
3) Embed Videos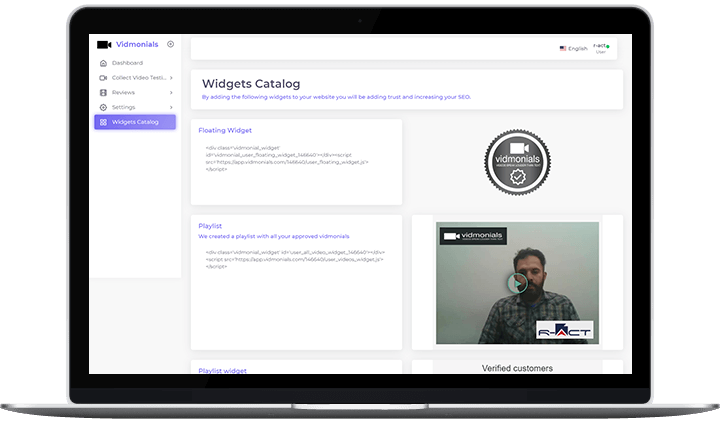 Using the 'Embed videos' feature of Vidmonials, a business can embed its client testimonial videos on its website as widgets. It helps to share the real-life problem-solving ability of your product/service.
You can promote the authenticity of your business by leveraging this feature in one of the following ways:
a) Trust seal
You can receive a trust seal from Vidmonials on the video widgets that you embed on your website. As a result, credibility and authenticity increase.
b) Playlist Widgets
You can have playlist widgets with all your video testimonials included in them.
Vidmonials vs. Trustmary: Verdict
The verdict for our article, Vidmonials vs. Trustmary, is that these tools have more or less the same features. However, with the time Trustmary has been in the industry, its features should have more to offer than its younger competitor, Vidmonials.
On the other hand, Vidmonials provide the core functionality and develop additional helpful features such as 'text to video' and 'embed videos.' However, the former feature makes it come out on top against its elder competitor, Trustmary.
You can book a free demo for Vidmonials and learn more about it at: https://www.vidmonials.com/book-a-demo/.