With the best video review software(s), you can perform video reviews conveniently. Additionally, using it, a business can make a persuasive pitch.
It is never easy to perform video reviews, especially client testimonials. The reason is, it requires a considerable amount of effort with particular skills. So, there are video review services to help you in this regard.
This article brings you a comprehensive list of the best video review software(s), which is a result of our extensive research. However, you may also look up the website of the one that appeals to you the most.
Top Best Video Review Softwares
1. Vidmonials – Best Video Review Software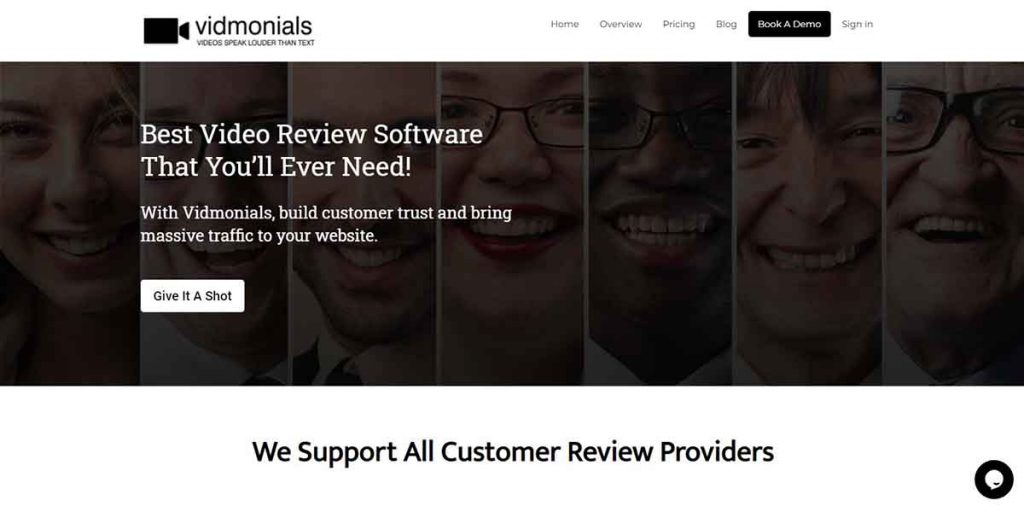 Vidmonials is one of the new platforms in the video review industry. However, due to its highest quality services, it has made a name for itself in a short period.
While helping its users in reviewing the videos, it goes a step ahead in its services. It also performs moderation of the videos as part of its video review service.
Vidmonials ensure that there is no such video that includes hate or abusive speech. For, such videos can jeopardize the public reputation of any company.
While its moderation feature alone makes it one of the best video review software(s), its low cost also stands it out. So, in comparison to the other popular tools, Vidmonials is more cost-effective.
It has different pricing plans to help users of different needs. However, its standard package allows you to review as many videos as you want for 59 euros.
Please note that since it is based in Berlin, its price excludes the currently applicable German VAT.
2. Screenlight
Screen light is a comprehensive video review platform.
It allows its users to complete the video reviews quickly and efficiently. Moreover, it has a user-friendly interface that makes you not stuck at any stage of the process.
The pricing for this tool is economical at $9 per month. Furthermore, this pricing also allows 50GB of storage per user. So, with decent functionality and pricing, it is a reasonable option for marketing agencies and video production companies.
3. Kollaborate – Best Video Review Software
Kollaborate, from Digital Rebellion, has impressive functionality.
It allows its users to integrate with the other tools smoothly. Also, those who already are on the clientele list of Digital Rebellion are likely to find it more useful.
You can use this tool for 25$ per month, but with an uploading limit of 60GB.
4. Notism
Notism also makes our list of best video review software(s). It includes the functionality of a video review software but with an added feature.
Its additional feature allows you to present your projects in real-time, which makes business proposals and marketing pitches more persuasive. Thus, it is an excellent choice for attracting prospective clients.
5. Go Slope
Another review software on our list of best video review software(s) is Go Slope.
It is a better choice if you are looking to focus on your marketing campaigns more. Therefore, it is more suitable for marketing agencies.
6. Remark
Remark is such software that you can use either as a company or as a client/customer. And its design closely resembles its strong competitors: Vidmonials, Frame.io, Whispster.
Users cannot upload their videos directly on this platform. Therefore, it makes use of video-sharing companies such as YouTube and Vimeo. Additionally, it uses storage solutions such as Dropbox.
7. LookAt
LookAt can review more than 100 types of files, which includes but is not limited to PPT, HTML, AI, PSD, etc.
Although it is a helpful platform for reviewing videos, its usability is a little complex. Precisely, the process of reviewing the videos is not very user-friendly. Therefore, it may not be a suitable option for users with no or little experience of using such platforms.
LookAt also facilitates its users with its mobile app, which can benefit the people who are always on the go.
8. Quick Reviewer
Quick Reviewer has one-off pricing. The reason is, it charges its users for the amount of storage space that they require and not for the number of users.
Not everyone can comprehend its pricing policy of $59 a year for an upload of 1 GB (maximum). However, if you do the math, the monthly price turns out to be $5 per month, which makes it an acceptable option.
Quick Reviewer, in its design and usability, is much like the other tools. Moreover, its user interface is based on making the user experience pleasant and easy.
9. CineSynch
CineSynch is excellent in its services as a video review tool.
It is a platform that comes with all such features that the best video review software should have. And so, it helps you with reviewing your client testimonials easily.
10. GoProof
GoProof is the best option if you want to perform marketing on a larger scale.
Using this software, you can integrate the videos of your client testimonials with Adobe Cloud. So, you can have more video review options using secondary tools, such as Photoshop, Illustrator, Indesign, Premier.
While it is unique in that it provides additional tools, its cost, to some, can be disappointing. However, since it includes bespoke packages, one needs to contact them for precise pricing.
Bottom Line
While each review software in this article has its use, the basic functionality remains the same.
Choosing a review service should not depend on the price. Therefore, one should consider other factors as well, such as the upload limit, number of users, etc.
In comparison to the popular names, Vidmonials provides better services at a cost-effective price. Therefore, it is a much feasible option.
You can find out more about Vidmonials at https://www.vidmonials.com/book-a-demo/