The business video testimonials are the client feedback for a company but in the video content.
The avid readers would read anything, but the same cannot be said when it comes to the reviews. And so, even the most enthusiastic readers would prefer to watch the testimonial of a brand instead of reading it.
The primary reason to create business video testimonials is that they are more helpful to grab attention. They are more of social proof and thus helps a business to convince its prospective clients better.
Do you know 59% of the executives would rather watch a video than read a text? And so we can conclude the same for the video testimonials.
The majority of the mobile users (92%) share the video that they like. So, using video testimonials, your business can increase its brand awareness exponentially.
When you include videos on your website, it increases the purchasing content by 97%. Moreover, if your blog post consists of videos, it attracts the inbound links three times more. So, it is why creating video testimonials are important.
We understand that it has become inevitable to create video testimonials. However, it remains unclear for many how to create one. So, this article explains how to create video testimonials using Vidmonilas, a video testimonial tool.
Features of the Vidmonials for Business Video Testimonials
Vidmonials with the best features make it easier for you to create business video testimonials. Because its usability is based on effortlessly creating video testimonials.
It has the following features that help to create video-based testimonials:
1) Highly Responsive Platform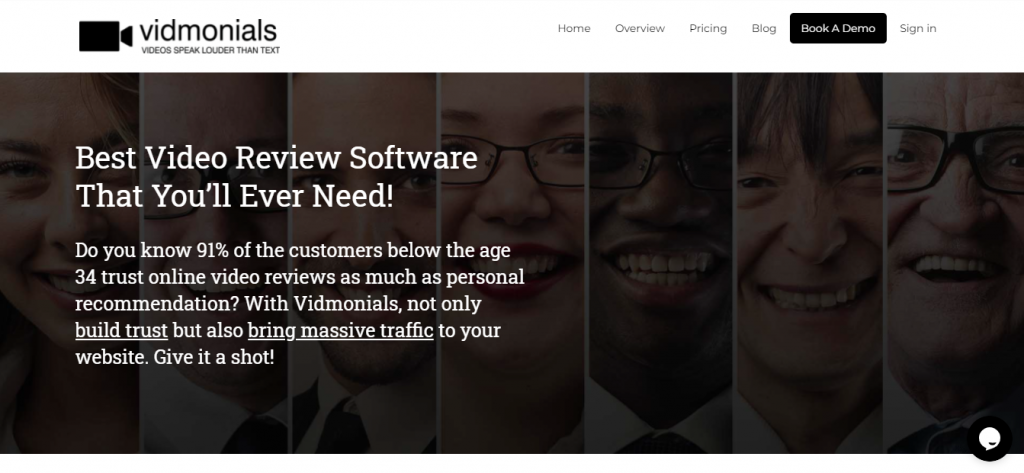 Vidmonials as a video testimonial management tool is highly responsive.
Its platform was designed in a way to streamline the process for users on any device. So, you never find yourself stuck due to the nature of the device that you're using.
From mobile phones to desktops, you will find the entire process equally convenient. Thus, it becomes easier for one to create video feedback using the device of their convenience.
2) User-friendly Interface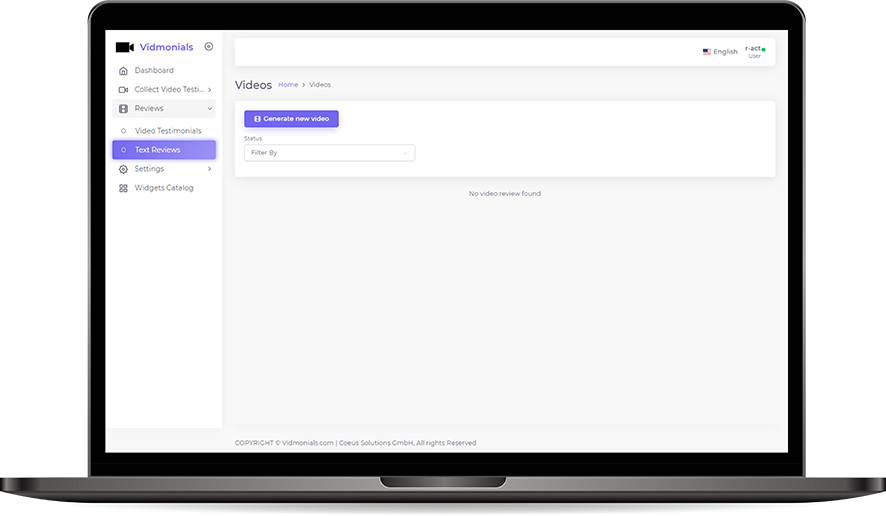 Vidmonials, besides being responsive, is a highly user-friendly platform. It makes the whole process painless for the users.
Its users proceed from one step to the next in a smooth fashion. And this makes it an excellent choice in regards to the business videos.
3) Analytics & Searching
Vidmonials provides its users with a dashboard that helps to gain better insights into video reviews.
The dashboard includes analytics of all video feedback so you can perform better decision-making in your marketing endeavors.
Using this dashboard, you can also search for a video by using filters such as URL, email, reason, etc.
4) Due Diligence
When a video does not comply with the community standards, it is immediately identified and is therefore not published. However, usually, such videos belong to hate/abusive speech.
Vidmonials also report such videos to the business, which the testimonial belongs to. So, reporting such testimonials allows performing necessary actions.
With this due diligence, Vidmonials helps a business to save its reputation from being tarnished.
5) Regulatory Compliance
While Vidmonials makes creating business video testimonials easy, it also takes into account the regulatory compliances.
It provides built-in data protection, local hosting, and anonymization support, all of which comply with the concerning regulations.
Read More: How to Use B2B Testimonial Videos to Get Maximum Conversion
How to create Business Video Testimonials with Vidmonials
Vidmonials understand the importance of video testimonials for a business. Therefore, it has made the process of creating one straightforward.
The process is simple and thus consists of three steps only. And these steps include: requesting, making, moderating, and publishing the business video testimonials.
The insights to these steps are as under:
1) Requesting Business Video Testimonials
With Vidmonials, you can request one or more numbers of your clients. However, the request can also be sent at the same time, which saves a lot of your time. So, the request, by a single click, sends a link to all the recipients.
An important feature of this process is that your users do not need to sign up before making their video reviews for you. They can thus bypass the signing-up process altogether.
The process, being easier, encourages the clients of a business to provide their video feedback since it involves no extra steps. It, therefore, also makes it possible to receive as much video feedback as possible.
2) Making Business Video Testimonials
The earlier step makes it easier for the users to request a video review. However, this step makes it easier for the clients to make the video of their testimonials.
We now know, from the first step, that a link is sent to all the recipients. Nevertheless, the selected clients use this link for submitting their videos after making them.
Prominently, Vidmonials would save and collect all your videos at a single place, precisely in a library.
This library includes all the information about each video. Thus, you can look up a video easily using its information. Additionally, it makes browsing through the videos easier.
3) Moderating and Publishing Business Video Testimonials
After the requesting and making part comes the last step, to moderate and publish the video review.
Vidmonials perform moderation on the videos to identify and remove those that do not meet the community guidelines. In essence, it identifies the ones that base on either abuse or hate, before they're published.
Vidmonials also reports such videos to the concerning business, so it could better look into the matter.
After carefully moderating the videos, Vidmonials then uploads them to the website of the respective business. If a YouTube Channel exists for a business, it also uploads the videos there.
Last Few Words
As we have read how to create business video testimonials with Vidmonials, we now know that the steps it entails are simple.
It is a user-friendly platform. So anyone, including a naive user, can use it without any computer expertise. It makes the entire process easy and simple for both the business and its users.
Vidmonials facilitates its users more than just creating video reviews. Video library, no signups, video moderations are its extra services in addition to creating business testimonials.