The best video review software is the one that empowers you to perform an extensive review of your videos. Also, by using it, a business can present itself in a better light to its prospective clients.
Nevertheless, editing the video feedback is never easy. It involves a fair amount of hassle, besides requiring a distinct set of skills. However, there are different software to help you with the reviewing and editing of your videos.
This article brings your different video review software. It also compares the cost, review limit, maximum storage space, number of users, etc. So, while choosing one, you can consider other aspects as well, besides the pricing.
Read them:
Vidmonials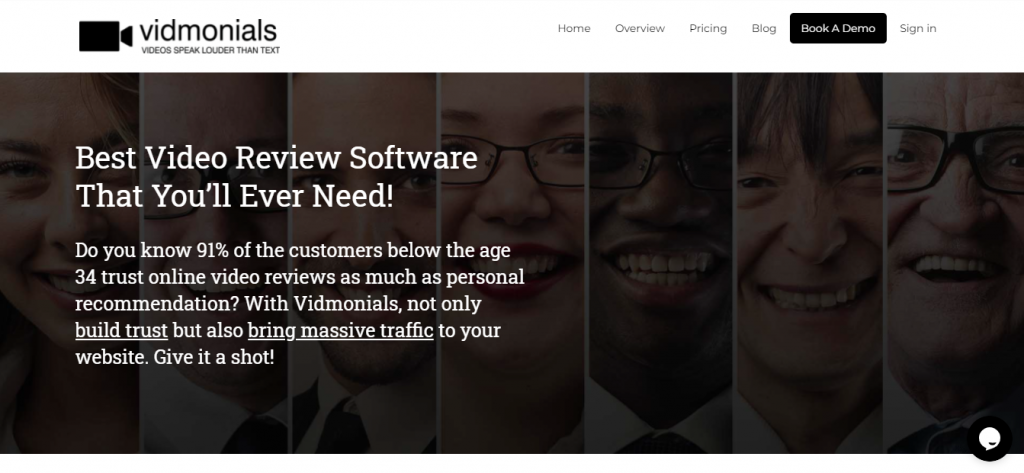 Although Vidmonials is a new name in the video review industry, it has quickly become one of the best video review software(s).
What stands it out amongst other similar software is its commitment to provide the highest level of services as a video review software. It, thus, goes the extra mile by moderating the videos of its clients while reviewing them.
It makes sure that no video is based upon hate/abusive speech and is not vulnerable to the reputation of a company. So, this alone makes it one of the best video review software(s).
As for its pricing, it is economical. A client can review as many videos as it wants for a price of 59 euros a month. Also, since it is based in Berlin, Germany, its pricing is exclusive of the currently applicable German VAT.
Read More: 6 Features of a Best Video Testimonial Service
Frame.io
Frame.io is an easy-to-use video review software. Using it, working on multiple videos at the same time becomes possible.
Its pricing starts from $19 per month for one user of a client.
Its pricing could be considerably expensive for some. However, its pro-subscription lets you include 25 team members on one or multiple projects without the admin controls. So, this makes it an attractive option to the smaller companies.
Wipster
Wipster, one of the pioneering software companies, is a well-known name in the video review industry.
Its incredibly easy-to-use interface has earned it a base of loyal customers. That said, its pricing options are expensive.
It offers its services at $22.50 per user for a month, which could be out-of-budget for many. Nevertheless, its user-friendly, modern, and flawless interface makes its cost worth it.
Motion Array
Motion array has an array of video review tools. It is one of that software with a strong file management system. Moreover, you can use your brand logo in your videos to influence potential customers more.
Motion array, besides being a video review software, also provides plugins and motion graphic templates with a website having portfolio style.
Ftrack
Ftrack is another powerful video review software.
It has a fast file management system and video upload times. Besides this, its quick feedback workflow also makes it a good choice.
This software lets you perform video reviews for $10 per user for a month. However, for $20 / month for one user, you can use it for pre-production and production as well. It helps to streamline all the activities related to your videos.
Aframe
Aframe is a suitable tool for companies having an internal marketing team. Its platform has a user-friendly interface and, therefore, is easy and fast to use.
This video review software lets its users perform tagging of their videos. Its users can, thus, label an individual video as well as a section of videos. This, in turn, helps to search the required video with relative ease.
CineSynch
CineSynch is an all-inclusive video review platform and is used by the very top professionals. It has some of the biggest names as clients, such as Marvel and HBO, which is why it is one of the most expensive software.
It is more suitable for companies with video productions of larger scales. Also, it is a perfect choice for movie makers. However, it may be too complex and expensive for marketing videos.
Quick Reviewer
Quick Reviewer has different pricing criteria than its competitors.
Instead of charging by the number of team members, it charges by the storage space.
With a $59 per year cost for 1 GB (max) uploading, its cost, at first, may seem odd and unattractive. However, when you take out the price per month, it turns out to be less than $5 per month. So, it can also be considered as a suitable choice.
LookAt
LookAt is one of those video review software that can review different types of videos. It so reviews the video types, including but not limited to HTML, PPT, AI, and more.
Without a doubt, it is a powerful platform. However, at the same time, it is complex in its use. Therefore, this software is not the best choice for users looking for one with simplified usage.
LookAt also happens to have its mobile app. So, users who are always on the go can use this software at their fingertips using its app.
Bottom Line
Every tool in this discussion is the best video review software in itself. Nevertheless, choosing one should not entirely depend on its pricing but other factors too.
Every review software is good in its way, yet provides the same result as others. However, since Vidmonials also moderates videos along with reviewing them, this helps to earn it extra points.
Enlighten yourself more about Vidmonials: https://www.vidmonials.com/book-a-demo/