The online video capture tools are designed to perform the video capturing of the device screen. Therefore, they are very convenient when it comes to video screen recordings.
As with the name, you can use such tools online. So, more often than not, users require only a web browser to use them. And this eliminates the need to separately download a software or app for performing the screen recordings.
Such online tools also come with secondary features to improve the video recording experience and the resulting video. And generally, these tools come with video editing features as a secondary tool. However, the secondary utility may vary from one tool to the other.
You can capture a video online and record a laptop screen using one of the online video capture tools, Vidmonials, for example. And these tools can help to record your screen on Windows (or any other OS) for free. More so, using such tools, you can also video yourself using a webcam.
With the online video capturing tools, you can record your screen on Windows 10 or Windows 7 without any app, software, or game bar. In addition to this, to the surprise of some, Youtubers also use these tools to record or edit videos for free.
This article discusses the best online video capture tools in 2021. So, without further delay, here are the online video capture tools you should look forward to: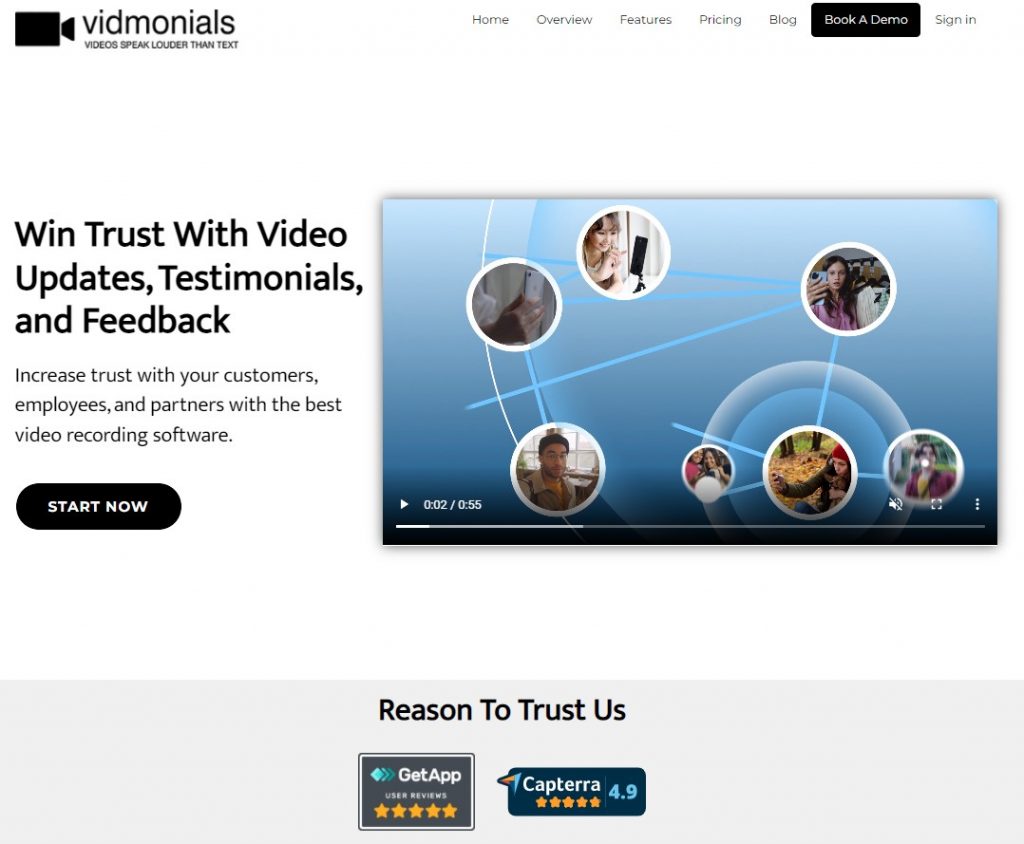 Vidmonials is a multi-purpose video platform that allows people to increase their online reputation by using their own and their clients' FACE.
It includes a straightforward user interface that lets you send audio, video, or even a text message.
Regardless, the contents of these messages might include your sales pitches, customer feedback or reviews, a complete presentation of a product or service, and much more.
Apart from these advantages, Vidmonials offers its customers the ability to record their screens as a bonus.
For example, a user can perform video capturing of the screen or video record themselves with a single click on the same interface.
Vidmonials can, thus, not only be used for the screen videos but can also serve other purposes with respective primary functionality. And its universality makes it one of the best online video capture tools.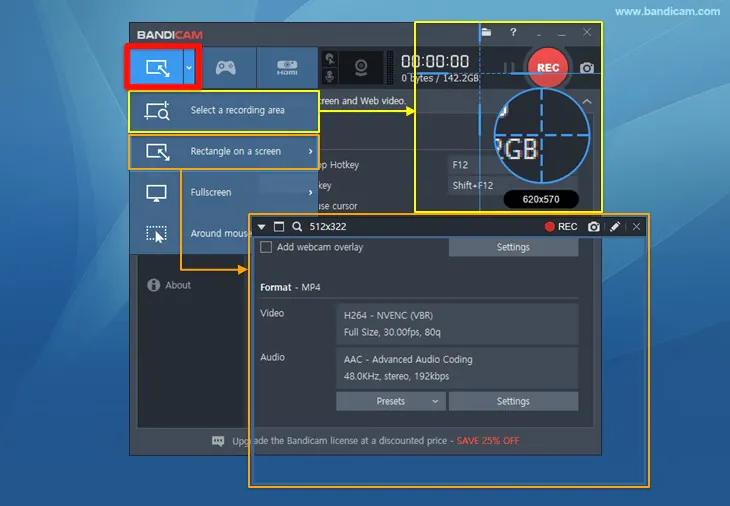 Bandicam is one of the most familiar online video capture tools. It helps the users to screen record live streaming videos, online tutorials, etc.
One of its prominent features includes video recording the screen for up to 24-hours of time. Moreover, besides offering online help in video recording, it also comes for use on desktop systems. It means that users can also download it on their systems for use.
It is capable of video capturing on different devices, including gaming consoles, web cameras, iPhones, IPTV.
Bandicam allows the users to perform mouse-click animations and effects. And this feature is beneficial for creating tutorials since the users become able to grasp exact knowledge.
Another feature of this tool is the scheduled recording. It allows the users to schedule the time and date to record their screens. Hence, on the specified time/date, users are not required to perform any action as the system initiates the action itself.
As for its shortcoming, the online version of this tool is not as good as the downloaded version. Still, it can be beneficial in many of your online recordings.
If you're looking for a simple-to-use video recording tool, then this tool might meet your needs.
Screencastify is one of the simplest online video capture tools. However, to use it online, one needs to add its extension to the Google Chrome browser. And later, you can see the wonders it can do for your online screen recording.
Its simple interface allows the users to understand the functionality that it has to offer. Also, using it, all your screen-recorded videos are automatically saved to Google drive.
Using this tool, you can directly upload your videos to Youtube. Furthermore, you can download your videos to your device in one of the commonly used formats.
While it is an online tool, you can also perform video capturing without an internet connection. Moreover, it has a drawing pen and the mouse-motion highlights feature, making the users more focused on a specific part of the video.
This tool is also an excellent choice for meme creators and lovers. It allows the users to create memes easily and later export them as GIFs.
Screencastify is a decent tool to use. But it has minimal features to offer in comparison to the other similar tools. Thus, it may not be the best of the options for the users who require advanced functionality regarding their screen recordings.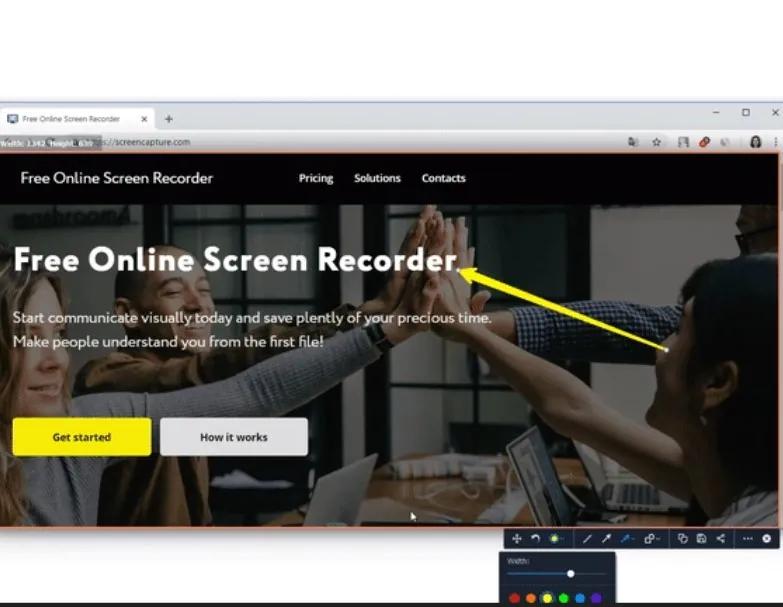 Yet another tool on our list of online video capture tools is ScreenCapture.
It can perform quick recordings of a user's screen. Moreover, it can record sounds using the system-embedded microphone or an external one. It also allows you to share your recorded videos immediately using their URL.
The efficiency of this online tool in video capturing is high. Therefore, users rarely experience any major issue during their screen recordings. Precisely, video capturing is very much uninterrupted while using this tool.
The best thing about this tool is that its online version is equally efficient as its desktop app. And while it offers most of its service free online, making the most of its complete functionality requires the users to get the paid version.
In addition to this, it takes excellent care of the privacy of your videos. And not only are the videos recorded using high quality, but they are also free of the watermark.
It is pertinent to mention that you can use this online tool on selected browsers: Google Chrome, Opera, Firefox, Microsoft Edge.
Conclusion
More or less, every tool that this article discusses has the same utility as its competitors. Not only the primary feature, but the secondary features are also standard in most of these tools, the video editing feature precisely.
Importantly, besides the additional feature of video edits, most of the secondary functionality brings no significant use. Vidmonials is one exception where the users can leverage it as a primary tool for any purpose.
Vidmonials, therefore, with usefulness in almost every business, is one the best online video capture tools in 2021.