The quest for the best video review software has become more fierce as we enter a new decade. Since the COVID-19 took over our world, the way people do business has transformed.
Today, businesses from all industries are looking for the best ways to market their product without having to meet their customers in person. Thus, the era of video review service is here.
Video testimonials from delighted customers have become the best way to prove your credibility in the market. People tend to analyze the reliability of a product better by judging the vocal tone, facial queues, and the actual words coming out from the mouth of experienced customers.
Observing this need gap in the market, many video review software companies have jumped on the bandwagon and are selling means to collect and market video testimonials for businesses.
The 8 Best Video Review Software 2021
Here are 8 Best Video Review Software available in the market for you to level up your video testimonials game: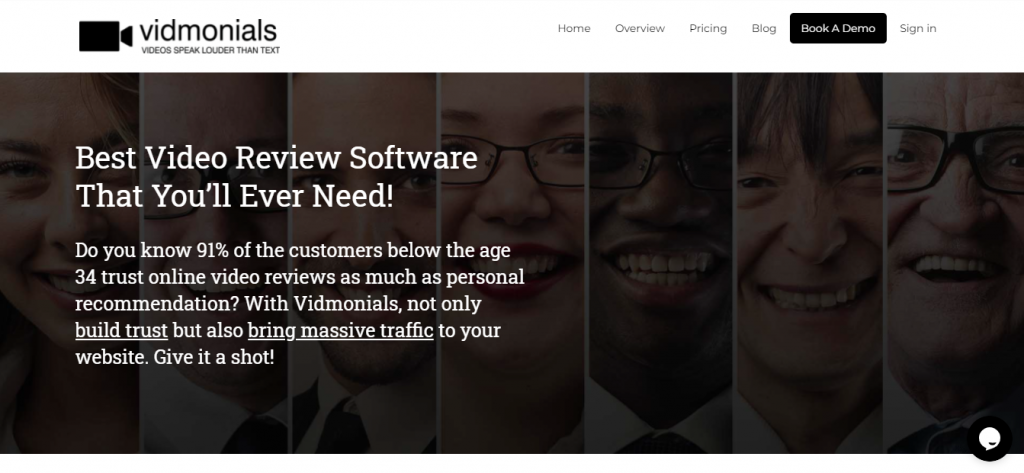 Vidmonials is the best video review software company that is helping businesses like yours collect, manage, and share video reviews online. Some of the main features that Vidmonials provides are:
Sending Video Testimonial Requests
You can send bulk data and individuals video review requests to your clients in one click. Vidmonials enable your clients to immediately record and submit testimonials on the auto-generated links. The best thing is that your clients do not need to sign up on the platform to record their video testimonials.
Easy-to-Manage Vidmonials Library
All videos are stored in the database directly. Users can view any video by scrolling down there. Users can share these videos online and use them for several marketing activities.
Embeddable Video Widgets
You can effortlessly embed video reviews from your clients on your business websites to build trust with your website visitors.
Moreover, users of Vidmonials gets to have the following benefits
Highly Responsive Web Application
User-Friendly Interface
Analytics & Reporting
Security Against Malware
Regulatory Compliance
24/7 Professional Support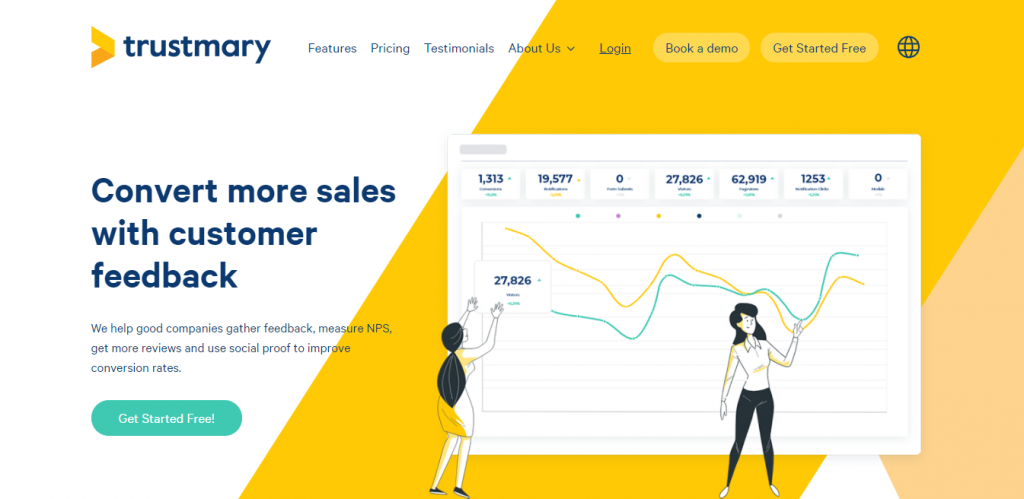 Trustmary is another video review management company that is supporting companies to solve their client testimonial needs.
The company offers a platform that can help manage activities like:
Measuring NPS and receiving feedback
Transforming feedback into testimonials, reviews (including videos).
Improving conversion rates with customer data
Social content product with proved results by a/b tests.
However, unlike Vidmonials, Trustmarry does not provide a self-recording option for clients' customers. Instead, a team of videographers has to reach the customers and book a time to record high-definition video testimonials.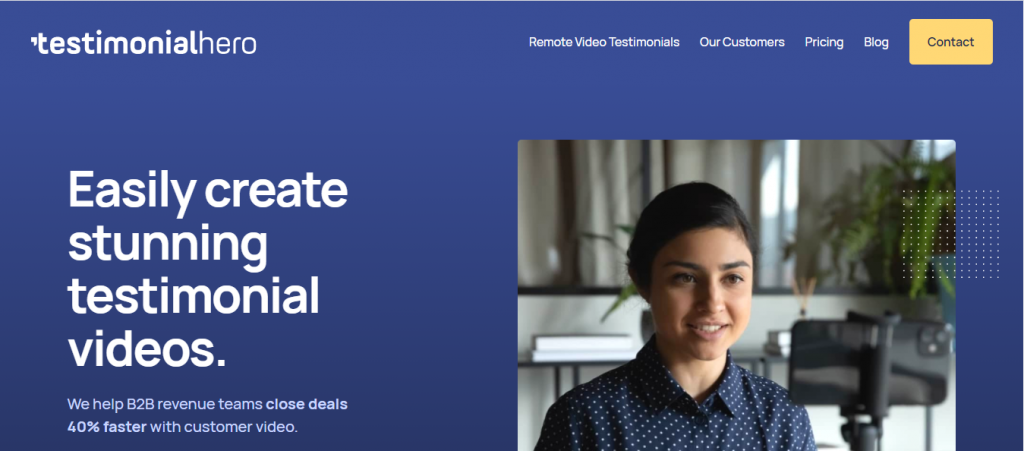 Testimonial Hero, as the name suggests, is a customer testimonial videos expert company. They provide video testimonials recording services for most B2B service businesses across the globe.
More so, over the past few months, they have started offering remote video review service. In this service, the customers of their clients record video testimonials on their phones or personal cameras and send them back to Testimonial Hero for further processing.
Their video review development process includes:
Interviewing your customers to build a concept for the video
Guiding your customers about recording a perfect testimonial remotely
Editing a 20 minutes video to a 90 seconds valuable video review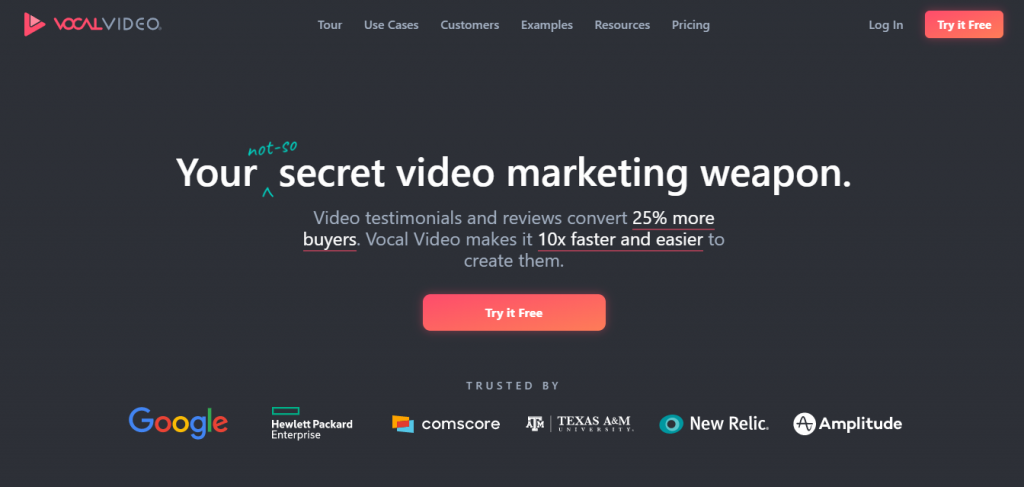 Vocal video claims to be a video marketing platform. It acts as an all-in-one platform for
Video review collection
Editing videos for promotions
Publishing testimonial videos online
Video testimonials hosting
The video reviews that vocal video collects are authentic and credible for companies looking to build a solid customer base.
Vocal Video lets customers share their stories with them any time, from any device. All with a pleasant interface that suits your brand.
Here are some of the main highlights of this platform:
Collect audio and video testimonials
Works on any device
Fully remote & asynchronous
Nothing to install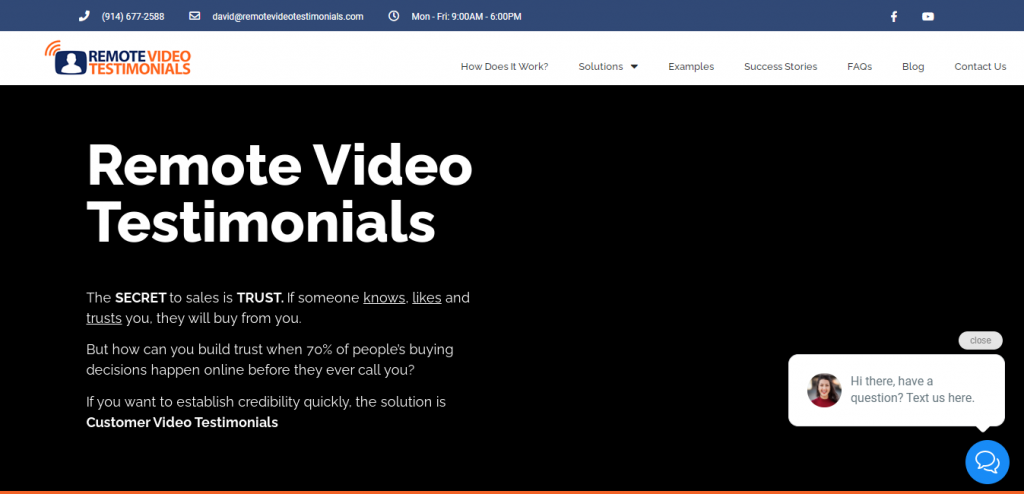 Remote Video Testimonials is a company that works to create video testimonials. Just like Vidmonials, instead of visiting a customer, they give the shot in the hands of their client's customer to record their reviews themselves remotely.
The main services that they offer include:
Remote video production
Customer video testimonials
Personal videos
Testimonials framework
Moreover, their remote video review service follows this process:
Online interviews with reviewing customers
Professional interviewers for better content
Best quality audio and video recording equipment
Skillful video editors to render attractive video testimonials
Quality control for graphics and content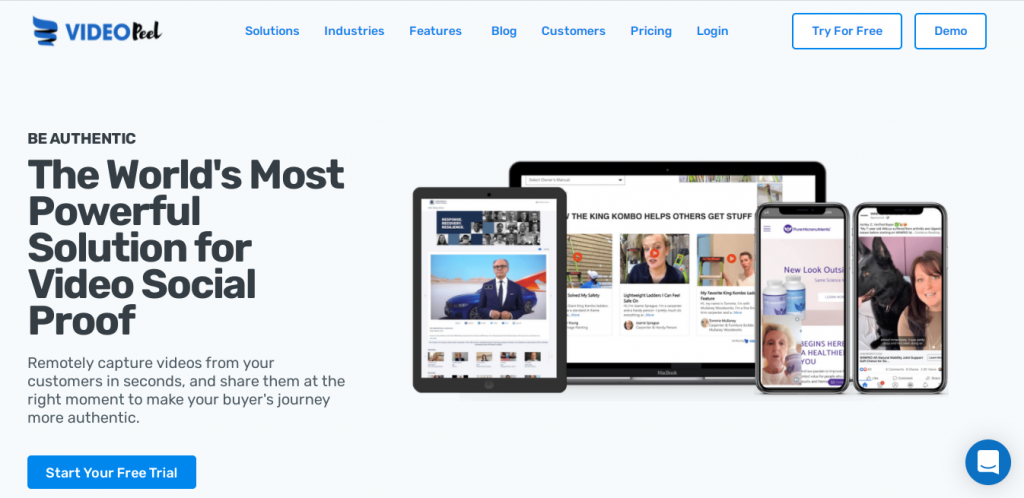 Video Peel is a solution for video-social proof. The platform provides an interactive self-service experience for video review recording.
The prime features that Video Peel offers are:
Request for video testimonials
Capturing video reviews in real-time
Collecting and storing the videos in a secure database
Sharing video testimonials for boosting online brand reputation
Other benefits of the software include:
Remote video capture
Shopify integration
Amazon syndication
Video carousel player
Video Picture in Picture
Video Community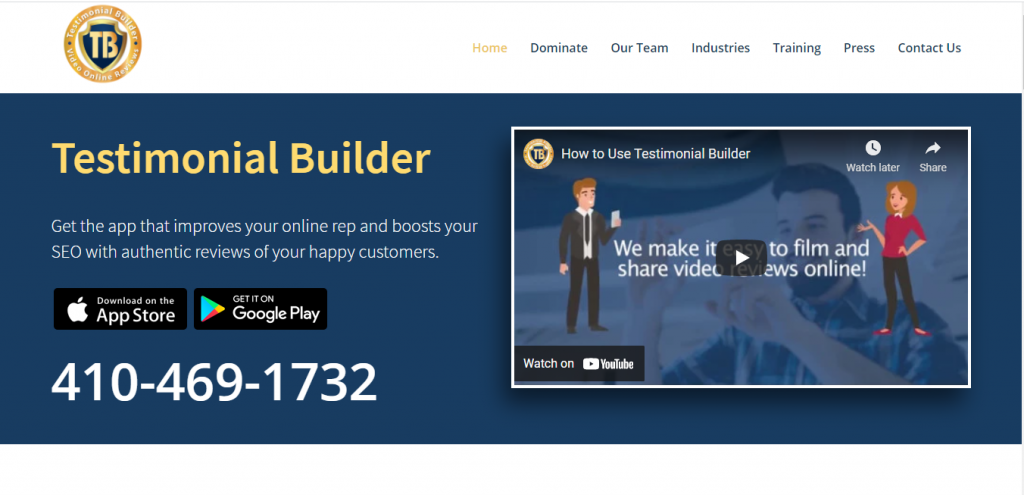 Testimonial Builder is a mobile video testimonial application that helps to improve your online reputation and boosts your SEO with authentic reviews of your happy customers.
The app provides easy-to-follow steps to its clients for recording the perfect video reviews for their company. These steps include:
The customer would record a video review
The customer would sign an in-built release form
You can upload the received video to your YouTube channel
Send the video back to the customer for sharing too
Moreover, one of the best features and highlights of this application is its amazing Keyword Teleprompter that can guide your customers to include specific SEO keywords that Google picks using voice recognition.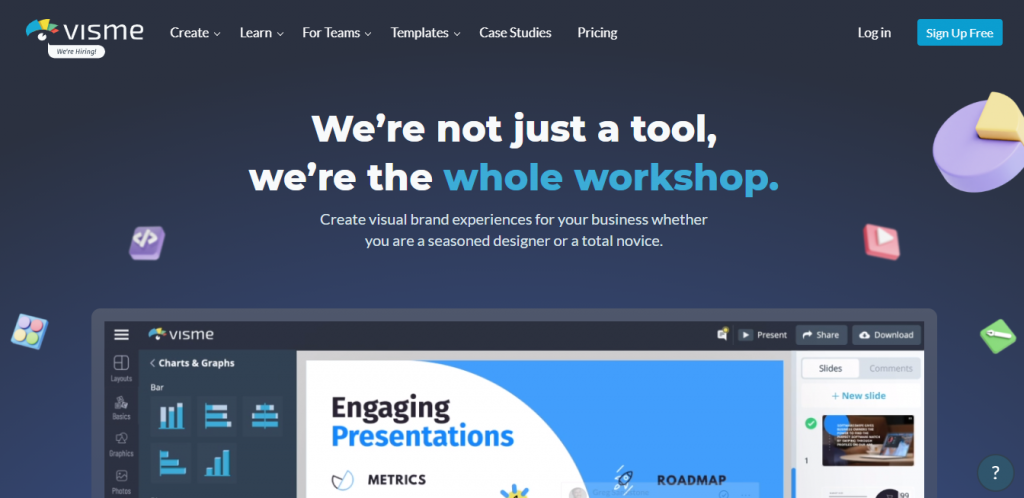 Visme also falls in the category of the best video review software, as it is quite interactive and easy to use.
With Visme you can create high-quality video testimonials using professionally designed video templates. Easily drag and drop your fancied design ingredients in, insert your customer's review, add your branding, and download.
Some of Visme's key features are:
Collecting video testimonials
Editing customer videos using fancy editing tools
Embedding video testimonials on-site and sharing them on social media
Satisfying customers by advertising their testimonial video.
Conclusion:
So, these are the best video review software available in the racks of 2021.
One thing that was common in all platforms was that they all are quite suitable for attracting, interacting, and delighting potential customers of your business.
Hopefully, all of the suggestions above made it easier for you to choose the right video review service that could help you in producing high-quality and converting video testimonials.
More so, if you are looking for something that could save your time, efforts, and money – a platform like Vidmonials can be your way to go. That is so because Vidmonials is not just a random video review software. Instead, it is a brainchild of some long-serving veterans in the customer feedback industry.
They made Vidmonials after studying and researching a lot about the impact of online customer reviews and feedback on the success of businesses. Also, the process was designed keeping in mind the easiest ways to approach a customer to receive positive feedback.
Nevertheless, we recommend you make your final decision solely based on your needs, budget, and most of all, your ultimate goals.