Video testimonial templates are one of the key deciding factors when it comes to buying video testimonial services for a business.
A video testimonial is a short, recorded consumer video testimony. A video testimony might last from a few seconds to several minutes.
When determining whether or not to purchase a particular product or service, consumers pay close heed to what other people are buying. They usually do it by looking for reviews on social media and elsewhere on the web.
Testimonial videos essentially have the same role – but they are significantly more effective because of their visual character!
Business testimonial examples provide a forum for your delighted customers to share their incredible product and service experience with the world.
This article will explore 6 video testimonial templates that can help you decide on a video testimonial service for your business.
Let's dive in directly to find out more.
1. Vidmonials provides Best Video Testimonial Templates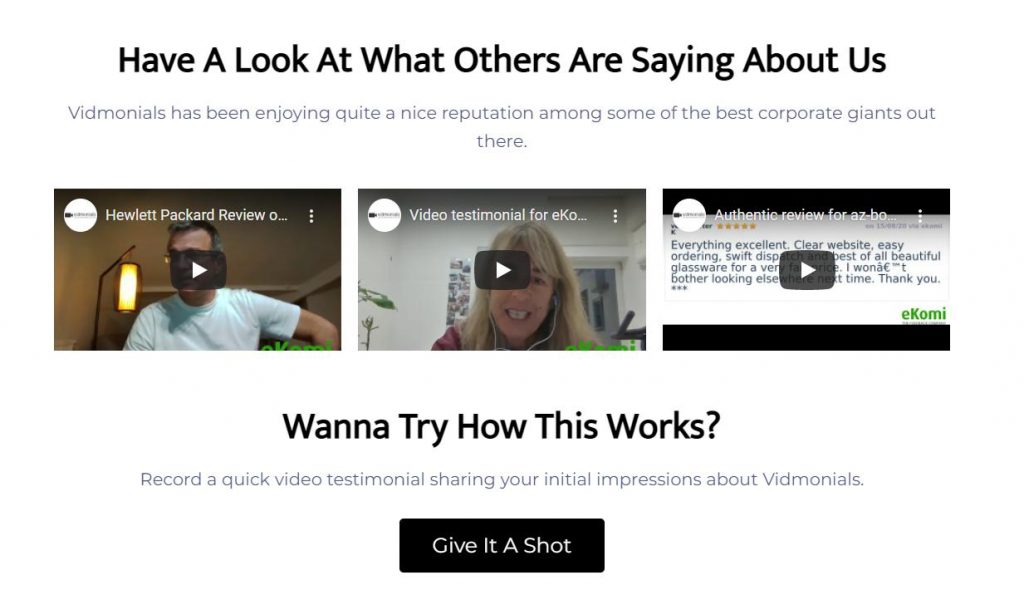 Vidmonials is a video review service that comes with two primary benefits.
First, it lets you record the testimonial of your customers where they can talk about their experience with your products or services.
Second, it provides a hack that can convert your text review into video testimonials. This is a great feature, isn't it?
Now, let's take a look at the Vidmonials video testimonial templates.
The entire platform is built after taking a close look at the increasing need for multiple device optimization so that you will not experience any failure.
Each element has been adjusted to ensure that the entire Vidmonials user experience remains worry-free and enjoyable.
How do the Vidmonials Testimonial Templates Work? A Four-Step [2021 Guide]
Send a video testimonial recording link to your customers individually or in bulk with a single click.
Save all your recorded video testimonials in the easy-to-manage Vidmonials library.
The embedded video widgets feature is quite helpful in showcasing your happy customer reviews.
In the end, share and market your videos simply from a single platform (Vidmonials).
Lastly, after using Vidmonials personally and recording a video testimonial, I could say that recording a video testimonial couldn't have been easier than this. Vidmonials undoubtedly provides hassle-free and user-friendly video testimonial templates.
In short, Vidmonials is an all-in-one package that can fulfill all your video review demands of 2021.
2. Testimonial Hero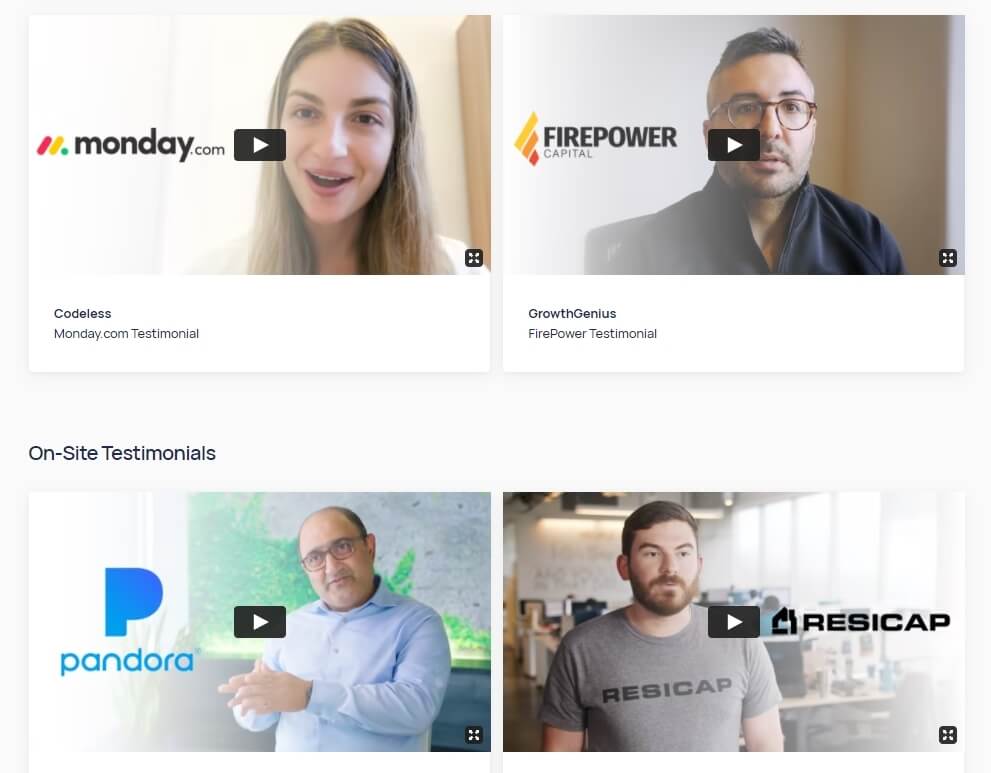 Testimonial Hero makes extremely easy video testimonies so that B2B sales teams can build trust and credibility more quickly and speed up buyer engagement.
It is more of a service rather than a video testimonial software. So, it can handle everything. It provides both remote and on-site video testimonial services.
Furthermore, Testimonial Hero video testimonial templates work in three easy steps.
Team Testimonial Hero understands your customer's story and composes interview questions accordingly.
In the next step, video is captured in both remote and on-site format depending upon the customer's availability.
Lastly, the interview video is edited to a 90 seconds short and precise video to showcase on social media platforms.
Overall, it is quite a simple process and does not involve equipment shipping for remote recording and no software required.
3. Vocal Video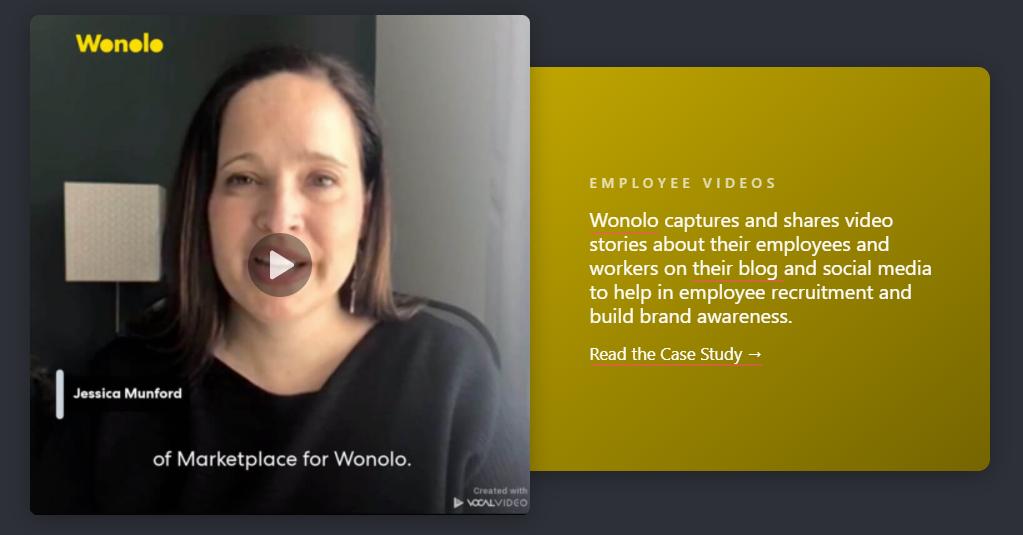 Vocal Video is also a platform that collects, edits, hosts, and shares testimonial videos in one place.
Now, video testimonial templates of Vocal Video can be understood in these easy steps.
Vocal Video users can share their stories from any device with you from time to time. You can also use a pleasant interface matching your brand.
Start with an expert template for your particular scenario of use. Make your brand match in seconds. You can also add an optional video welcome and incentive to increase response rates.
Vocal Video instantly produces a complete video with your logo, motion graphics, subtitles, and scene transitions when you receive a reply.
You can trim your video, add filters, and fill in a call for action. It is quick and easy for anyone to customize your movie.
People may feel more comfortable answering audio than video. Vocal Video favors both, therefore. You can publish your voice answers with Vocal Video as videos with audiograms and subtitles on the screen.
The last step, publish, incorporate and share to increase every element of your marketing.
4. Boast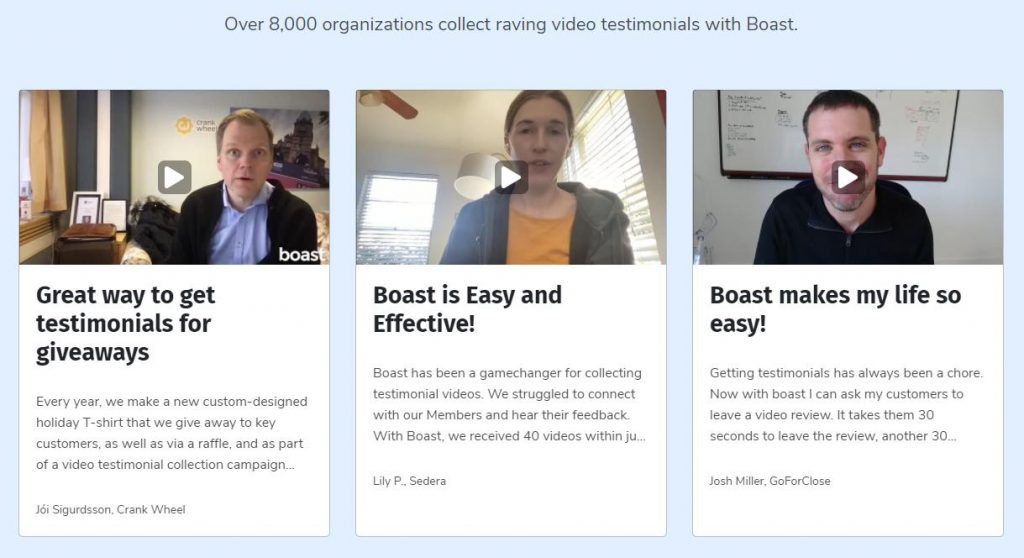 Apart from many other helpful features, Boast provides its customers with the Forms.
Forms assist you obtain quality feedback from customers so that your brand is demonstrated and your response rates maximized.
Here's an easy way to understand video testimonial templates of Boast.
Customize your feedback form to match your requirements.
Make the provision of video or photo reviews from any camera-enabling device easy for customers.
Show several form questions on various pages to enhance response rates and improve user experience.
Standardize your collection of feedback with built-in templates.
Other Boast services include sequences, gift cards, contacts, responses and widgets.
5. VideoPeel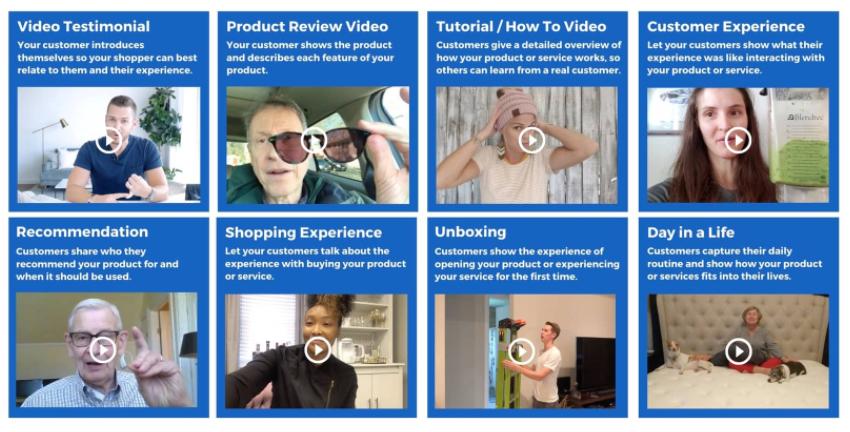 The video testimonial templates of VideoPeel are easy to understand and user-friendly.
VideoPeel removes the video capture difficulty. To upload a video, simply click on your VideoPeel link. No login or application download necessary.
To boost submissions, customize VideoPeel's proven video marketing templates.
You can also request films from VideoPeel's audience, consumers, beta testers, influencers, partners, or stakeholders via any channel.
VideoPeel's easy-to-use editing tools make it easy for your customers to create personalized brand moments.
Your community may display how they use your product or service using VideoPeel's Video.
6. Easy Capture Media

Easy Capture Media is equipped with multiple video testimonial templates depending upon the genre of the video testimonial.
It comes with these testimonial templates that are user-friendly and reliable.
Easy Capture Media includes Brand Videos, Case Studies, and Video Emails templates.
You can record any video from your phone, tablet, or computer.
You can also manage your own customized dashboard video content.
No other applications or other cloud storage systems are necessary.
System Built-in system video review can also be requested.
Videos can be shared to YouTube with one only click.
You can always have your content, with no extra charges to download original or altered video.
Final Thoughts
Now that you have gone through these six different types of video testimonial templates, you can think about your next steps starting from here. These steps can be narrowing down on one or two video testimonial templates and then choosing one of them to get started and boost your business.
In case you are looking for a suggestion here, my suggestion would be Vidmonials. The reason is easy to use video testimonial templates as compared to others in competition.
What do you think? Let us know in the comment section below.