In the realm of video reviews marketers, Facebook is the largest service with over 2.2 billion monthly active users. The main way for businesses to market on Facebook is through their Facebook Page.
The Facebook Pages for businesses were expressively built for that purpose. They let businesses create content and collect feedback and comments from fans and customers in addition to running a public Facebook page for the business.
Using Facebook Pages, you may take advantage of a multitude of unique business options. Facebook business pages can be exploited to connect, engage, and delight fans, as well as drive visitors to a website's unique pages.
This article will highlight ten must-follow Facebook pages for video reviews marketers. People like and follow these pages.
Top Video Review Marketers on Facebook
1. VidMonials – Video Review Marketers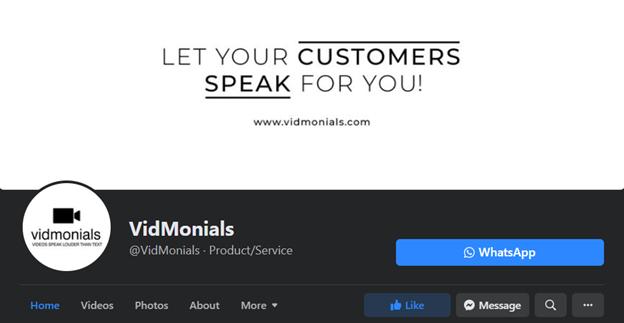 It is a cloud platform that comes with built-in video technology. Authentic video testimonials are captured and displayed automatically using Vidmonials.
Vidmonials help to increase trust and hence lead to more conversions.
There are multiple potent selling tools accessible today since testimonial videos are such an effective way to engage customers. Using Vidmonials, you will be able to streamline the formerly time-consuming process of gathering and using the testimonials in your marketing initiatives.
Vidmonials' Facebook page is a must-follow for video reviews marketers. Their page provides you with engaging daily updates regarding the benefits and charms of video reviews.
Besides, they also post infographics and interesting videos. More so, every time they post a new article on their blog, it gets shared on their Facebook page instantly.
In addition to that, there are also frequently asked questions available on their page. These questions answer your basic queries and help you understand the working of Vidmonials.
Overall, Vidmonials' Facebook page provides great value to those looking for inspiration for their own video reviews.
Read More: How Can Video Testimonials Be Beneficial For Your Business?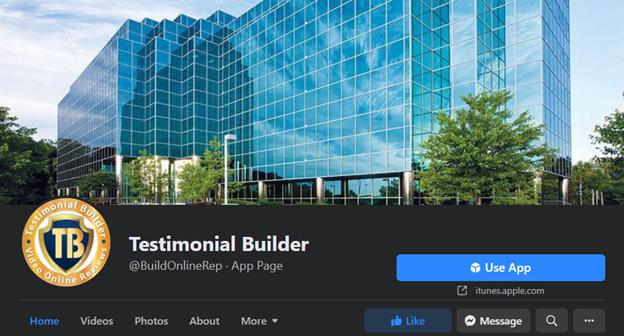 Testimonial Builder is a video testimonial tool that helps increase your online reputation and refine your search engine optimization by integrating actual customer testimonials.
The Testimonial Builder's Facebook page is quite fascinating. It keeps you engaged when you start scrolling. You will come across some functional posts related to video testimonials.
Moreover, you will also get help via pictures and videos to understand the Testimonial Builder process of recording and marketing testimonial videos. It is also quite a help.
All these characteristics make its Facebook page a must-follow for video reviews marketers.
The Visme platform enables you to produce professional, branded content, regardless of your design skill. Digital communication and narrative are brought to life with Visme because it democratizes it, making it accessible to everyone.
Visme's Facebook is thoughtful for video reviews marketers. It posts daily videos on multiple niches. These videos explain the way Visme works. Not only that, but it also provides you with custom tutorials using different templates and themes.
Besides, you will also come across blogs that explain marketing strategies that could be beneficial for your business.
Overall, Visme's graphical experience makes their Facebook page even more user-friendly and enjoyable.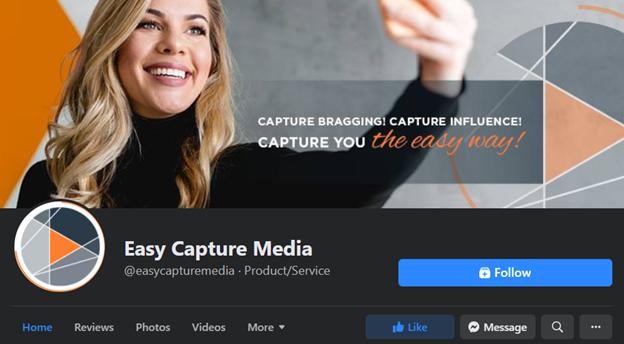 With affordable Easy Capture Media, you can use professional-quality video testimonials and branded films to develop your brand and attract new clients. Everything works automatically.
Writing or editing abilities are not required. Moreover, videos are available to be shared at your discretion in ten minutes.
I'm impressed by Easy Capture Media's Facebook page. You're more likely to stay on the page when you start scrolling.
You may find some helpful posts about video testimonials on your journey. Additionally, you will receive guidance via images and videos to assist you in understanding the Easy Capture Media marketing process.
Also, you can directly contact them via multiple means from their Facebook page. It is also a great assistance.
All of these things together make their Facebook page for video reviews marketers a must-follow.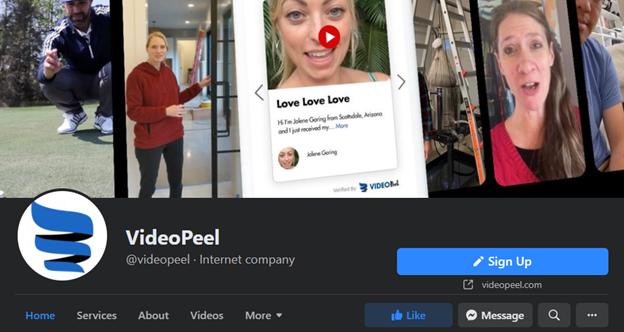 VideoPeel is a solution for social proof that is found to be quite powerful.
Without visiting the customer in person, you can now produce an instant video recording and send it to them immediately for an authentic customer experience.
VideoPeel's Facebook page is also quite interesting to visit. You come across lots of tutorials. You also witness some previous works of VideoPeel that encourage you to use their platform.
Moreover, infographics, videos, and blogs further add to the overall experience. Lastly, you can directly access their website from their Facebook page. A great help.
Indeed! Video reviews marketers must take into consideration VideoPeel's Facebook page.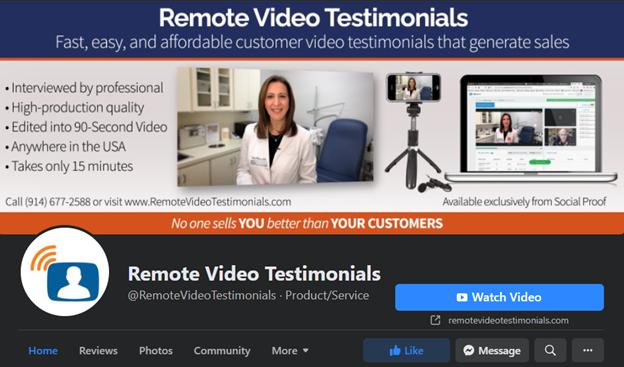 Remote Video Testimonials, as a platform, helps curate video reviews that are economical, high-quality, and simple to set up. They can be done from anywhere in the country, and interviews only take a short time.
Moreover, the Facebook page of Remote Video Testimonial is another successful example to follow for video reviews marketers. Their Facebook page follows quite a classic and clean interface with informational videos and blogs related to marketing strategies.
Additionally, you will also come across some examples of video testimonials recorded via Remote Video Testimonials.
Overall, their Facebook page fulfills all requirements one can look for on such a channel.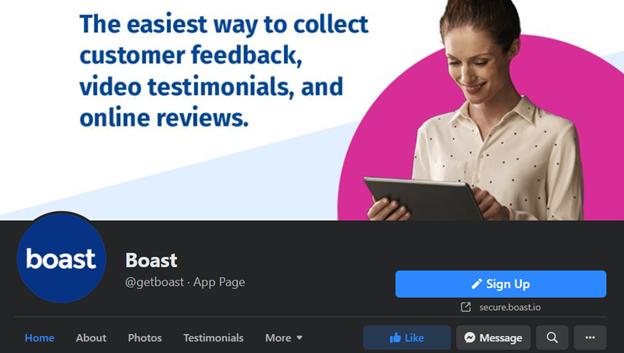 Boast is a fantastic way to get video testimonials for your business. Complete the form, and clients will be able to provide public praise for your firm directly from their phones.
It is a mobile phone testimonial application that lets customers publicly promote your brand by bragging about your accomplishments. Boast simplifies the process of sourcing and processing video testimonials.
The Facebook page of Boast is quite engaging and different in orientation compared to other pages discussed so far.
This page again falls in the category of must-follow for the video reviews marketers, as it mainly includes content around improving video review strategies. Thus, making it just the right place for video review enthusiasts to visit.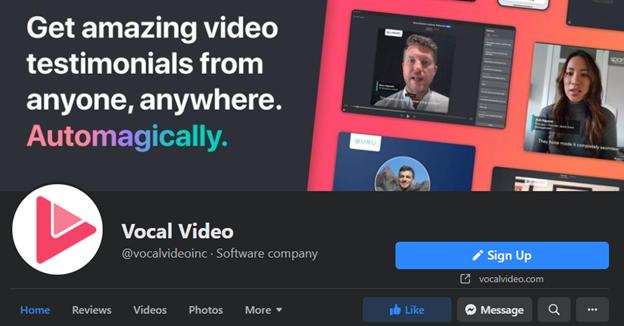 It is also a novel solution for creating, editing, storing, and sharing testimonial videos for social proof.
Vocal Video's Facebook page is unique in a way that it is full of video guides. It is, undoubtedly, an enormous help for video reviews marketers. Moreover, you will also find infographics to help customers gain knowledge about their platform.
Nevertheless, Vocal Video and its unique way of providing video review services to make innovative advances in the video testimonial industry is quite exemplary.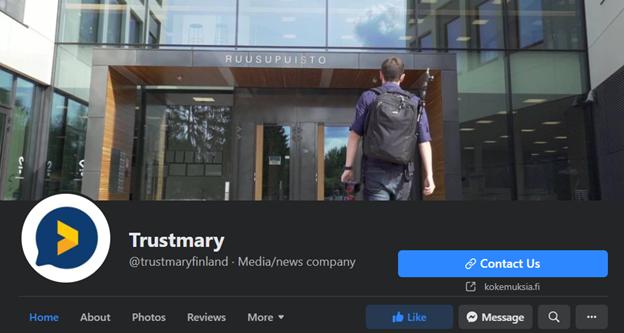 The easiest way to take advantage of your business referrals is the use of Trustmary. They provide testimonial videos from around the world, customer experience surveys, and online services.
Moreover, they help you develop your company's customer experience and leverage referrals in sales, marketing, and recruitment.
Trustmary's Facebook page is also a must-follow for video reviews marketers. Their page is in the Finnish language, quite helpful for the native audience. The Facebook translation tool, however, makes it easy for non-natives to understand their services.
Moreover, you will find interesting blogs and videos focusing on marketing strategies and innovative new ways they have adapted to advance their scope.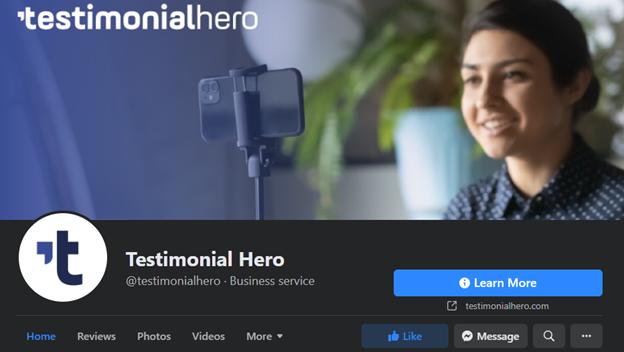 Testimonial Hero is a large production firm that specializes in testimonial videos of a higher quality. Any company can develop high-quality products by using testimonials from clients as evidence. Testimonial Hero accelerates buyer journeys via B2B revenue teams.
The Testimonial Hero's Facebook page provides a different experience for video reviews marketers to follow. The reason behind this statement is that you will find a lot of customer endorsement videos published by Testimonial Hero, which is a unique strategy on its own.
Moreover, you will also come across informational videos and blogs related to marketing strategies on their page.
Final Thoughts
Facebook is one of the most popular platforms for businesses and companies to promote their services and products. It helps businesses to grow by providing access to a large audience all across the globe. Video review service has grown enormously and is playing a gigantic role in marketing and advancing a business.
These ten Facebook pages will help the video reviews marketers to not only understand the marketing strategies but also utilize these tactics to start a new business or grow an already established business.